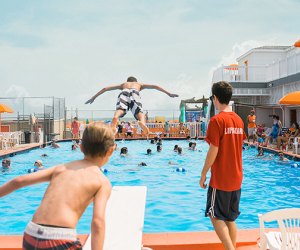 Beach Clubs In or Near New York City with Kid-Friendly Vibes
One sure way to add more family-friendly fun to your summer staycation with the kids: Join a beach club. Beach clubs in and around New York all offer members similar amenities: massive swimming pools; organized kids' activities like sports and arts and crafts (and sometimes even a day camp); spas, restaurants, and lounges; and, of course, access to pristine private beaches, so you have plenty of space to spread out.
Beach clubs sell seasonal memberships from Memorial Day to Labor Day, which give you access to their facilities. Most also offer optional rental accommodations like bath cabins or cabanas. Many are on Long Island's South Shore and easily accessible by car, but we also managed to find one in Brooklyn that NYC families can reach by subway.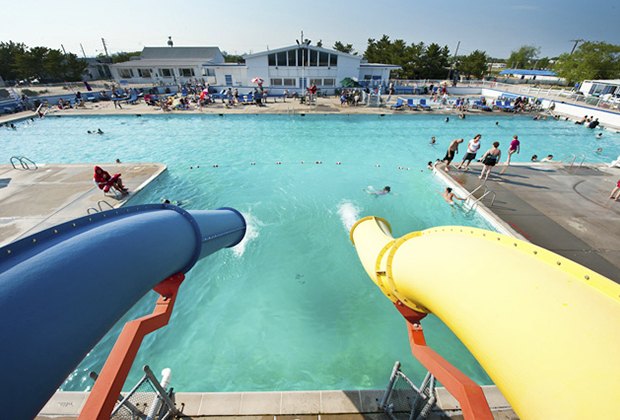 The slides at Breezy Point Surf Club are just one perk for families. Photo courtesy of Breezy Point Surf Club
Breezy Point Surf Club – Breezy Point, Queens
1 Beach 227th Street near Breezy Point Boulevard
718-634-2500
Yes, it's technically within city limits, but it sure doesn't feel like it. (Plus it's nowhere near a subway.) This club offers many family activities, a free kids' day camp, access to tennis courts, and a gym with exercise classes. There's also a kiddie pool complete with pirate ship and an Olympic-size swimming pool with water slides, a cafeteria, lounge, and bar. Membership for a family of four is about $1,945, with optional rental facilities, including cabanas ($4,500 to $5,330), cabanettes ($3,545), or bath cabins ($470 to $555). Breezy Point also has a very reasonable day rate: $25 per child and $35 per adult. If available, you can even add on a facility for $35 to $85.
Catalina Beach Club – Atlantic Beach, Long Island
2045 Ocean Boulevard near Daytona Street
516-239-2150
The same family who opened this resort in 1944 still runs it today. Attractions include the usual: a beach, an Olympic-size pool, tennis courts, a steam room, and day spa, but there are also notable family offerings like mommy-and-me classes and a summer day camp for children ages 3-7. Cabana and bath cabin rentals are available, but call for specific pricing. The stunning Art Deco-style grounds have been featured in many TV shows, movies, and magazines.
RELATED: Take the Subway to NYC Beaches: Coney, Rockaway, Orchard Beach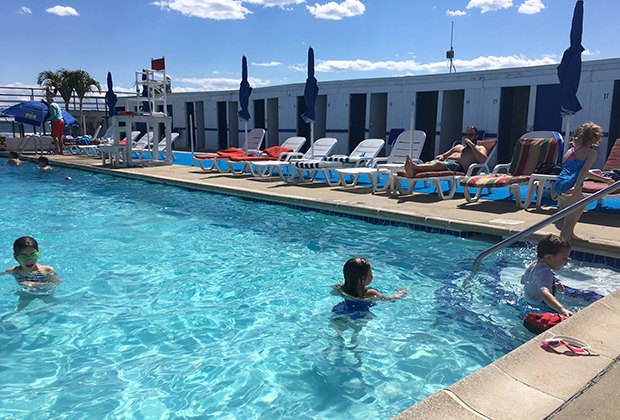 Hit the pool at the New York Beach Club, or try out one of the many kids' activities. Photo courtesy of New York Beach Club
New York Beach Club – Atlantic Beach, Long Island
1751 Ocean Boulevard
516-371-0750
With more than 85,000 square feet of private, sandy, beachfront property, there's plenty of entertainment here for all ages. Kids' activities include mommy-and-me classes, an arts and crafts studio, and sports on the courts, in the sand, and in the surf. Membership fees start at $1,000 for adults; children ages 2 and older are $400 to $500. Be aware, however, that those prices don't include parking.
Sea Gate Beach Club – Coney Island, Brooklyn
3700 Surf Avenue near W 37th Street
718-372-4477
This club boasts the only private beach in Brooklyn, plus an Olympic-size pool, a Tiki bar, restaurant, and steam baths. Membership includes three lockers, pool access, and parking, and starts at $1,800 for a family of three (children under age 3 are free). For cabanas, there are a number of pricing options for families, ranging from $3,050 to $5,995. There are some great kids' activities to partake in, too.

At the Silver Gull Beach Club, the kiddie pool is 6 inches deep and monitored by a lifeguard at all times. Photo by Sara Marentette
Silver Gull Beach Club – Breezy Point, Queens
1 Beach 193rd Street near Range Road
718-634-1500
Like the nearby Breezy Point Surf Club, this resort is technically in Queens, but you'll definitely feel like you're on a vacation. This club is where some scenes in the 80s teen classic Flamingo Kid were filmed, and it's got lots of cabanas, cabin boys, and activities (but no Matt Dillon—sorry...). Attractions include nine acres of oceanfront, swimming pools with water slides, free parking, and a day camp. There is no family membership package, so you'll pay individually: $600 for adults, $530 for children ages 3-17. Children 2 and under are free. Optional rentals run from $875 to $5,500. Families can share accommodations with friends, but everyone must be a member.
Silver Point Beach Club – Atlantic Beach, Long Island
2189 Atlantic Boulevard
516-239-4500
Opened in 1938, this club boasts more than 100 acres of oceanfront property, an Olympic-size pool, and tons of activities for all ages, such as sports, arts and crafts, science workshops, and scavenger hunts. There's also a day camp for children ages 3-14. Membership for a family of four is $1,320, with optional accommodations running from a few hundred dollars for a basic bath cabin up to $6,825 for an extra-large cabana.
RELATED: Best Water Theme Parks Near NYC for Families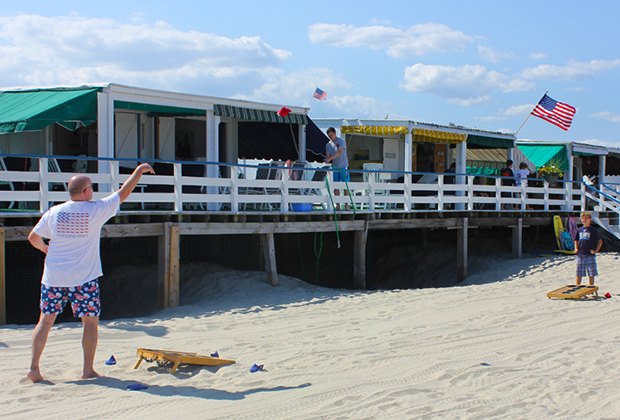 Step outside your cabana at Sun & Surf Beach Club for beach games. Photo courtesy of Sun & Surf Beach Club
Sun & Surf Beach Club – Atlantic Beach, Long Island
2189 Atlantic Boulevard
516-239-6700
Located right next to Silver Point (they basically share an address), this club opened exactly a decade later and offers many of the same attractions, including a beach, a pool, and lots of activities like sports, art classes, and sing-a-longs. The price, however, is a bit different: A family membership runs $2,500, with accommodation rentals going all the way up to $9,495. The club features a jam-packed social calendar, including theme nights, dances, luaus, and concerts.
The Shores at Atlantic Beach – Atlantic Beach, Long Island
1845 Ocean Boulevard near Ithaca Avenue
516-812-9411
Formerly Westbury Beach Club, this seaside retreat suffered severe damage from Hurricanes Sandy and Irene and is under new management. The Shores at Atlantic Beach is actually made up of a pair of beach clubs. There are many different pricing options for cabanas at each site, all with cabin boy service. Family memberships run anywhere from $2,875 to $9,500 (kids are an additional $250-$350 each) at the Main Club, including accommodations. The smaller, more secluded West Club ranges from $4,725 to $8,650 and offers a more private slice of beach, plus you can enjoy full access to the Main Club. Amenities include a pool, cafe, changing room, and valet parking.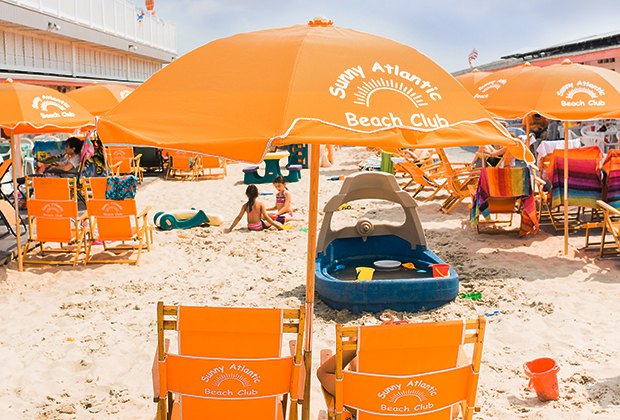 The Sunny Atlantic Beach Club has pools, a sand court, and plenty of kid-friendly fun. Photo courtesy the club
Sunny Atlantic Beach Club – Atlantic Beach, Long Island
2035 Ocean Boulevard
516-239-9090
Aside from plenty of fun in the sun, a chock-full events schedule keeps members busy at this club, which boasts a full-size pool, kids' pool, and sand court. After a long day at the beach, kick back and relax while the staff of the on-site Boardwalk Cafe serves your dinner on its sundeck, complete with a retractable roof for those rainy summer evenings. At Sunny Atlantic Beach Club, membership requires the rental of a cabin or cabana. Prices for a single adult share start at $1,117, but expect to pay an additional $250 to $300 for each child. Full membership details can be found online. Wednesdays are "guest days" at Sunny Atlantic, allowing each adult member to bring two guests in free of charge.
A version of this article first published in June 2012, but it has since been updated.