The Very Hungry Caterpillar Show
DR2 Theatre

NYC Easter Brunch Cruise 2023
Event Cruises NYC

Easter Fun Cruise with Egg Hunt 2023
Event Cruises NYC
Sign up for our free newsletters.
Staten Island MakerSpace: Where Creative Kids Can Make Their Minecraft Dreams Reality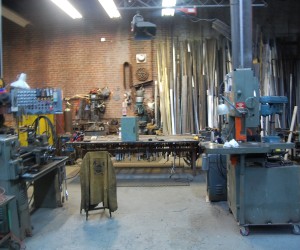 1/13/14
- By
Nataki Hewling
Over the past few years, the maker movement has really exploded in NYC. Family-friendly makerspaces have opened in Brooklyn, Manhattan and Queens where kids can tinker with a wide variety of low- and high-tech tools, from sewing machines to soldering irons to 3D printers. As a Staten Island mom I'm happy to report that my borough is totally on trend: Our very own maker mecca, Staten Island MakerSpace, opened at the end of 2013 just two SIRR stops from the St. George Ferry Terminal.

Although many of the offerings at Staten Island MakerSpace are aimed at grown-ups, cofounder DB Lampman, a multidisciplinary artist and local mom, has developed some great workshops for kids, too, including a Minecraft club inspired by her 11-year-old son. My nine-year-old and I went to check it out last Friday and he had a blast tackling virtual and real-life challenges related to the game.
Staten Island MakerSpace has a really amazing back story. After cofounder Scott Van Campen's metalworking business was flooded during Hurricane Sandy, he and DB decided to reopen the industrial spot as a community creative hub where other local artists could work, learn and collaborate. The 6,000-square-foot space offers various membership packages that come with different perks and access to a wide array of tools and stations. But unless you have a hardcore teen maker on your hands, most children will be more interested in the makerspace's workshops and after-school programs.

Since my nine-year-old is obsessed with Minecraft, we went to check out the Friday Minecraft Madness Club. Most of the kids seemed to be in the seven- to nine-year-old range, although older children are welcome. The workshop began with everyone playing Minecraft and then DB gave them their challenge: to build a real-life Redstone ore, a fictional mineral from the game, out of the materials provided. Although DB was there to help if the kids got stuck or needed assistance with the tools, for the most part they worked on their own or collaborated in small groups. It was fun to watch and, according to my son, even more fun to do.

Friday Minecraft Madness Club takes place weekly but requires monthly registration. The maximum number of participants is 12 and sessions sell out quickly. There's also an after-school sewing club, Sew Cool Mondays with Mom or Dad as well as sporadic one-off workshops. My son and I went to a FREE build-your-own instrument event last Saturday, which was really cool.

In addition to allowing kids' creativity to run wild and exposing them to STEM subjects in an engaging way, the Staten Island MakerSpace staff shows them how to use potentially dangerous tools responsibly. I was really impressed with the way Scott and DB helped kids with the glue guns and welding tools rather than just doing it for them. My son was ecstatic about using a glue gun to make a pan flute out of PVC pipe. It's refreshing to know that there is a place right here on Staten Island that will encourage and promote this kind of inventiveness and curiosity in children as well as adults.

Staten Island MakerSpace is located at 450 Front Street​ with the entrance on Thompson Street. It's two blocks away from the Stapleton SIRR station, which is two stops from the St. George Staten Island Ferry Terminal.

Find out about other NYC makerspaces and other STEM programs for kids.