46 Best Things To Do in The Bronx with Kids: Why You Should Visit the Boogie Down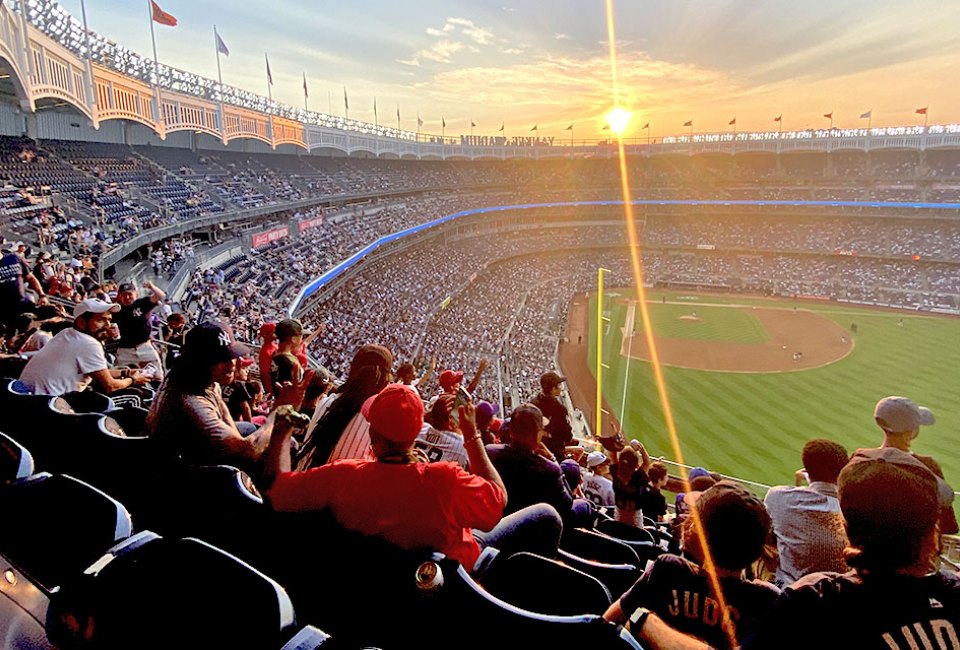 1/12/23
- By
Jody Mercier
When it comes to kid-friendly things to do, the Bronx may be the city's most oft-overlooked borough. After all, when is the last time you visited the Boogie Down with your kids? If you can't remember, we're here to convince you that a visit to this diverse, culturally rich hotbed of activity is in order.
The Bronx overflows with kid-friendly fun from classic kid destinations like the 100-plus-year-old Bronx Zoo to the newly opened Bronx Children's Museum, and we've rounded up 46 fun things to do in the borough. Once you've sampled the fun in the Bronx, check out our top picks for must-do's in Brooklyn, Queens, and all of NYC.
Subscribe to our newsletters to get stories like this delivered directly to your inbox.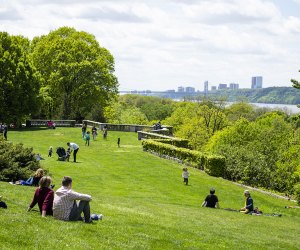 Wave Hill's sprawling grounds are perfectly perched on the edge of the Hudson. Photo by Joshua Bright
Top Attractions and Things To Do in the Bronx
Lesser known than the New York Botanical Garden, Wave Hill is no less enchanting as a botanical garden. Situated on 28 acres of bucolic green space overlooking the Hudson, it offers lovely conservatories to wander, nature trails to trek, and an impressive array of Family Art Projects on weekends.
This world-class zoo is home to more than 10,000 animals, plus fun seasonal events like October's annual Boo at the Zoo and a seasonal lantern display during the holidays. We love the Children's Zoo, and it's a great place for a birthday party, a Wild Encounter, or even a trek through its aerial adventure course.
This sprawling 250-acre living museum is home to 50 specialty gardens, including the interactive Everett Children's Adventure Garden and the Edible Academy. We love to get lost in the Thain Family Forest, NYC's only old-growth forest, which meanders along the Bronx River and spreads to 50 acres. Its educational programs are top notch and a rotating array of exhibits, plus annual favorites like the Orchid Show and Holiday Train Show keep us coming back season after season.
A decade in the making, this stunning kiddie culture spot opened in late 2022, though its programming is well-known to locals as its museum without walls has delivered educational programming borough-wide for years. Whether you visit the brick-and-mortar site or catch up with its Museum on the Go Bus, you're in for a treat.
Fondly referred to as the Bronx Riviera, this manmade beach delivers a crescent-shaped sea shore on the Long Island Sound. Beachgoers flock here on summer weekends and big things are in the works. Its historic Pavilion is in the midst of an $87 million renovation and restoration project.
One of our favorite FREE swimming pools in NYC, the Floating Lady is an intermediate-sized swimming pool moored on a barge right in the East River, which makes for a splendid backdrop for a day of swimming.
RELATED: Exploring Arthur Avenue: The Bronx's Own Little Italy

Explore City Island's Nautical Museum and find more seaside charms in this waterfront Bronx neighborhood. Photo by Suzy Q
A visit to this day-tripper's paradise is like stepping into coastal New England without ever leaving the five boroughs. Visit the City Island Nautical Museum, nosh on seafood from one of the charming seafood shacks, and visit the shops along the main drag. Don't leave without a scoop from Lickety Split Ice Cream!
New Yorkers in the know know that the real Little Italy lies in the Bronx. This charming stretch has plenty of old-world appeal with family-style restaurants, classic Italian delis, and delicious pastry shops lining the avenue and there's a charming playground nearby. A bonus: The neighborhood is convenient to the Bronx Zoo and NYBG, making a great post-adventure stop for lunch or dinner!
This 19th-century mansion serves as a cultural and historical museum at the gateway to Pelham Bay Park. Visitors can explore the mansion and carriage house on weekends and walk the spectacular grounds daily. Enjoy tons of family-friendly events like a popular annual Easter egg hunt.
This modest cottage was built in 1812 and served as the famed poet's last home. Today, visitors can wander through the restored rooms with period furnishings and explore the surrounding Poe Park.
Pay homage to the birthplace of hip-hop at this museum dedicated to its history. Currently housed in the Bronx Terminal Market, construction is underway on a stunning permanent home at Bronx Point nearby.
Root, root, root for the home team at this baseball shrine. Home to the namesake Yankees, catch a ballgame here from April through October (a girl can hope!) or visit in the offseason on a behind-the-scenes tour. We love the larger-than-life shakes, garlic fries, and checking out the playground between innings.
Located in the Bay Plaza Mall, Billy Beez is the go-to indoor play space in the Bronx. Slides, tunnels, swinging ropes, and a separate padded toddler area make this a great all-ages destination.
No matter what you're swinging, you can get some practice in here. With a driving range, batting cages, and even a mini-golf course there are plenty of ways to get in the game at this sports center.
Nestled in the lovely Van Cortlandt Park find this 21-acre stables complex, which offers private lessons daily, plus after-school and summer programs for city kids who have a little streak of country in them.
Pony rides are available daily at this Pelham Park stable. Older kids can enjoy lessons or trail rides, and the Bronx Equestrian Center is a perfect spot to host your next soiree—pony rides for all guests included.
This multi-arts nonprofit brings studio space and arts education to the traditionally underserved neighborhood it calls home. Kids can enjoy low-cost classes in topics like painting, ceramics, digital photography, and more.
A hub of its local community, Bronx House offers tons of affordable, all-ages programming. Little ones can enroll in its Early Childhood Center, school-age kids are welcome at summer and school break camps or enriching after-school programs, and big kids have a Tween & Teen Center where they can enjoy academic support and college prep classes at no cost.
RELATED: The Best Zoos and Aquariums in NYC

Meet the gorillas and more Bronx Zoo residents during pay-what-you-wish days on Wednesdays. Photo courtesy of the WCS
Top Free Things To Do in the Bronx
Wednesdays are pay-what-you-wish to access the aforementioned Bronx Zoo—even if what you wish is nothing at all. While these special admission days don't include some attractions, like the Wild Asia Monorail or Nature Trek, there are still plenty of animals to see! Visitors still need timed-entry tickets to visit, and they can be booked online beginning on Monday afternoons at 5pm.
This cultural hub celebrates contemporary art in a sprawling gallery space on the Grand Concourse. Its permanent and rotating exhibitions celebrate its urban home, the greater Bronx community, and the diverse audience it attracts. Enjoy family programs on select Saturdays. Admission is always FREE.
Housed in NYC's first LEED-certified green building, the Bronx Library Center is the largest library in the borough and houses the New York Public Library's Latino and Puerto Rican Heritage Collection. A dedicated Teen Center and Children's Room provide age-appropriate programming from story time to college counseling.
Located in the heart of the Arthur Avenue neighborhood, this local library pays homage to the Italian American experience. A three-floor library, don't miss the light-filled atrium and live palm trees that make this spot feel like a book lover's paradise.
Located on the campus of Bronx Community College—which once served as NYU's northern outpost—this is America's first hall of fame. Wander the open-air monument and explore the 500-foot-long colonnade decorated with busts of 102 Great Americans, ranging from authors and educators to scientists, engineers, statesmen, and military leaders. Though renovations to the nearby Gould Memorial Library mean the monument is currently closed to visitors, you can enjoy a virtual tour and bookmark this fun outing for another day.
A must-see for budding historians and maritime buffs, this museum is located on the campus of Maritime College and is always completely FREE to visit. Home to hundreds of model ships and dioramas, expansive halls, and two levels of exhibition space, it's housed in the historic Fort Schuyler. Another reason to visit: You can enjoy the stunning water views from under the Throgs Neck Bridge.
Enjoy contemporary art exhibitions by local artists in this bright and sun-filled gallery, whose FREE admission is made possible by the Bronx Council on the Arts in collaboration with Hostos Center for the Arts & Culture. Located on the campus of Hostos Community College, it's just the spot to while away a chilly afternoon.
A mainstay in the Hunts Point neighborhood since 1994, The Point Community Development Corporation had dedicated itself to youth, community, and arts development through on-site and in-school programming. Free, drop-in teen programming includes arts clubs and Cirque at The Point.
RELATED: Bronx Birthday Party Places for NYC Kids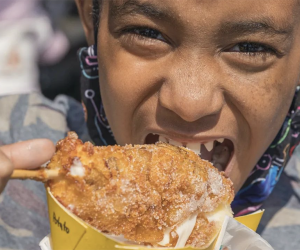 Dig in to a wide variety of eats during the seasonal pop-up, outdoor Bronx Night Market. Photo courtesy of the Bronx Night Market
Best Family-Friendly Bronx Restaurants
On select Saturday nights from April through October, head to Fordham Plaza for this open-air food and drink festival where more than 60 vendors serve dishes from every corner of the globe.
Enjoy a cold brew in the spectacular backyard or taproom of this local brewery, where kids are always welcome. The Puerto Rican flavors of Empanology pair well with a beer, and these hand pies come in kid-friendly and vegan options.
The chocolatier, as well known in Puerto Rico and the Dominican Republic as Hershey is here, brings its signature sweets and plenty more to this sit-down establishment. While you can nab a pastry or box of bombones to-go, we suggest sitting down for a meal. Every item on the menu has at least a hint of chocolate (like chocolate-infused ketchup), while some are decidedly chocolate-forward (chocolate grilled cheese). Visit for brunch or dinner, or enjoy the specialty hot chocolate of the day.
Pub fare is the name of the game at this local hotspot. Kids will no doubt find some palate-pleasing options, like fried mac-and-cheese. Sixteen beers are on tap, and it serves weekend brunch, too.
Authentic Mexican and Central American eats await at this restaurant, whose name translates to "six brothers," after the countries it draws its cultural inspiration from.
32. Beatstro – Mott Haven
This themed restaurant pays homage to the golden era of hip-hop. Inspired by the fusion of African American and Puerto Rican cultures, popular menu items include Vera's fried chicken, which you can even order family-style with sides. You'll feel like you traveled back in time with a good look at the decor, including graffiti murals and nostalgia-inducing vinyl records on the walls.
RELATED: NYC's Best Playgrounds: 21 Parks Worthy of a Subway Schlep

Boogie Down Books offers kid-lit pop-ups and book sales across the Bronx and beyond. Photo courtesy of the bookstore
Best Places To Go Shopping in the Bronx
Find this local bookshop popping up at tons of events in the Bronx and nearby. A bookstore without walls, it caters to kids, teens, and families with mobile book sales, author events, and story times.
The story of this Bronx bookshop is well-documented. Proprieter Noelle Santos built the biz following the closing of the Bronx's last Barnes & Noble. Find books for all ages and an on-site cafe serving wine and beer.
This old-school shop has been around for ages and its shelves overflow with tons of kid-pleasers. No matter your kids' interests, you'll find something fun here.
36. Regines – South Bronx
Part of a local micro chain, Regines has the aura of an old-school department store and makes a great destination when you're searching for a special occasion outfit. Come back-to-school season it's a go-to for uniform needs, and you can find a limited selection of toys here, too.
One of our favorite costume shops in all of NYC, Frank Bee is packed to the rafters with more than 10,000 costumes—and it's not just a Halloween shop. Visit anytime your dress-up collection needs an upgrade.
RELATED: Bronx Water Playgrounds and Sprinklers to Cool Off the Kids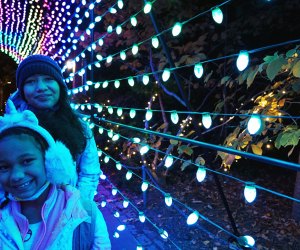 The Bronx Zoo Holiday Lights have become an annual holiday tradition for many local families.
Fun Annual Events in the Bronx
Enjoy an after-dark safari each holiday season when the Bronx Zoo's winter lanterns take over the sprawling zoo. It's a bounty of beauty and light amid the cold winter nights and there are always fun extras to enjoy like s'more pits, ice-carving demos, and stiltwalkers who entertain. All aboard the train for a tour of this splendid seasonal display.
A mainstay on our list of must-do holiday activities, the New York Botanical Garden's Holiday Train Show is an enchanting holiday tradition. See more than half a mile of track laid out in the Enid A. Haupt Conservatory with a mini tableau of New York decorating the rails. We look forward to visiting and re-visiting and anticipate what landmarks we'll see made miniature each year.
Ghouls and ghosts unite on Halloween for this community-minded parade that steps off from Hawkins Park and marches down the main street. Prizes are awarded for top costumes and the trick-or-treating on this island enclave is a top-notch way to end the evening.
This local community org sponsors FREE community rowing and sailboat rides along the Bronx River all summer long. When they're not in the water, Rocking the Boat hosts boat-building workshops for local youth who learn to build the 17-foot-long Whitehall row boats that make up the org's fleet.
RELATED: Pelham Bay Park with Kids: Bike, Hike, Play in the Sand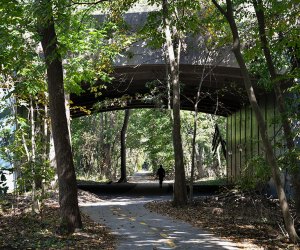 Van Cortlandt Park is a sprawling green space with tons of activities for all ages and interests.
The Best Parks and Playgrounds in the Bronx
The largest park in NYC, Pelham Bay Park is a sprawling, 3,000-acre green space bordering the Long Island Sound. While it's well-known for Orchard Beach, there's plenty of fun beyond the sand. Explore a trio of playgrounds and walk, ride, run, or hike over its array of paths and nature trails, hunt for monuments, and more.
Another mega green space, Van Cortlandt Park stretches over 1,100 acres and reaches up to NYC's northern border with Yonkers. Hiking trails, including the John Muir Nature Trail and Old Putnam Trail, cut through this park. Sports lovers can get in the game here whether you want to hit the running track, explore the cross-country course, or partake in team sports from soccer to cricket, basketball, football, and more. You can also find two public golf courses, a free pool, the borough's largest freshwater lake, and a historic house here.
This inventive green space connects Highbridge with Manhattan's Washington Heights neighborhood and is built atop the old Croton Aqueduct. Enjoy stunning vistas as you cross this expansive bridge over the Harlem River.
Dubbed The Oval by locals, this park has multiple playgrounds and tons of room to romp, plus a football field, track, tennis courts, and a recreation center. The park occupies the former Williamsbridge Reservoir landscape, evident by the gentle slopes that lead to the central green space. Come winter, these hills make it one of our favorite sledding spots.
Overlooking the Harlem River, this 25-acre state park is home to a great outdoor pool and one of our favorite local splash pads. There's an indoor recreational complex that offers affordable programming, plus plenty of room for a game of pickup.
Unless noted, photos by the author
Enter to Win!