Bronx Birthday Party Places for NYC Kids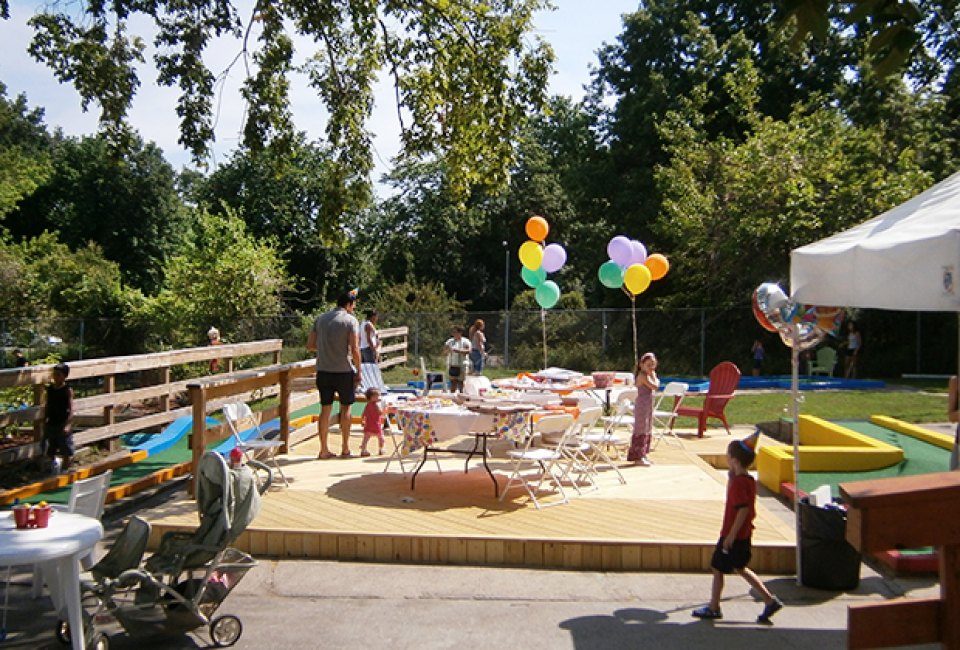 7/23/19
- By
Sonia Gonzalez
As a Bronx mom with three kids, I find myself in a perpetual state of birthday party planning. And while we've had many a house party, once I factor in food, decorations, favors, and more, it often costs just as much as a destination bash. Besides, destination parties bring a change of scenery and fun perks such as slides, sports, live animals, spa days, and more to make the celebration memorable. Best of all, I don't have to deal with the cleanup.
The Boogie Down borough has a growing list of cool birthday party spots for kids, from old favorites such as the Bronx Zoo and the New York Botanical Garden, to more recent additions tailored to kids' interests—with a decidedly local flair. We've rounded up a dozen birthday party places in the Bronx, with options for kids of all ages and interests.
Billy Beez — Co-op City
The Mall at Bay Plaza, 200 Baychester Avenue
This fun zone opened in 2015 and has been a hot spot ever since. With huge colorful tunnels and climbing structures, wild slides that even big kids enjoy, a mini sports court, dedicated toddler area, and more, you can't go wrong for year-round entertainment. Party packages include free rein of the premises, a private party room, pizza, beverages, cupcakes, party room decor, and digital invitations.

Bronx Equestrian Center — Pelham Bay Park
9 Shore Road
This horse-riding school offers different packages depending on what you're looking for: pony or hay rides for the preschool set, trail rides for more experienced equestrians. Aside from the steed and the room, you provide everything else, from invitations to food and cake, so it's a bit DIY.

Bronx House — Bronxdale
990 Pelham Parkway South
Bronx House offers two different themes from which to choose: arts and crafts or swimming. Parties include one hour's worth of activities plus time in a private party room. I've been to a party with each theme and both were a blast.
RELATED: NYC Birthday Party Guide and Destinations for Kids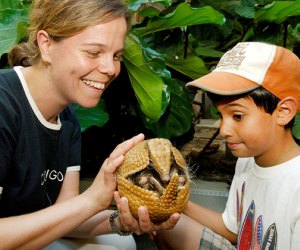 Celebrate your birthday with the critters at the Bronx Zoo. Photo by Julie Larsen Maher/courtesy of WCS.

Bronx Zoo — Belmont
2300 Southern Boulevard
Chances are your little animal lover has been to the Bronx Zoo, but has he or she ever celebrated a birthday there? The zoo's birthday party packages include food, a private room, close encounters with small animals, and party games and activities. We celebrated my daughter's eighth birthday here and it was a magical experience—from the staff to the party room to the animals, my daughter was mesmerized from the start.

Chuck E. Cheese's — Pelham Gardens and Concourse
1816 Gun Hill Road
700 Exterior Street
Go ahead and groan. The fact is kids love this cheesy game spot and party packages are economical. So even if you get a headache while there, at least you won't pass out when you see the bill. Guests get game tokens, food and beverages, and the birthday kid enjoys face time with the rat-like mascot. No need for goody bags, because guests can redeem the tickets they win for kitschy prizes. You can even plan your entire party online. There are two locations in the Bronx, and both get crowded. If possible, opt for a weekday package or as early as possible on weekends when it's less likely to be crowded;

Kidville — Riverdale
555 West 235th Street
This popular kiddie hot spot has found its way to the Bronx. Party packages offer access to Kidville's Private Party Zone, themed decorations, pizza and juice for kids, personalized cake, invitations, two party attendants, and more.

New York Botanical Garden — Fordham
2900 Southern Boulevard
Celebrate your kid's big day on the glorious grounds of the New York Botanical Garden. Party packages feature nature-themed crafts, scavenger hunts, and gardening projects as well as access to all exhibits. Pizza, water and organic juices, and paper goods are included. You supply the cake.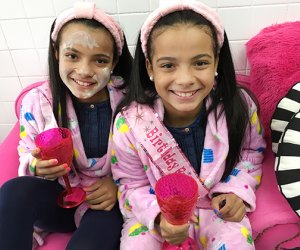 Pamper your birthday girl at Pink Princess Nails. Photo by Milagros Lopez/courtesy of the venue.

Pink Princess Nails — Westchester Square
1470 Williamsbridge Road
Being a kid can be stressful. Why not unwind and celebrate with a spa day? Pink Princess offers the ultimate pampering experience for kids and tweens. All parties are two hours long and include manis and pedis, mini-facials, makeup application, and pizza, cupcakes, and beverages for partygoers.

Riverdale Y — Riverdale
5625 Arlington Avenue
The Y offers a number of themed party options, including baking, sports, gymnastics, swimming, and art. Paper goods, utensils, a party host, and activities are included. You provide food, cake, and favors.
RELATED: Pelham Bay Park with Kids: What to See, Where to Play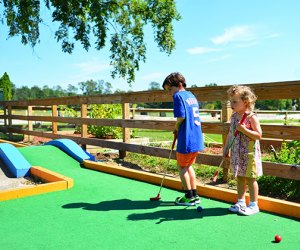 Have a mini golf party at Turtle Cove Golf Center.

Turtle Cove Golf Center — Pelham Bay Park
1 City Island Road
Turtle Cove is great for young athletes—or kids who just want to have fun. Enjoy a dedicated party area with a pop-up tent and room for five tables in the upper deck area or six tables in the event tent area as you enter the facility. From there, build your own experience, choosing from mini-golf, batting cages, or both; food and beverages for partygoers; and additional add-ons, including a cotton candy machine, face painting, glitter tattoos, and balloon animals. You supply the birthday cake and decorations.

Uptown Rec Room — Port Morris
175 Walnut Avenue
Looking for a large, customizable venue? This party space features two massive rooms for entertaining—the Funhouse is 3,000 square feet and the Party Room is 1,000 square feet. Preset party packages are available; however, Uptown Rec Room also accommodates special requests. Packages include a bounce house, two video games kiosks (more available upon request), pizza, board games, and more. Plus, for toddlers: basketball hoops, soccer sets, and a bin full of bouncy balls.

Yankee Stadium — Concourse
1 East 161st Street
Yankee Stadium offers a Party City Birthday Bash featuring a tour of the venue, with stops at the New York Yankees Museum, Monument Park, the press box, and more. If you book during baseball season, you'll also get to check out the dugout and batting cage. Afterward, hit the onsite Hard Rock Café for food, beverages, and cupcakes. Invites and a Yankees souvenir for the birthday child are included.

Unless noted, photos courtesy of the venues

A version of this article first published in February 2013. It has been updated for 2019.
Click Here to Sign Up!
i