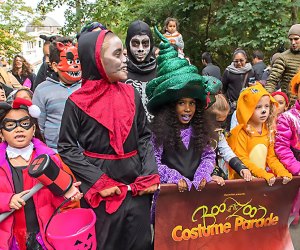 Ultimate Halloween Guide for NYC Kids: Parades, Costumes, Parties
For New York City kids, Halloween is much more than just trick-or-treating on October 31. The entire month is filled with a positively spooky number of costume parades, pumpkin festivals, and plenty of FREE Halloween happenings leading up to the big night of trick-or-treating. You think getting your kid to choose a costume is hard? Trying to figure out which NYC Halloween celebrations to hit is enough to make you run screaming into the night...Which is why we've rounded up the absolute best ways to get into the spirit of the season.
You'll find top picks for Manhattan, Brooklyn, the Bronx, and Queens, and several fun family day trips to the nearby Hudson Valley and New Jersey. As always, we included only our favorite events, and many are FREE or inexpensive. To make sure your family is truly prepared, we've also included info on where to get children's costumes and professional makeup done in NYC. Boo-yah!
If an event piques your interest, be sure to click through to our listing for all the details, including address and time. And keep in mind: In NYC, really cool Halloween happenings often fill up quickly. So buy your tickets ASAP, or, in the case of FREE events, arrive as early as possible to beat the crowds.
Sign up for our FREE newsletters to get posts like this delivered to your inbox.
Top 10 Halloween Celebrations for NYC Kids
Bronx Zoo Boo at the Zoo — Bronx Park, the Bronx
Weekends Saturday, September 28 through Sunday, November 3, and Columbus Day
The Bronx Zoo's annual Halloween fest returns for another go-round in 2019 bringing with it a pair of scary night walks: One is family friendly, while the other is adults only. During the daylight hours, you can walk the "Candy Trail," take part in the twice-daily costume parade, and enjoy performances including magic shows, pumpkin carving demos, live bird shows, and more. Parents might enjoy a peek into the beer tent, too.
Harvest Homecoming — Crown Heights, Brooklyn
​Sunday, October 20
Goodbye Ghouls and Gourds; Harvest Homecoming takes over as the BBG's marquee fall event this season, with many of the same trappings. There will be Brussels sprouts bowling, costume parades, and homemade suds to down as local kombucha and cider brewers share their concoctions. A farmers market highlights the bounty of the season, too.
RELATED: Pumpkin Patches Near NYC Where Kids Can Pick Their Own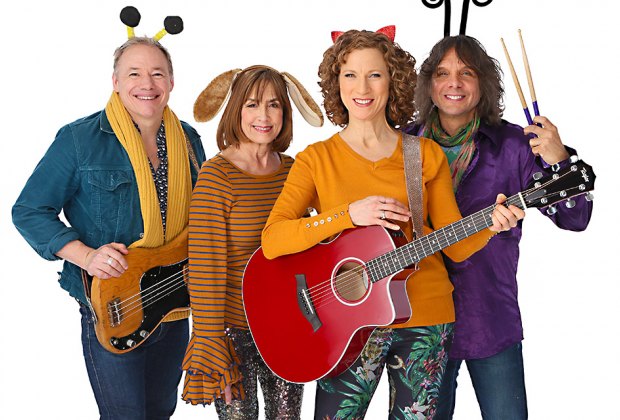 The Laurie Berkner Band's Monster Boogie Halloween Concert – Upper West Side
Saturday, October 26
Celebrate Halloween with bestselling children's recording artist Laurie Berkner and her band of crazy sidekicks. Parents and children alike are encouraged to attend in costume, with stuffed animals to boot—a nod to her hit, Pig on Her Head—and be ready to boogie. Dancing in the aisles is encouraged!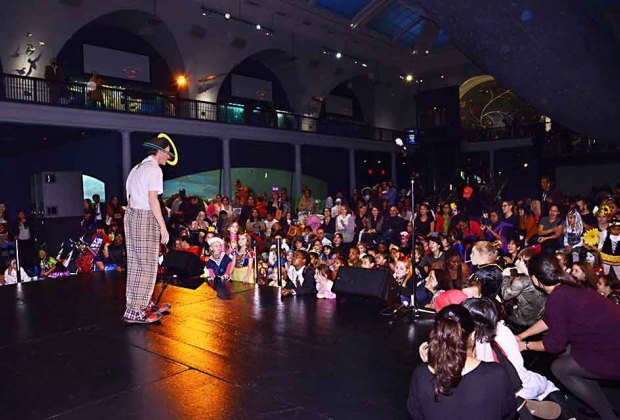 The American Museum of Natural History's Halloween Celebration will include trick-or-treating, arts and crafts, fun with roaming cartoon characters, and live performances. Photo by C. Chesk
Halloween Celebration at the American Museum of Natural History — Upper West Side
Saturday, October 26
While there are lots of cool places to trick-or-treat door-to-door in NYC, for young children nothing beats doing it at AMNH. This year's event takes place a few days before the holiday, so kids can collect double the loot! Kids score candy and more as they wander the decorated halls, there will be arts and crafts, and they can burn off the sugar rush by grooving to live music. Costumed characters pose for photo-ops, too. Bring your own trick-or-treat bags.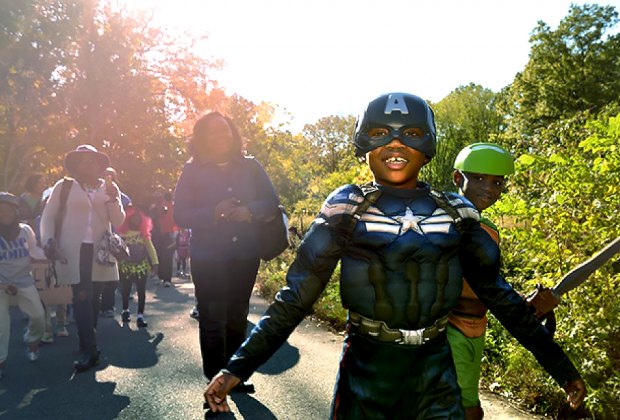 The Halloween Haunted Walk at Prospect Park is a great excuse to show off that costume. Photo courtesy of the Prospect Park Alliance
Halloween Haunted Walk & Fair — Prospect Park, Brooklyn
Saturday, October 26
Celebrate Halloween throughout Prospect Park all afternoon. The usually serene Lookout Hill is overtaken by zombies, werewolves, headless horsemen, and witches at the Prospect Park Alliance's annual Halloween celebration. Although it's all in ghoul fun, the spine-tingling stroll is aimed at school-age kids and may be too much for sensitive tots. Families with very young children may want to go straight to the Nethermead for the concurrent Halloween Fair, featuring themed games, crafts, and tasty treats. Both events are FREE. Nearby, the Prospect Park Carousel turns into a (not too) spooky Halloween ride.
Day of the Dead — East Village
Saturday, October 26–Sunday, October 27
Throw some multicultural celebrating into your Halloween mix. Day of the Dead—or Día de los Muertos in Spanish—is observed by many Hispanic cultures, and perhaps more familiar than ever thanks to the blockbuster Coco. While it has no relation to Halloween, it occurs around the same time and features many of the same trappings, including skulls, colorful outfits, and parades. Revelers honor friends and family members who have passed by building altars and adorning them with colorful paper flowers, grinning skeletons, and candles. It's a joyful way to honor the deceased without freaking out kids. Mexican culture organization Mano a Mano throws one of the best Day of the Dead events in NYC at St. Mark's Church in the East Village. The two-day fest includes a marketplace with Mexican eats and wares, live music and dance performances, paper craft workshops, and a communal altar, where you can place photos and other remembrances of your loved ones. FREE
RELATED: Not-Too-Spooky Halloween Events for NYC Toddlers and Preschoolers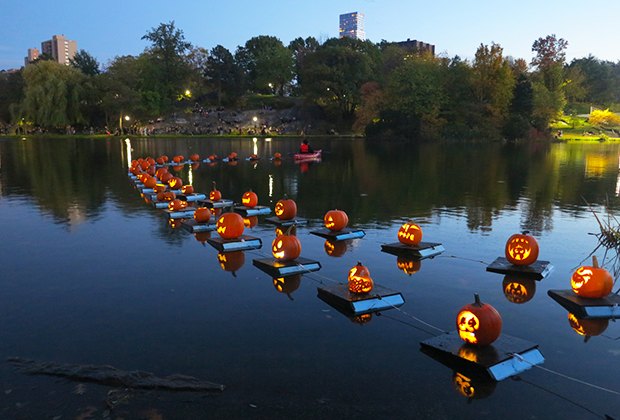 The Pumpkin Flotilla is always one of the prettiest Halloween events in the city. Photo courtesy of the Central Park Conservancy
Halloween Parade and Pumpkin Flotilla — Central Park
Wednesday, October 30
Head to Central Park's picturesque Harlem Meer for this annual family favorite. Enjoy Halloween crafts, not-too-scary stories, live music, and a pumpkin-carving demo. At dusk, join the joyful costume parade around the northeastern edge of Central Park and then watch as a fleet of jack o' lanterns is set afloat on the water. This festive community affair becomes more popular each year, though the move to a weekday should help keep crowds manageable. FREE
Park Slope Civic Council Children's Halloween Parade — Park Slope, Brooklyn
Thursday, October 31
There are plenty of seasonal parades in NYC, but a few really stand out, including Park Slope's annual procession, which is the oldest children's Halloween parade in the country. Hit the Old Stone House for activities in the afternoon, and be sure to register for the main event, which kicks off at 6:30pm at 14th Street and Seventh Avenue. The parade heads back to the historic house for a party with live music, dancing and romping in the adjacent J.J. Byrne Playground. Merchants on Fifth and Seventh Avenues dole out sweets as kids show off their creative costumes, many of which are homemade. It's another reason Park Slope is considered one of NYC's most family-friendly neighborhoods. FREE
Jackson Heights Halloween Parade — Jackson Heights, Queens
Thursday, October 31
Speaking of parades, this is the second-largest Halloween parade in New York City after the Village Halloween Parade. But this Queens tradition is all about the kids—an estimated 3,000 of whom show up every October. The parade winds along 37th Avenue from 89th Street to 76th Streets, ending at PS 69, where complimentary goody bags are handed out. FREE
RELATED: See NYC's Only Corn Maze and More Fall Fun at this Queens Farm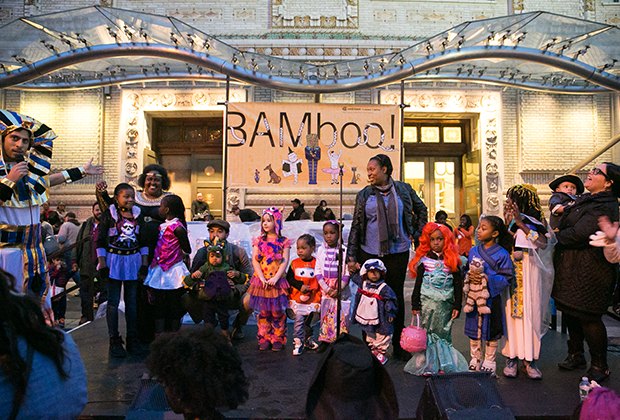 Enjoy candy, but also games and music at BAMboo! Photo courtest of BAM
BAMboo! — Fort Greene, Brooklyn
Thursday, October 31
The Brooklyn Academy of Music's annual block party will be held indoors this year due to expected rain. A DJ spins spooky tunes as kids make Halloween crafts, play carnival games, chomp on candy, romp in a bouncy house, and show off their outfits in a costume contest. FREE. Once it wraps up at 7pm, head 10 blocks east to Clinton Avenue to trick-or-treat door-to-door.
Best Halloween Day Trips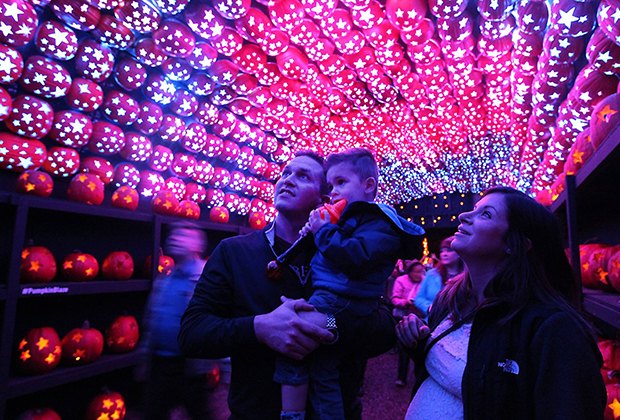 Thousands of hand-carved pumpkins make up a jaw-dropping display. Photo courtesy of The Great Jack O'Lantern Blaze
The Great Jack O'Lantern Blaze — Croton-on-Hudson, Westchester County
Select evenings through Saturday, November 30
For nearly 50 nights in September, October, and November, families can marvel at more than 7,000 hand-carved, illuminated jack o' lanterns displayed all over the 18th-century grounds of Van Cortlandt Manor. In addition to traditional pumpkin heads, there are dinosaurs, snakes, giant spider webs, the Headless Horseman, and a menagerie of life-sized animals, all cleverly assembled from carved pumpkins. Eerie sound effects and mood lighting enhance the experience. Check out our in-depth review of the Great Jack O'Lantern Blaze from past (repeat) visits by Mommy Poppins staff. Tickets for popular times are already selling out, so get yours soon if you want to go.
Rise of the Jack O'Lanterns — Long Island and Governors Island
Select evenings Saturday, October 5–Monday, October 28
The Rise of the Jack O'Lanterns is an established favorite on Long Island at the pretty Old Westbury Gardens. You'll see thousands of hand-carved pumpkins set into all manner of displays. There are spooky ones, sure, but also plenty of fun for the kids, including Disney princess carvings some years, dinosaurs, and plenty of other pop culture fun like the Peanuts gang. Look for the 100-pound pumpkins. Grab your tickets now! Bonus: The same event organizers are again staging the Night of 1,000 Jack O'Lanterns on Governors Island so you don't have to go any further than the ferry to get your fix.

The spookiness gets more intense as the night wears on at Six Flags Annual Fright Fest. Photo courtesy of Six Flags
Six Flags Annual Fright Fest — Jackson, New Jersey
Fridays–Sundays through October 31 plus September 30, October 10, 17, 22, 23, 29, 30, and 31
Massive amusement park Six Flags Great Adventure offers thrills with its heart-pumping rides, but it adds in chills in honor of Halloween. During the day, the attractions are little-kid-friendly, with treat stations, costumed characters, and kooky but not-too-spooky magic and variety performances. Come nightfall, the scares seriously intensify with haunted mazes and attractions aimed at the 13-and-older set. Prices vary, so check the website.
Find more suburban theme park events with our roundup on Pennsylvania and New Jersey spots, or you can always head to Coney Island's local amusement mecca for Luna Park's ongoing Halloween fun, including rides and a pumpkin patch.
Halloween Train Rides — Pennsylvania and New Jersey
It turns out the 'burbs are loaded with cool fall train rides, including a few that take the whole family to the pumpkin patch, a corn maze, or other autumnal fun. There are scary haunted evening rides for teens, but also plenty of laid-back afternoon outings, some with trick-or-treating for little ones. Read more from our local Mommy Poppins sites about the best Halloween trains in New Jersey and Pennsylvania.
Where to Find Costumes and Makeup
It's scarily easy to find Halloween costumes in NYC. National chain Spirit Halloween hosts a slew of pop-up locations throughout the season, and Ricky's stocks a variety of costumes for all ages, as do big-box retailers, including Target, Kmart, and Party City. If you're looking for more offbeat options, try these dedicated, year-round costume shops, which also have professional makeup artists on hand to work on your kids (for a fee, of course). Call the stores for hours and offerings.
Abracadabra Superstore — Chelsea
Whatever your kids want to be, they can find everything they need to realize their dreams (or nightmares) at this costume and novelty emporium, from the outfits to accessories, makeup, and props. The warehouse-like shop is huge; you can spend an hour or two gawking. Its selection of novelty items is particularly impressive (and, at times, obscene). Detailed, high-end costumes are also available to rent.
New York Costumes Halloween Adventure — East Village
At this giant, two-floor store, it's October 31 all year. Find any commercial costume you can imagine, including a nice kids' selection, plus wigs, masks, props, decor, makeup, and an extensive magic section. If you're planning to pull a Renn Faire look, check out sister store Gothic Renaissance next door for your corset and cape needs.
Frank Bee Costume Center — the Bronx
Be prepared to hunt for what you want at this jam-packed costume shop. Open since 1957, the store offers more than 10,000 outfits for purchase along with a lowest-price guarantee, plus accessories and novelties. For kids who aren't sure what they want to be for Halloween, a trip here is sure to inspire.
Find more ways to celebrate the season in our jam-packed Halloween Guide.
This article, first published in October 2015, is updated annually.