Yankee Stadium Opens Kids Playground for All Ticket Holders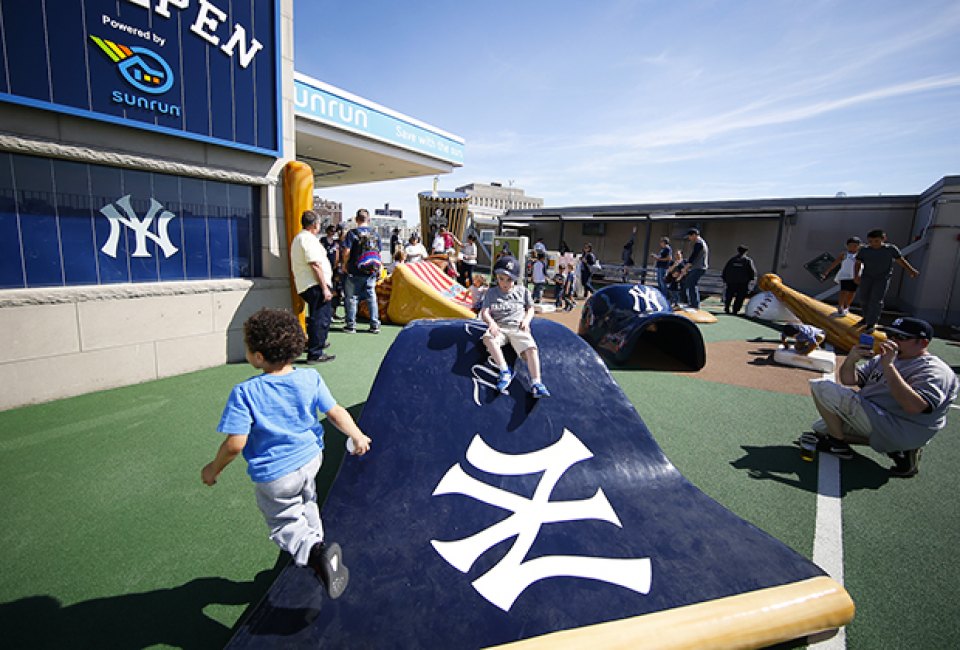 5/17/17
- By
Andy Fenwick
Yankee Stadium has a new way of keeping little ones entertained during those notoriously long baseball games: a playground. Say hello to the Sunrun Kids Clubhouse. You'll find it in the 300 level on the right field side, its entrance beneath a subtle, circular sign. Any ticketed fan can enter, but security appeared solid when we visited—there's no entering without a child.
Most of its features skew toward kids ages 5 and under, with small slides and climbing features scattered around a baseball diamond-shaped clearing with soft, artificial flooring. For little ones, there's space to run in the 2,850-square-foot playground space.
The stadium also made an addition for new moms. There's now "a private space for nursing mothers," with "seats and outlets for electric pumps" in the Sunrun Kids Clubhouse. Smart idea to put this next to the play area in case a nursing mom is also watching an older kid or kids.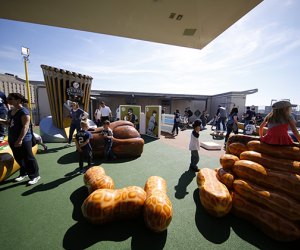 The new Sunrun Kids Clubhouse has
On the spring Wednesday my daughters and I visited, intermittent rain didn't close the Sunrun. Parents took shelter in dugouts around the playground, which should provide equal shelter from July or August sun. All the features are baseball-themed with catching mitts, peanuts, and even a hide-and-seek like structure in the shape of a World Series trophy. My 8-year-old daughter most enjoyed a tented feature where kids could test their control by pitching a Whiffle ball into a strike zone. While she pitched, adults caught the game on strategically placed televisions. She was definitely at the top of the age group for the Sunrun, but preschoolers around us seemed overjoyed. And if that's not enough playground action, after the game, head across the street from the stadium's southside exits to the relatively new Macombs Dam Park playground which, in the warmer months, includes water features.
RELATED: 9 NYC Batting Cages Where Kids Can Hit it Outta the Park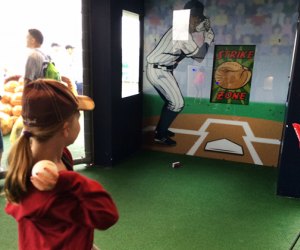 Practice your pitch at the Strike Zone game. Photo by the author.
The Sunrun follows a nationwide trend of the last 30 years toward making baseball stadiums more inviting, with Yankee Stadium specifically adding new features this year, including standing-oriented outfield terraces and party decks where any ticketed customer can mingle with friends. This certainly helps getting the under-30 crowd to spend money on a ticket and also buy the—let's face it, slightly expensive—stadium food and drink.
RELATED: 10 Places NYC Families Can Play Together: Bumper Cars, Bowling Alleys, Mini Golf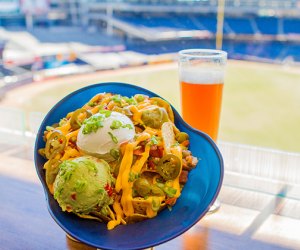 Enjoy nachos in a helmet.

Aside from the Sunrun, Yankee stadium is far more fun for kids these days, too, with constant giant-screen entertainment between innings or food features like a "helmet" of nachos or a "helmet" of ice cream (they're exactly what you think they are). They even do birthday parties. While minor league Met and Yankee affiliates the Brooklyn Cyclones and Staten Island Yankees probably remain more affordable for families, Yankee tickets bought with a MasterCard are only $5 for select games. They're in the nosebleeds, but you're in the shade, or protected from rain. Plus, in those seats, kids can catch some unique New York scenes, like watching the "the wave" against the Bronx skyline or food vendors toss peanut bags across 15 or 20 rows of fans.
Got a news tip about something new opening in your NYC neighborhood? Email us at nyc@mommypoppins.com.
Top photo: Sunrun Kids Clubhouse. Unless otherwise noted, photos courtesy of New York Yankees.
Places featured in this article:
Click Here to Sign Up!
i