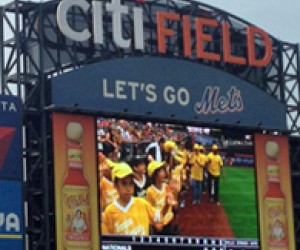 Take Me Out to the Ball Game: Affordable Mets & Yankees Ticket Deals
I've written in the past about my family's love of baseball, which extends well beyond just playing. My son, a die-hard Yankees fan, has seen games in six big-league ballparks. With spring in the air, and Opening Day only days away (the Yankees are back in the Bronx on April 6, the Mets at Citi Field on April 13), I've been looking for tickets that can get my family of five into a game without breaking the bank. Read on for the scoop on wallet-friendly ticket deals, and my tips for enjoying America's favorite pastime with your brood in tow.
See the Yankees
The Yankees are New York's priciest team, with Opening Day tickets ranging from $18 all the way up the $1,600! Fear not, though, there are a few deals to be had, just not for the first of the season. Before you begin looking for tickets, keep in mind that "premium games," like Opening Day, and others designated at the team's discretion, won't be included in any of the deals listed below.
If you have a MasterCard, there is a trio of deals to take advantage of:
OUR LATEST VIDEOS
The first is $5 MasterCard games. For these select dates, including many weeknight games, $5 will get you a ticket in the Terrace and Grandstand Levels or the Bleachers. Of the three options, Grandstand is the way to go with kids. The crowd here is decidedly less rowdy and alcohol fueled. If you're worried about the latter, the Yankees do have two sections (407A and 433) where the sale and consumption of alcohol is prohibited.
The second MasterCard deal will get you half-price tickets to Wednesday and Thursday day games throughout the year. Seats at this price point are available in the Grandstand, Bleacher and Terrace Levels.
The last MasterCard deal is the most limited, and grants 25% off tickets to games with a TBD start time. The discount is only available before the game time is announced.
Student pricing is available for Wednesday games, however, this deal can only be claimed on game day. High school and college students can purchase a half-price ticket when they present a valid ID at the box office.
Similar to student pricing, children ages 14 and younger can get a half-price ticket to Saturday home games. Again, this deal can only be claimed on game day. Be prepared to pay full price for your own ticket, however.
While You're There: Be sure to arrive early to allow time for a visit at Monument Park in center field. Here you'll find plaques commemorating all the Yankees' greats, plus Jackie Robinson. After you've paid homage, proceed to the Yankees Museum, which is located on the main level adjacent to Section 210. Look through Yankees' history, hunt for your favorite player's autograph or pose for a photo with a World Series trophy. The museum is open until the end of the eighth inning. You'll also find a schedule of all the Yankees' promotional giveaway dates here.
See the Mets
Head over to Citi Field for a far more family- and wallet-friendly deal. Ticket prices range from $39 to $535 for Opening Day, but a less premium date sees ticket prices dip to an $11 starting point.

For families, there are two special ticket deals to take advantage of:
Sundays are Family Day at Citi Field. In addition to generous ticket deals, there's also a kid-themed promotional give away. Additionally, kids get a chance to run the bases post-game with lovable mascots, Mr. and Mrs. Met.
If Sundays don't work for your crew, the Mets offer Family Pack tickets at a variety of games all spring and summer long. Ticket prices vary from $15-$54 depending on the opponent and section of the ballpark where you sit. Each ticket grants admission and also includes a soda, fries and a choice of hamburger, veggie burger, hot dog or pizza slice. If you opt for a different ticket, you can purchase a kids' meal for $7 at Mr. Met's Kids Kitchen behind Sections 140-142 at any home game.
While You're There: The Mets, too, have a museum which is open on game days. It is located next to the Jackie Robinson Rotunda and Team Store and you can visit from the time the gates open until the end of the game. Game day also means the Mets' Fan Fest is open for play. Located in center field, you can take some swings at a kid-sized replica of the stadium, step up to the plate in the batting cages or test your velocity and accuracy with a toss at the dunk tank. Mr. Met makes appearances to mingle and take photos with fans, too. The Mets' promotions for the season are detailed here.
Other Ticket Deals
Military Deals: Both the Mets and Yankees provide active-duty military members with a free ticket on game day. Subject to availability, and beginning two hours before game time, military members can present their IDs at the box office to claim their ticket. Accompanying guests will need to purchase a ticket, however, and the Yankees' deal is only valid Monday-Thursday.

Save on Fees: Ticketmaster is the official ticket outlet for Major League Baseball, and tickets are bought online. If you'd like to save the service fees, though, purchase your tickets at each stadium's box office or the Yankees Team Store.

StubHub: In the past, I've had good luck scoring tickets with this site where fans buy and sell tickets. The key is to know what you're willing to pay and pick a game based on your bottom line. You can often get below-market prices for games here that involve less-than-desirable opponents, though I once took my family, plus my mom and brother to a Yankees-Red Sox game and paid about $30 per ticket. Yes, it was early in the season, well before the All-Star Break, but it was a beautiful Friday night and a wonderful way to show off one of my favorite city sites. There's even a StubHub Service Center within walking distance of Yankee Stadium, much to the chagrin of the team.

Deals Sites: Sites like LivingSocial and Groupon often offer deals on tickets throughout the season. A recent Groupon deal was good for $9 tickets to Citi Field.
Know Before You Go
Major League Baseball's bag policy limits what you can carry in to each stadium. In general, bags must be soft-sided and smaller than 16 inches by 16 inches by 8 inches. If you try to bring in too much, there's no place to store your excess baggage, though some local businesses may offer lockers for a fee. Best advice: pack light.
Beyond the ticket prices, food is always a big expense during the game. While you are limited by bag size in what you can carry in, both teams will let you bring in an unopened, sealed water bottles and juice boxes.
When buying tickets, keep in mind your child's size. The Yankees allow children ages 3 and younger who are less than 30 inches tall to attend ticket-free, provided they sit on the lap of an adult; the Mets' height cutoff is 32 inches.
Find more seasonal family fun in our Spring Activity Guide.