Kid-Friendly Nail Salons in NYC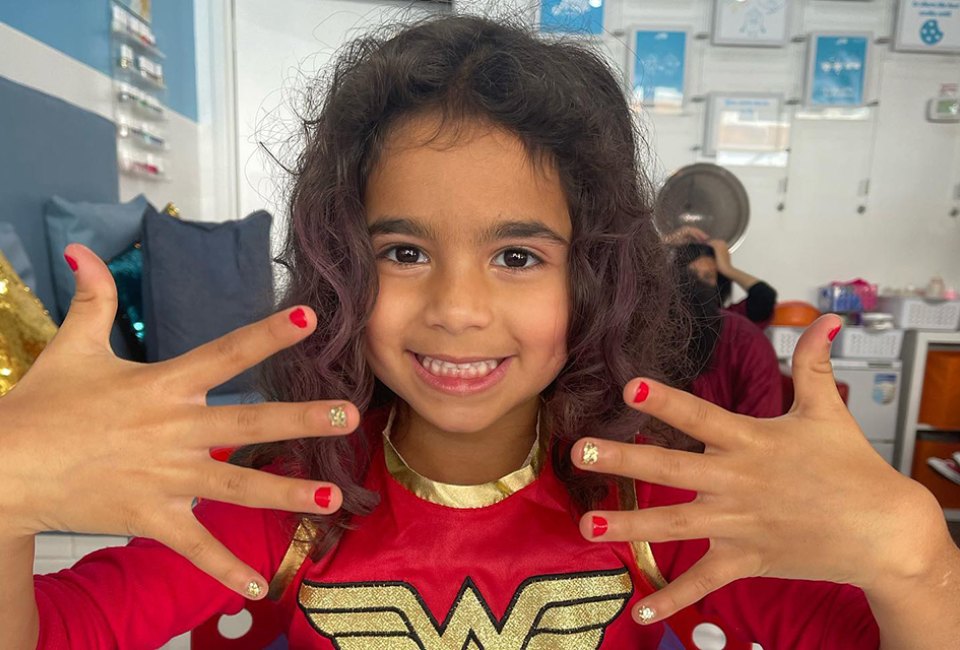 4/12/22
- By
Yuliya Marks
When it comes time to groom or get glammed up, a trip to the nail salon may be in order. At these local kid-friendly nail salons, children can enjoy getting pampered—or you can enjoy a mommy-and-me mani alongside them. These 14 local nail salons in NYC all offer parent-approved perks, like organic nail polishes, and kid-friendly draws, like nail art designs cool enough for big kids. Some of them are open for walk-in services, while others are party places only. We've even found a salon that brings a mobile spa party right to your front door for your next celebration.
Subscribe to our newsletters to get stories like this delivered directly to your inbox.
Kid-Friendly Nail Salons in NYC
Reasonably priced mani-pedis can be paired with nail art, makeup application, mini facials, face painting, or princess dress time at this adorable Bronx salon. Sorry, moms, it's kids-only services here, but there are plush, princess-pink chairs, and colorful floral backdrops for a post-service photo shoot. Hosting a party? Pink Princess offers a variety of party packages at the salon or your house.
This clean and modern nail salon doesn't cater specifically to kids, but it is kid-friendly! Boasting all-natural nail treatments, it offers a kids mani-pedi for those under 10. Nail art can be added for $3-10 per nail, depending on the design, all enjoyed in a salon free of the usual chemical smell.
RELATED: 40 Black-Owned Restaurants, Shops, & African American Landmarks in NYC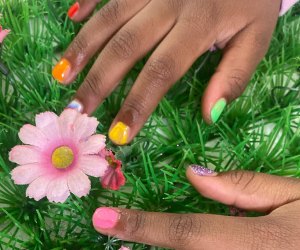 Little fingers get the superstar treatment at Canarsie's Fresh as Daisy Kids Spa & Salon.
Catering to kids from 3 years old to 14 years old, Fresh as Daisy Kids Spa offers several spa packages to choose from. Book your appointments (and pay a deposit) in advance. All services include a fluffy pink spa robe and flip-flops to wear during your services. Kids will be comfortable in the just-right-sized pedi chairs. Hair braiding and birthday party packages are also available.
Teenagers appreciate the fancy finger art available at this local neighborhood salon. The clientele here skews toward more mature kids, and the staff offers top-notch service in a friendly environment.
This local salon specializes in fancy fingers and has an array of art and designs for all occasions. Visit its website for inspiration before booking your appointment. Best for tweens and teens, this spot is clean and offers friendly service.
Mellow Bar – West Village and Soho
If you're concerned about COVID, take note: At this salon, the staff and visitors are required to be vaccinated. Nail services here use non-toxic, long-lasting, vegan, and cruelty-free polishes. It focuses on treatments that won't damage natural nails. Appointments are required for all services.
RELATED: Best High Tea Spots in NYC to Enjoy a Cup With Kids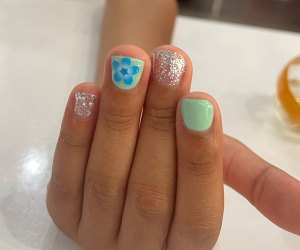 Milk & Cookies Kids Spa and Salon offers steller nail services, and its namesake treats are included in every booking.
We love this Upper East Side mainstay, which offers unisex services, plus packages geared toward "Cool Gals" and "Cool Dudes." The latter includes a Slimy Booger Invasion gel soak. Nails are polished with the salon's own Splat polish, which is vegan, non-toxic, and comes in 18 kid-friendly shades. Kid-sized chairs keep little ones comfortable during their services. Other fun here includes hair salon services and a section where kids can make their own bath goodies. This nail salon is all about self-esteem. Of course, all services end with a cup of cold milk (vanilla, strawberry, or chocolate!) and a warm cookie. Birthday parties are also offered.
The pink-and-light green decor at this spot offers an inviting atmosphere where you can sit back and enjoy your treatment alongside your child. While not a kid-centered salon, little ones are welcome here, and "Little Princess" services are offered for those under age 8. Its Instagram page showcases some cool designs.
Small Lily – Forest Hills, Queens
Small Lily is a great local salon that provides a friendly, professional atmosphere welcoming to kids. Appointments are required to visit. It offers both traditional and organic nail polishes to choose from, plus a cool selection of Japanese nail art designs. This spot feels like a hidden gem.
While Sharkey's is well-known for its kids' haircuts, you can also book a "mini-cure" here—in fact, the service is included with all girls' haircuts.
RELATED: 5 Children's Salons and Barbershops in Queens Perfect for a First Haircut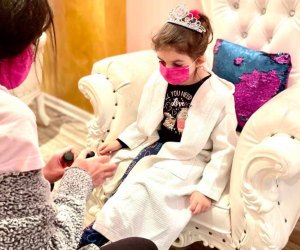 Kidz Lounge offers a variety of spa party packages with tons of kid-friendly themes to choose from.
Where to Host a Spa Party at NYC Nail Salons
If you are looking for a unique birthday party spot, consider booking at Kidz Lounge. Its multiple party package offer spa fun to ages 4+, with plenty of customizable themes. Parties here are luxurious and fun, and kids are pampered to the fullest. Enjoy the parent lounge while kids are spoiled. If you want to visit outside of party time, consider booking one of its by-appointment packages.
Host the ultimate spa party with this at-home service that brings its hot pink Glam Spa Bus to your doorstep for 90 minutes of spa fun, including options for mani-pedis. Kids enjoy a lively playlist while they're pampered, plus a big-screen TV blasts kid-friendly shows, and disco lights encourage a post-pampering dance party.
Pizza, cupcakes, and refreshments are not typical nail salon fare, but at this Greenpoint party spot, they're all included. This kid-friendly nail salon is strictly open for parties. Book your birthday party and enjoy two hours of spa-inspired fun for the birthday kid and eight guests. A variety of pampering parties are available.
Lollipop Spa offers a wide variety of glamorous party packages, but walk-ins are also allowed; just call for current hours, which vary by day. For $50, kids can enjoy a mani-pedi, glitter eye makeup, and princess tattoo, all while bundled in a plush spa robe.
Photos courtesy of the salons and spas