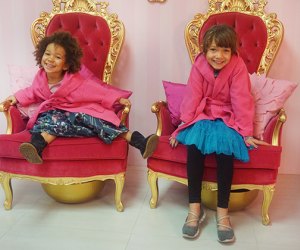 Cotton Candy Spa: Brooklyn's New Party Place for City Princesses
It's been said that necessity is the mother of invention, and that's certainly the case for one new, mom-owned business in Greenpoint, Brooklyn.
When Anna Bychowska went searching for an affordable birthday party spot for her then 6-year-old daughter last fall, she came up empty in her neighborhood and nearby Williamsburg. Party spots she found were either too expensive or booked months in advance. Discouraged with the offerings, she saw an opportunity and founded a party spot of her own. In late 2016, Cotton Candy Spa was born.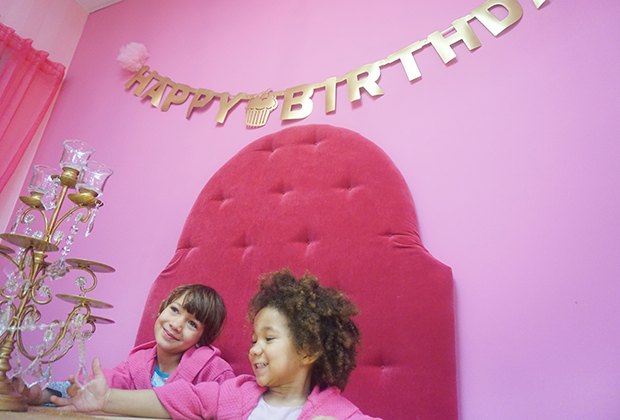 The decor of Cotton Candy is fit for your princess (or prince)!
Unlike some other kids spas we've checked out, Cotton Candy is almost solely a party spot, but my daughters and I were lucky enough to get a little red (or pink!) carpet treatment on a recent visit.
Located off the beaten path in a residential section of Greenpoint, visitors enter a cotton-candy pink wonderland fit for any birthday princess. When we arrived, Bychowska's niece, who serves as her pamperer-in-chief, whisked my girls (ages 3 and 7) away, first fitting them in snuggly pink robes, and then seating them at the pair of manicure stations as she set to work fancying up their nails.
RELATED: 22 Drop-In Play Spaces for Brooklyn Kids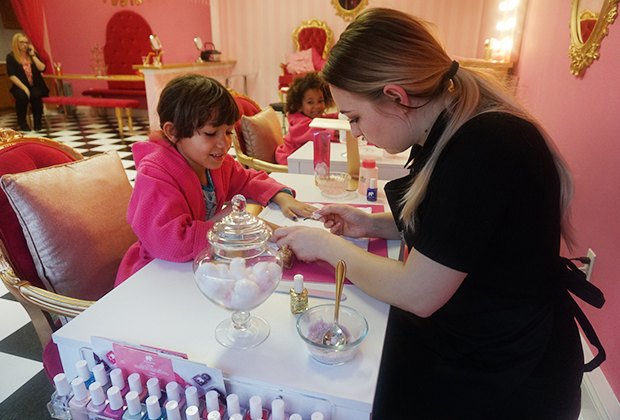 Choose from among a number of Ella + Mila nail polish shades, and definitely opt for the glitter top coat!
The space, designed by Bychowska's interior decorator sister-in-law, oozes girliness with its pink-striped walls and plush velvety seating at the manicure and pedicure stations, of which there are also two.
Cotton Candy Spa hosts up to six 1.5 hour pampering parties each weekend and Bychowska prides herself on affordability—a $399 package buys eight guests plus the birthday girl a mini mani, mini pedi, and mini makeup application. Parents worried about chemicals in nail polish can rest easy knowing Cotton Candy uses Ella + Mila nail products, which are free of formaldehyde and other strong chemicals.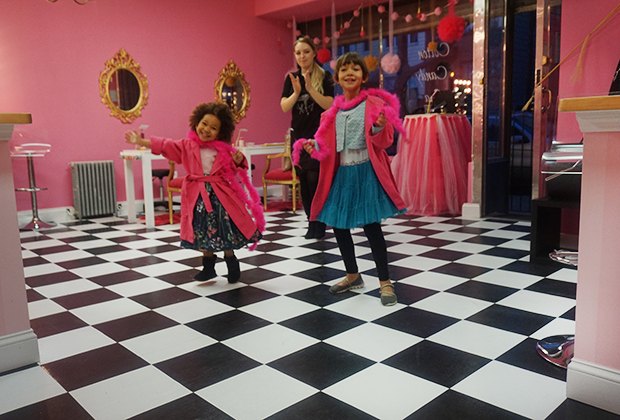 Birthday parties are the specialty here. Kids don pink robes and later pink boas for a dance party.
Once they're all glammed up, there is time for pizza, drinks, and cupcakes at the long, golden, picnic-style table on one side of the room. Between the throne-like seat in the middle, and the "Happy Birthday" banner above it, your birthday girl is sure to feel like a queen for the day, and have picture perfect memories to remember it by. Once tummies are full, out come the feathery boas, and a rocking dance party closes out the action.
Bychowska wants her spa to be a place where both girls and their parents can enjoy the party. Her staff takes care of the details and the kids while parents sit, relax, and chat over a cup of coffee. If our visit was any indication, there will be plenty of time for that. Though the space was small, my girls were engaged, entertained, and pampered from the moment we walked in the door.
RELATED: Top 30 Things to Do with Brooklyn Preschoolers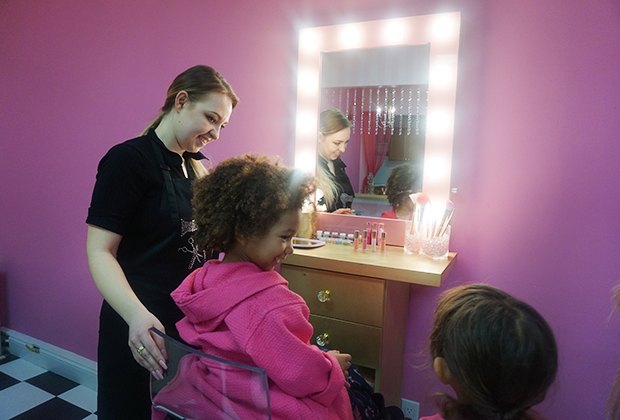 A mini "makeover" with makeup application is a definite treat.
While parties are the main focus here, Cotton Candy does open its doors to regular clients if a party isn't on the schedule. For information on hours and availability, bookmark its Facebook page, or give them a call at 718-388-8197. Guests visiting outside of a party can receive the same mini-mani/pedi/makeover treatment as partygoers for $25 per client; cut out the makeup application, and you're paying just $15. Parties can also be booked by calling that number.
All photos by the author.