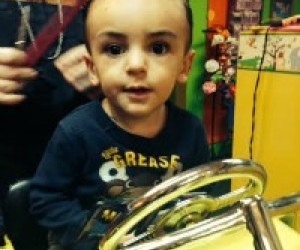 Kids Haircuts in Queens: Children's Salons for Boys and Girls
As the mom of a very active toddler, I know how hard it is to get him to sit still. He barely does it to eat or sleep, so the chances of me getting him to stop moving for 15 minutes so he can get a decent haircut are slim to none. Even though our local Supercuts is cheap and kid-friendly, they're not going to cut it for my son—literally.

Luckily, we don't need to trek into Manhattan or Brooklyn to find a great place for kids' cuts. Queens has six fabulous haircutting salons that don't just welcome families, they specifically cater to children.
Barbershop Steve 3000 – Bayside & Whitestone
196-11 Northern Boulevard between 196th Street and Francis Lewis Boulevard
26-13 Francis Lewis Boulevard near 26th Avenue
20-24 Francis Lewis Boulevard near 20th Road
Founded in 1992, this mini-chain has three locations in Queens and offers cuts for grown-ups and children. Little kids can sit in cute themed chairs (a police car, a train, a fire truck), and watch cartoons on flat-screen TVs or play video games on PlayStations while their hair gets chopped. Want more than just a trim? Barbershop Steve 3000 does trendy 'dos and even temporary funky hair colors for kids.

Frankie's Playce Children's Salon – Middle Village
75-48 Metropolitan Avenue near 78th Street
Well-placed on the bustling Metropolitan Avenue, Frankie's is a hybrid children's boutique and salon. When you walk in, there's a cute selection of kids' clothes and toys. In the back is the salon, featuring yellow taxi seats and a TV playing family movies (kids can choose from a bunch on VHS tapes! Yes it's old-school). Need to wait a bit until the snip? There's also a playroom filled with puzzles, toys and a play kitchen. Every cut comes with a complimentary lollipop and a bag of Cheerios. First haircuts warrant a diploma and a little goody bag.

Seriously Spoiled – Middle Village
75-24 Metropolitan Avenue between 75th and 78th Streets
Just down the block from Frankie's you'll find this brand-new spa aimed primarily at tweenage girls. Decorated in bubblegum pink, the salon offers manicures, pedicures and chocolate facials in addition to hairstyling. Birthday party packages and spa day specials are also available.

Mesmeric Salon – Ridgewood
71-25 Fresh Pond Road near Myrtle Avenue, second floor
From the preschooler-pleasing seats (Cookie Monster in a firetruck, Minnie Mouse in a sports car) to the adorably named packages (the All About You for first-time salon goers, the Me & My Grandma, which includes keepsake tokens for your tot and nana), Mesmeric is all about fuss-free haircuts. The waiting area is stocked with toys, books and a TV, and customizable birthday party packages are also available.

Utopia Barber Shop – Whitestone
20-06 Utopia Parkway near 20th Avenue
Opened by a third generation barber and local family man, this haircutting spot is divided into two distinct section: An old-school barber shop for men and a toy-filled Kids Zone featuring police and airplane seats, walls decorated with Mickey Mouse and other cartoon characters, and a waiting room with Xbox and Nintendo video games. Utopia strives to be a salon where all kids feel comfortable, even children with special needs. Inspired by his wife's work as a special needs teacher, the owner has created a sensory-friendly atmosphere with dimmed lights, customized quiet clippers, and staff trained to handle children with autism or other special needs.

Smiles N Styles – Ridgewood
951 Wyckoff Avenue at Weirfield Street
Opened in 2014, this bright and cheerful spot looks more like a play space than a salon. Disney and Nickelodeon characters adorn the walls, free arcade games beckon in the waiting room and there's plenty of room to romp. There's also a full-service salon where kids can get haircuts in whimsical firetruck and police car chairs. Spa parties are big here, and come with full makeovers, so if you just want a haircut, call ahead to make sure it's not closed for a private birthday bash.

Read our posts about kids' hair cutting salons in Manhattan and Brooklyn.