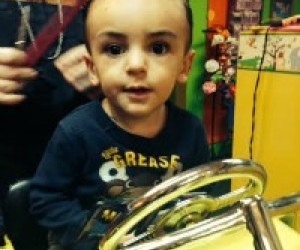 Kids Haircuts in Queens: Children's Salons for Boys and Girls
We all know how hard it can be to get active little ones to sit still for a haircut. There are plenty of barbers and salons across the five boroughs, but not all of them specialize in children's haircuts. That's because it takes patience, the right atmosphere, and an occasional bribe—did someone say goody bags?—to create a positive experience.

Luckily, we don't need to trek into Manhattan or Brooklyn to find a great place for kids' cuts. Queens has several fantastic hair salons that specifically cater to children.
Barbershop Steve 3000 – Bayside
196-11 Northern Boulevard between 196th Street and Francis Lewis Boulevard
Founded in 1992, this location offers cuts for grown-ups and children. Little kids can sit in cute themed chairs (a police car, a train, a fire truck), and watch cartoons on flat-screen TVs or play video games on PlayStations while their hair gets chopped. Want more than just a trim? Barbershop Steve 3000 does trendy 'dos and even temporary funky hair colors for kids.

Frankie's Playce – Glendale
8028 Cooper Avenue and 80th Street
Originally located on Metropolitan Avenue, Frankie's Playce found a new home at the Shops at Atlas Park in Glendale. This hybrid children's boutique and salon carriers a small selection of toys. The salon itself features fun car-shaped chairs and adjacent TV screens, playing kid-friendly movies and shows. Need to wait a bit until the snip? There's also a playroom filled with toys and a play kitchen. Every cut comes with a complimentary goody bag. First haircuts warrant a diploma.

Seriously Spoiled – Middle Village
75-24 Metropolitan Avenue between 75th and 78th Streets
If you have a little girl who loves to be pampered, Seriously Spoiled is the place to go. The salon/spa is aimed primarily at tween girls. Decorated in bubblegum pink, it offers manicures, pedicures and chocolate facials in addition to haircuts and up-dos. Birthday party packages and spa day specials are also available.
LIC Royal Barbershop – Long Island City
10-54 47th Avenue between 11th Street and Vernon Boulevard
LIC Royal Barbershop prides itself on being able to offer quality haircuts to everyone. The kids' salon has a fun setup with colorful seats in the shape of a firetruck, an airplane, and a taxi, as well as TVs to keep kids entertained while they're getting styled. By appointment only.

Mesmeric Salon – Ridgewood
71-25 Fresh Pond Road near Myrtle Avenue, second floor
From the preschooler-pleasing seats (Cookie Monster in a sports car, Big Bird on a motorcycle) to the adorable first haircut packages, which include special keepsake tokens, Mesmeric is all about fuss-free haircuts. The waiting area is stocked with toys, books, and a TV. But remember, appointments are required, so book in advance.

Utopia Barber Shop – Whitestone
20-06 Utopia Parkway near 20th Avenue
Opened by a third generation barber and local family man, this haircutting spot is divided into two distinct section: An old-school barber shop for men and a toy-filled kids salon, featuring police and airplane seats, cartoon character wall decals, and a waiting room with video games. Utopia strives to be a salon where all kids feel comfortable, even children with special needs. Inspired by his wife's work as a special needs teacher, the owner has created a sensory-friendly atmosphere with dimmed lights, customized quiet clippers, and staff trained to handle all children.

Kiddy Kutz – Astoria
22-77 Steinway Street near 23rd Avenue
Kiddy Kutz is a salon geared specifically toward children, with patient hairstylists who take their time even with the fussiest customers. The salon also caters to babies and has a an exersaucer seat to keep little ones distracted. With gaming consoles, train tables, balloons, and toys—there's plenty for kids to do while they wait for a haircut. Meanwhile, parents can enjoy a complimentary cup of coffee. Kiddy Kutz is by appointment only.
A version of this article first published in July 2014, but it has since been updated. Elena Malykhina contributed additional reporting.