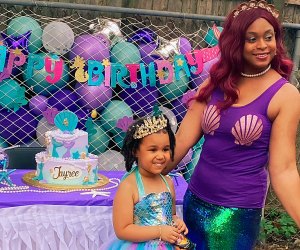 24 Birthday Party Entertainers Who Come to You in NYC
Planning a child's birthday party can be overwhelming—there are so many different options! Whether you decide to rent out a party room, throw a shindig in a park, or celebrate at home, we've rounded up 24 birthday party entertainers who will come to you. They bring the fun, from face painting to magic, princess appearances, spa services, sports skills, and more. These birthday party entertainers make marking your child's next milestone memorable.
Subscribe to our newsletters to get stories like this delivered directly to your inbox.
Musicians for an At-Home Birthday Party
Coverage area: Tristate area
Kick the entertainment up a notch with a performance of rock & roll classics by the Little Rockers Band. The band's size can be customized to your party size and space. Parties are designed for children ages 1-7. A virtual party option is also available.
OUR LATEST VIDEOS
Coverage area: Tristate area
Have the ultimate dance party with Baby DJ School's DJ Natalie. Choose from in-person or virtual birthday parties for kids of all ages. It brings the birthday beat to you at any venue. Birthday packages start with two-hour DJing and games, and add ons can include a mini DJ lesson, karaoke, laser lights, and more!
Coverage area: New York and New Jersey
Sometimes there's nothing like a good jam sesh. Jam with Jamie is a national company that brings music to all kinds of events, including birthday parties. It offers several different party packages and entertainment options that include live music and face painting, balloonists, magicians, photography, custom cakes, and custom songs.
RELATED: Virtual and Social Distancing Birthday Party Ideas for Kids

Face Art by Melissa provides far from ordinary birthday party services.
Princesses, Face Painters, and Spa Services for At-Home Birthday Party Fun
Coverage area: Tristate area
NYC's premier face and body painting service, Melissa creates beautiful looks for kids of all ages, including airbrush tattoos, jewelry tattoos, and glitter tattoos. Melissa has a team of artists who can create amazing designs at your next event. Its team also offers DJs, magicians, balloon twisting, arts and crafts, and drop-off packages, including balloons and art projects.
Coverage area: Tristate Area
Have the princesses come to you with this group of Disney-inspired characters and party characters who can fit any theme. Its "Princess Like Me" program provides a diverse group of actresses for you to work with. It offers two different in-person party packages, as well as a virtual princess party or video message.
Coverage area: NYC, Long Island, and Westchester
Girly girls go ga-ga for this at-home party service that brings a Glam Spa Bus to your doorstep. Enjoy 90 minutes of fun on the bus, with makeup and hair services, plus a Snapchat photoshoot, a dance party, a fashion show, and more. Upgrades include glitter tattoos and themed goody bags.
Coverage area: NYC, Long Island, and New Jersey
Host a "Glam-Jam" with the help of the team from Glitzy Chicks, and your party guests enjoy two hours of pampering, complete with a manicure, makeup, tattoos, dancing, and glamorous party favors to take home. If that's not enough, you can add an arts and crafts project and runway show by booking the "deluxe" package. Additional add-ons are also available.
RELATED: 12 NYC Bakeries Serving Stunning Birthday Cakes for Kids

Gary the Great keeps kids engaged, whether your party is in-person or online.
Magicians Who'll Make Magic at Your At-Home Birthday Party
Coverage area: Tristate area
Gary adapts his show on the fly to make sure his littlest fans are engaged and having a great time. You can choose from in-person or virtual parties, which both include mind-blowing magic. An acclaimed magician and mentalist, Gary performs at hundreds of events each year for kids and adults alike.
Coverage area: Tristate Area
Magic Evan has been performing at children's birthday parties for more than 10 years and will make your kid's birthday party a truly magical experience. Evan offers three party packages that include a magic show, VIP magic class, goodie bags, and balloon twisting. Virtual programs are also available.
Coverage area: Tristate area
Mr. Magico has performed more than 10,000 magic shows in the last 25 years and can bring his act to any event. Each show includes a live bunny rabbit, balloon sculptures, music, and special sound effects, goodie bags, and more.
Coverage area: Tristate area
A full-time NYC teacher and father of two, Dave has been performing at birthday parties and events for more than 30 years. His show thrills all ages and includes balloon animals, awe-inspiring magic tricks, goodie bags, and more. Virtual offerings are also available.
Coverage area: Tristate area
Arnie is an expert at creating immersive, themed party experiences with magic based on themes like Star Wars, Harry Potter, Alice in Wonderland, and Beauty and the Beast. Arnie showcases magic tricks and entertainment tied to each theme, right down to costumes. A traditional "top hat" magic show is also offered. Virtual parties are available.
RELATED: 20 Great Parks and Playgrounds to Host a Kids Birthday Party in NYC

Daisy Doodle is a jack of all trades on the birthday party scene, offering balloons, clowning, crafts, and more.
Clowns Who Come to Your NYC Birthday Party
Coverage area: Tristate Area
Daisy Doodle brings the fun to any child's birthday party. Daisy can create balloon animals, perform face painting, magic, create themed events, crafts, lead a dance party, and so much more. If you have an idea, Daisy Doodle can bring it to life.
Coverage area: New York City
NYC Birthday Clowns provide an array of entertainment for kids' birthday parties, including face painting, balloon twisting, cotton candy, games, dancing, and magic, in addition to clown appearances. Its entertainers can come to you at private apartments or homes, as well as party venues, parks, and restaurants.
Coverage area: Tristate area
"The Comedy Magic Circus" is an immersive show that includes a variety of entertainment, including improv, face painting, balloon twisting, and glitter tattoos. Sammie and Tudie have been performing for more than 20 years. In-person and virtual options are currently offered.
Coverage area: New York City
Beloved local clown Looney Louie is entertaining at any occasion. He's been performing since 1990 with an act that includes magic, juggling, music, balloon sculpture, and, of course, lots of looniness. Each show is approximately 45-minutes and the birthday boy or girl gets in on the act. Looney Louie's parties are ideal for children ages 3-10.
Coverage area: New York City
This group of entertainers comes to you with a slew of birthday party options, including balloon art, face painting, party games, silent discos, and magic shows. Choose from seven different party packages to get the activities your child will most enjoy.
At-Home Birthday Party Entertainers for Little Scientists
Coverage area: NYC
The Crazy Science Show brings an on-site science laboratory and creates age-appropriate experiments for your party for your budding scientist. Choose from a range of themes, including liquid nitrogen, dry ice, Halloween, or Hanukkah-themed experiences.
Coverage area: NYC and Westchester
Mad Science can bring STEM-inspired fun to your next at-home party with fun, hands-on science experiments catering to audiences ages 4-11. Each guest also goes home with a make-and-take activity; forget goodie bags—send them home with custom slime instead! Parties can also be held virtually.
RELATED: Guide to Birthday Parties for NYC Kids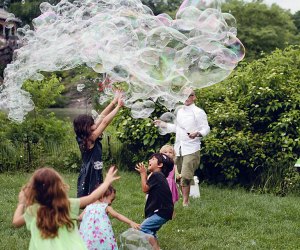 Partying alfresco? Let Bubbledad bring the entertainment.
More Fun Entertainers Who Come to Your Birthday Party
Coverage area: Anywhere, but travel fees apply.
Bubbledad is currently catering to outdoor parties only—and virtual options are also offered. At an outdoor bubble show, guests enjoy 30 minutes of bubble fun by the Bubbledad, plus 15 minutes of active bubble play. Expect thousands of bubbles for popping! High winds or heavy rains put a damper on the show, so Bubbledad appearances are weather-dependent. Once NYC reaches herd immunity, Bubbledad plans to return to indoor parties, too.
Coverage area: Tristate area
The perfect party for your little artist, The Craft Studio offers a to-go party package that can take place at your choice of venues. It offers several different party packages, including an art project, birthday banner, games, and music.
Coverage area: Tristate
"Black Jack" Ryan, born and raised in Brooklyn, is a three-time Guinness Record Holder, ESPN National 3-point Champion, and one of SLAM Magazine's Greatest Playground Legends of All Time. In short, he knows his hoops. Jack provides a one-man show and entertainment for birthday parties, as well as speaking and comedic performances for schools and corporations.
Coverage area: Tristate area
Child's Play offers tailor-made parties to suit kids of all ages. Pick a theme and location, and one of its teaching artists will develop a day of entertainment your child will love. It offers in-person and virtual events that include crafts, games, and activities. Virtual parties are also available.
Coverage area: New York and New Jersey
Get ready to get some wiggles out with the help of the teaching artists at BOLD Arts who take control of your outdoor party, running a 45- to 60-minute dance class, culminating in a short performance and family dance party. You provide the safe, outdoor space, costumes, props, and refreshments, and BOLD Arts brings the star power. Virtual parties are also available.
All photos courtesy of the respective entertainers