Natural Beauty & Stellar Play Areas at Houston's Bay Area Park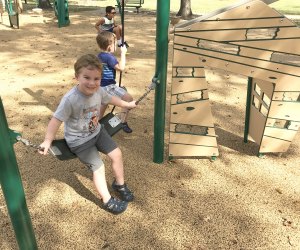 Nestled on the edge of the Armand Bayou Nature Preserve in Southeast Houston, is a beautifully shaded park with newly renovated playground equipment for children of all abilities, two dog parks, a canoe launch, and plenty of ducks to feed. Bay Area Park is also home to a host of wildlife living in natural marsh lands, making it a great place to visit for nature lovers. The park even has its own designated campground for scout troops. Whether you're fishing or hiking, playing ball or picnicking, this park is sure to delight. This 64-acre park is a mere minutes away from our home now, but with so much to do here, we found ourselves frequenting the park even when we didn't live nearby. Take a look at what makes Bay Area Park is one of our favorites in the Bayou City.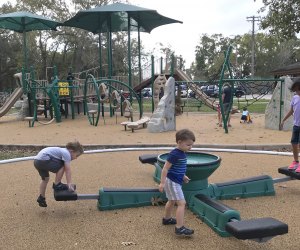 Playing on the new balancing apparatus at the playground.
The main attraction for my family has always been the stellar playground area at Bay Area Park because the playground structures were separated by age and there were plenty of places to swing under the shady trees. However, the park recently underwent a complete renovation of its play area and it is now better than ever. The two largest play scapes are still separated by age; one area for ages five and under, the other for ages six and up. The playground is now safe and accessible for children of all abilities, with special features like ramp entires, a rubberized surface, and play equipment with lower level activities. It also now features several shade canopies to cover the few areas over the equipment where the trees do not.
The new playground equipment has some unique concepts that I had never seen until we went back to Bay Area Park for the first time after the renovation was completed. For example, the park now has a set of dual swings that allow parents (or older siblings in our case) to sit facing smaller children as they swing together. There is now a really fun piece of equipment that allows four kids to stand or sit at the end of arms that extend out from a center spot to rock it back and forth. One person can sit or stand on the spot while trying to balance as the others work to move the center. This balancing obstacle was a huge hit with multiple age groups on our last trip. A large stand-up teeter-totter, multiple mini rock walls, and ropes course obstacles are also noteworthy playground additions.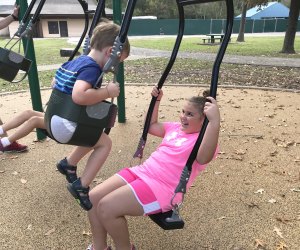 Siblings swinging on the double swings.
Bay Area Park is not only a fantastic place to take kids to play, it is also a great spot for the family dog (or dogs) as well. The park is home to two completely fenced in dog park enclosures. One side of the dog park is for smaller dogs, the other for larger dogs. Located in between the two enclosures are dog wash bays where you can bathe man's best friend or spray off any mud before the car ride home. Dogs have plenty of space in each area to run and play with other dogs and there are benches located throughout the dog park for humans to rest while the pups run amok.
One of the most tranquil spots to spend time in at Bay Area Park is the Oasis Garden. This quaint area features cobblestone paths, an array of flowers and green shrubs, as well as a trellis and gazebo. It's become a favorite spot among local photographers to use as a backdrop for outdoor shots. There is also an abundance of open green space throughout the park for tossing a football, playing Frisbee, or simply letting kids run off some steam.
While there are plenty of picnic tables, benches, and even gazebos to have lunch or a snack at Bay Area Park, don't forget to save some of your food for the ducks! One of the highlights of any park trip is feeding crusts of bread or crackers to the ducks. The ducks here are friendly and plentiful, so even on the park's busiest days, there are plenty of ducks to go around. And when the duck food runs out, there are plenty of other animals to keep an eye out for on the bayou. Take a walk over the decked areas above the marshes to spot armadillos, frogs, and sometimes even alligators in their natural habitat.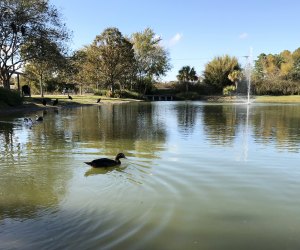 A view of the duck pond.
Bay Area Park also features a canoe launch that is open for public use. While motorized boats are not allowed, canoes, paddle boards, and kayaks are welcome. There are also several designated fishing areas located throughout the park. Spending the day outdoors with kids is so easy to do with so many activities to choose from at Bay Area Park.
What to Know Before You Go
Bay Area Park is open 7 a.m.- 10 p.m.
Restrooms are located near the playground area, behind the baseball fields, and at the duck pond.
A proper fishing license is required to fish at Bay Area Park.
Picnics are permissible, but no glass containers or alcohol is allowed.
Dogs must be on a leash when not inside the fenced dog park area.
All photos by Ashley Jones