The Children's Museum of Houston Is Reopened, Revamped, and Better Than Ever!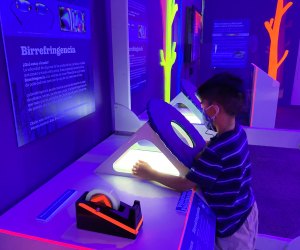 After a year-long hiatus, the award-winning Children's Museum of Houston has thrown open its doors to welcome back Houston families. The aptly nicknamed "Playground of the Mind" has reopened with a number of new exhibits and attractions like Sights Unseen and Heart and Seoul. Some family favorites have been updated as well, just in time for summer break!
Save money on Houston's best attractions with a CityPASS.
What's New at the Children's Museum?
The entire museum has been spruced up for the reopening. Old favorites like the Matter Factory have been updated, and new brain teasers like RoboSurgery have been added to the Invention Convention. The museum also made some big changes in a few areas. Here are the most notable additions:
Sights Unseen
Kids get a chance to discover just how mysteriously the eye works in this brand-new exhibit. They'll love taking a jaunt around the dimmed room with its neon lights and loads of interactive installations. Some of our favorite activities in here included checking out how animals' vision compares to human vision, playing with a polarizer, and spinning wheels with colored filters to combine and create new colors.
Older elementary school-aged kids might appreciate this exhibit more than the younger ones because there is a lot of interesting science involved. A parent or a patient older sibling can probably introduce some of the simpler concepts to little ones by helping them operate all the fun things they can push, pull, and spin. My younger child's favorite part was looking into a video camera, getting his eye scanned, and then seeing the image beamed up on to the big screen while learning about the different parts of the eye.

Do you have what it takes to be a K Pop star?
Heart and Seoul
This season, discover all things Korean in the Cultural Gallery! Ever since my third grader has caught on to music from K-Pop band BTS, she's been intrigued by Korean culture. Whether you're a K-Pop fan or not, this exhibit gives everyone the chance to explore and learn about Korean traditions as well as daily life in modern South Korea.
The KPop Stars Studio offers a fun peek into the K-Pop world. Kids can show off their own moves on the make-believe stage while watching K-Pop bands, like BTS, perform on the big screen.
My kids loved inspecting all the life-like dishes of food at an outdoor eatery, examining the snacks and home-cooked meals found in a Korean family's kitchen, and listening to folktales told on the living room TV inside the replica of the modern high-rise apartment home. On the dining table is a display that teaches about Korean table manners. For example, do you know where utensils go after your meal? You'll have to pull out the answer key to find out!
In Primary School, kids learn how certain aspects of Korean schools compare with their own. My kids were really interested in watching a short video reel showing how Korean kids navigate the lunchroom at their schools. The kids even had a chance to practice their Korean writing with paintbrushes and water while in the "classroom."
Younger kids can enjoy exploring all the well designed and colorful exhibits and interacting with the different spaces. Older kids (and adults!) are likely to appreciate the interesting cultural tidbits woven into each display.

Outside the EcoStation
EcoStation
After the hard freeze that hit Houston this past winter, much of the outdoor landscaping at the EcoStation did not survive. However, the gardeners have been hard at work, and the EcoStation has been revamped with lots of new native plants and animals that thrive together in their own little ecosystem. As we walked around this nature focused research pavilion, we spotted red and blue colored dragon flies and kept our eyes open for red-eared slider turtles in the pond.
Kids can take part in different activities inside the EcoStation, like leaf rubbing or looking at specimens under a microscope. One of the more popular attractions inside the research pavilion is the incubator with eggs and newly hatched chicks. One nice bonus about the EcoStation is that it is air-conditioned; if you have older kids enjoying some of the outdoor attractions, you can pop in here with the babies in a stroller to escape the heat and cool off!
What Other Changes Do I Need to Know About?
Timed Entry Required: The museum is operating at a limited capacity, so visits need to be booked online for a timed entry. Although walk-up visitors are welcomed as space allows, it's best to get your tickets in advance so that you don't run the risk of being turned away at the door.
Tot Spot Closed: Unfortunately, Tot Spot remains closed. If you were planning on heading there with a crawler, be aware that this space is not open and only available for private rental at this time. As an alternative for little visitors, the museum has created a Tot Trail Map with toddler-appropriate activities listed for each area of the museum. Though not quite the same, the map will help guide families with toddlers through the museum with some fun ideas to make the best use of the exhibits.
Fiddle Sticks Relocated: Warning! Warning! The toy store is now right out in the open. It has been moved from behind closed doors to what used to be a wide hallway leading into one of the main parts of the museum. This means you'll have to walk through colorful displays of merchandise to get from the entrance to KidTropolis. It might be a good idea to set expectations about gift shop purchases because it will be very hard to avoid this one!
Parent Resource Library Reopened: The Houston Public Library branch located inside the museum is also reopened, but operating on limited hours. Call ahead at (713) 535-7292 to make sure they're open if you plan on visiting.
What Are the Museum Hours?
The Museum will be open from Tuesday through Saturdays, from 10 a.m. to 6 p.m. and Thursdays, from 10 a.m. to 8 p.m.
Free Family Night Thursdays are from 5 to 8 p.m. when families can enter the museum at no charge. Space is limited though and advance reservations are strongly encouraged just as they are for regular admission tickets. Walk-up visitors are welcomed only as space allows. Keep in mind that last admission is at 7 p.m. so get there in time!

The Fresh Café has reopened.
What About Food Options, Bathrooms, and Parking?
The Fresh Café has also reopened! Families can enjoy freshly made salads and sandwiches as well as kid favorites like burgers, hotdogs, and chicken tenders. The Café carries a selection of healthy snacks like yogurt, granola bars, and fruit too. If you need to bribe a child while you're there, there's a 95-cent popsicle on the menu that might do the trick!
There are bathrooms near the elevator bank on each of the three floors. There is also another set of bathrooms near the Fresh Café and Parent Resource Library.
Parking Garage: The easiest place to park would be the Children's Museum parking garage right across the street. The ground level is covered and offers plenty of parking. The parking fee starts at $7 per hour and goes to $10 for 3+ hours of parking.
Street Parking: You'll find lots of metered parking spots lining the block around the museum. Download the ParkHouston App to use so you won't have to fuss with paying at the meter when you get there. On Sundays, metered parking is free all day!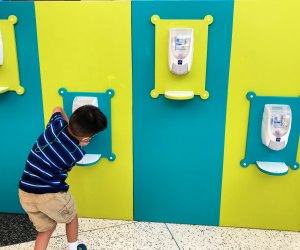 Hand sanitizing station
What COVID Precautions is the Museum Taking Right Now?
All guests ages 2 and above who have not received their full COVID-19 vaccination are required to wear a mask while indoors. There is a large hand sanitizing station right at the entrance/exit that they encourage visitors to use upon entering. Individual hand sanitizing dispensers are available throughout the museum within the exhibit areas as well.
We saw lots of extra cleaning staff hovering around, ready to wipe down the displays. At some installations where loose accessories are part of the interactive play, there are baskets nearby to catch items that have been used so that they can be disinfected. As things are continually changing, please check the website for updates to their safety precautions.