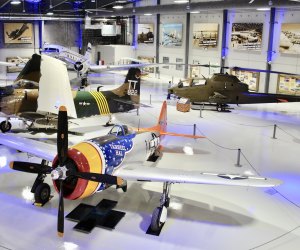 Soar to New Heights at the Lone Star Flight Museum
Houston has no shortage of fun museums to visit with kids, and the Lone Star Flight Museum in Southeast Houston is no exception. Originally located in Galveston, in September 2017 the museum opened its new location at Ellington Field. The new location boasts state of the art exhibits and interactive elements for visitors of all ages. The museum's two hangars are home to a large collection of planes that have served in multiple wars, many of which are still functional today and fly in air shows across the country. It is also home to the Texas Aviation Hall of Fame, which honors legendary pioneers in flight history. We recently enjoyed a visit with our three-year-old and five-year-old sons and had an absolute blast exploring everything the museum has to offer.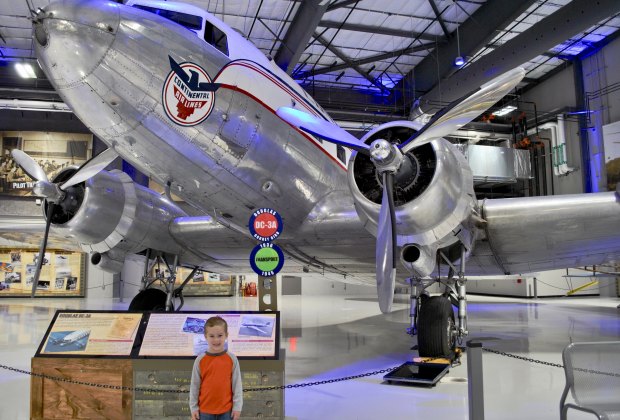 Kids can get up close to real, vintage aircrafts.
Our self-guided tour of the museum started off watching an informative video about the history of the museum and what all there is to see and do there. After the short video, we strolled into the first of two large airplane hangars on the property. Everything inside the museum is so well-kept and pristine. Each airplane is perfectly polished and features informative plaques with scores of information about the weight of the plane, the plane's mechanics, and flight history.
RELATED: Days and Times for FREE Admission to Houston's Museums
While our boys weren't super interested in having every single word read to them, my husband and I certainly enjoyed learning about these historical aircrafts. The way that the planes are arranged throughout the hangars allows for easy access to each one. There is plenty of space to move around, and it was easy to allow the kids to see each plane from several angles to really point out the different parts of the plane including where the engines are, the propellors, and even where artillery is stored. Around the outside of each of the hangars, large wall displays give even more information regarding wartime flight history including interactive screens with videos and photos.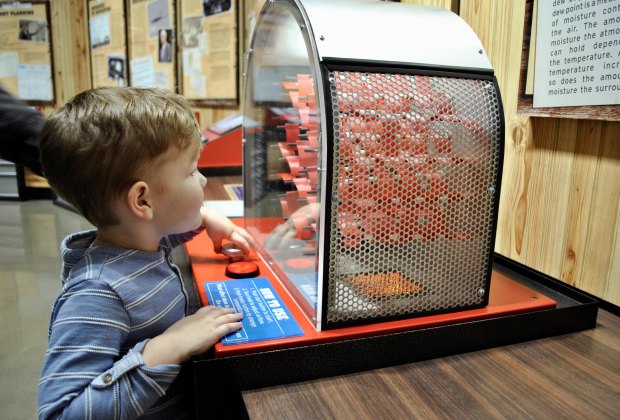 Hands-on exhibits help kids learn about the physics of flight.
Next, we headed to the Flight Academy area where the boys were able to interact with multiple exhibits designed to show how planes fly. Seeing wind tunnels work and getting their hands on samples of airplane building materials that they could touch and feel was exciting. Other exhibits in this area explained the effect of weather on flight. Each station was more interactive than the next and allowed for serious learning opportunities. They also got to climb into three replica cockpits to explore what the interior of the huge planes they just saw in the hangars would look like. Not only did they get to explore these cockpits, but they each got to sit in a hang gliding simulator. Another highlight of this area was a station where they were able to build their own paper airplanes to take home.
RELATED: 8 Must-See Houston Museums You've (Probably) Never Heard Of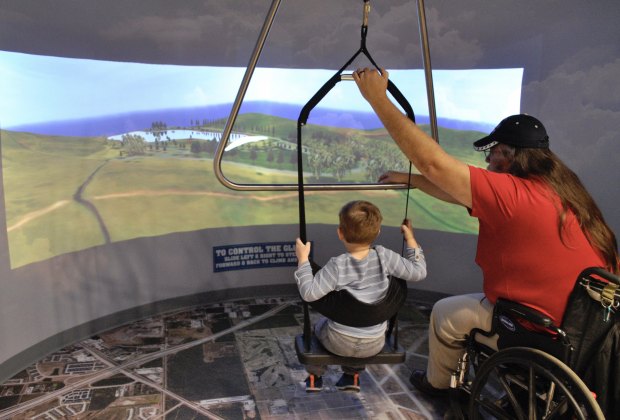 A friendly museum worker helped our 3-year-old work the hang gliding simulator.
While exploring the museum, we were able to walk through the Texas Aviation Hall of Fame. This prestigious hall boasts monuments honoring pioneers in aviation, entrepreneurs in the flight industry, and military and space exploration leaders. Some notable inductees that we learned about are Presidents George W. Bush and Dwight D. Eisenhower, as well as former Dallas Cowboys Head Coach Tom Landry.
Another exhibit we really all enjoyed was the Texas Aviation Heritage Gallery. This gallery walked us through the history of flight in Texas with tons of historical photos and info graphics. The boys loved getting to touch the screens throughout the exhibit that played videos and showed slideshows. It helped to have an interactive component in this space so that the kids could have a hands-on experience while we read the ample amount of information throughout the exhibit. We learned about the influence of Texans on the flight industry as a whole, as well as some fun facts about the NASA program and its importance here in the Houston area specifically.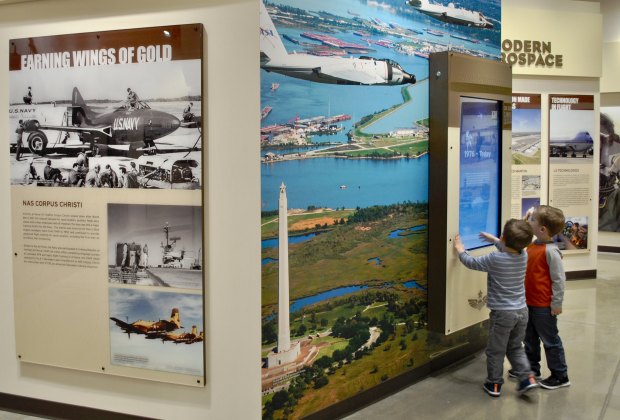 Interacting with the large touchscreen displays in the Texas Aviation Heritage Gallery.
We ended up spending over two hours touring the museum and it absolutely flew by. There was so much to see. Our two oldest kids didn't get to come on this particular visit, but we plan to take them soon so that we can experience the flight simulators in the museum's Aviation Learning Center. (Participants must be at least 10-years-old.) We ended our visit at the museum's amazing gift shop. It is filled to the brim with every airplane book, toy, or piece of clothing you could ever possibly want. I'm absolutely going back to shop for birthday and Christmas gifts!
RELATED: Touring the 1940 Air Terminal Museum
What to Know Before You Go:​
Parking for the museum is FREE.
Vending machines are located at the front of the museum in the cafe area if you get hungry or thirsty during your visit.
The museum can be booked for special events and birthday parties. See more details here.
Flight simulators are not included in the cost of admission. Tickets can be purchased at the admissions desk.
Museum hours vary seasonally. Check their website for current admission details.
All photos by the author