Touring the 1940 Air Terminal Museum
9/18/16
- By
Rachael Cherry
Tucked behind the west side of Hobby Airport is an unassuming building that houses a local treasure: the 1940 Air Terminal Museum. It's one of those buildings you'd probably miss if you weren't looking for it, but it is a stop worth visiting with your young aviation enthusiasts.
While the Houston Municipal Airport Terminal, which houses the museum, was a hotspot for commuters flying in and out of Houston in its heyday, it was eventually upstaged by Hobby Airport and gradually fell into disrepair. In an effort to prevent the art deco building from being demolished, the Houston Aeronautical Heritage Society formed in 1998 and began an extensive renovation process that included turning the terminal into the present-day 1940 Air Terminal Museum. Much of the terminal has been renovated to match its former glory giving museum-goers a glimpse into what early travelers experienced as they waited for their planes to depart or for loved ones to land.
The museum offers a wealth of information that will appeal to older kids who are interested in delving into the history of air travel. For younger visitors, there are plenty of model airplanes of varying shapes and sizes on display. The model planes are all conveniently showcased behind enclosed glass cases or suspended from the ceiling, so parents need not worry about little hands accidentally breaking any delicate pieces.
After perusing the artifacts inside the building, kids will love stepping out back and watching the airplanes at Hobby Airport depart and land. Seeing the airplanes flying in and out up close was enough to send my toddler into a jumping fit.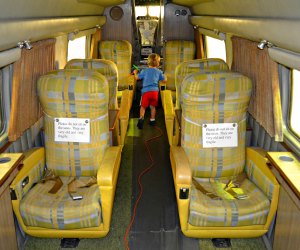 The fun doesn't end there, though. On weekdays and every third Saturday of the month, museum employees escort guests a few buildings down to the renovated 1928 Carter Airmail Hangar, which houses the museum's collection of aircraft. Getting to see the airplanes up close was one of the highlights of the trip for us. Visitors can also climb inside and tour an old airplane and a helicopter, as well as a few detached cockpits. Kids of all ages will love sitting in the pilot's seat of the cockpits, seeing the different instruments, and flipping all the switches. Because this tour is only available on select days, I'd recommend planning your visit around one of those times, because it's something your kids won't want to miss.
Before leaving for the day, we drove a little farther down the road for one last stop: more airplane watching. There is a small parking lot along with a viewing area where guests are encouraged to park and watch the planes departing from and landing at Hobby Airport. We grabbed our drinks and snacks from the car and sat outside for quite some time talking about the airplanes and watching them taxi down the runway, which was the icing on the cake for my son.
The museum is open from 10 a.m. to 5 p.m. Tuesday through Saturday, from 1 p.m. to 5 p.m. on Sunday and is closed on Monday. Ticket prices are $5 for adults and $2 for children.
Every third Saturday of the month from 11 a.m. to 3 p.m., the museum hosts Wings and Wheels, an open house that features displays of airplanes and automobiles. Ticket prices for Wings and Wheels are $7 for adults and $3 for kids 12 and under.
All photos by Rachael Cherry
Places featured in this article:
---
The 1940 Air Terminal Museum

Sign up for our free
newsletters.
Mommy Poppins is a family activity website that helps people find things to do with kids.
©
2023
MommyPoppins. All Rights Reserved.
mp-prod4-v4.32.99
We use cookies and other data collection technologies to provide the best experience for our customers.
Learn More