Tips for Visiting Houston's Downtown Aquarium With Kids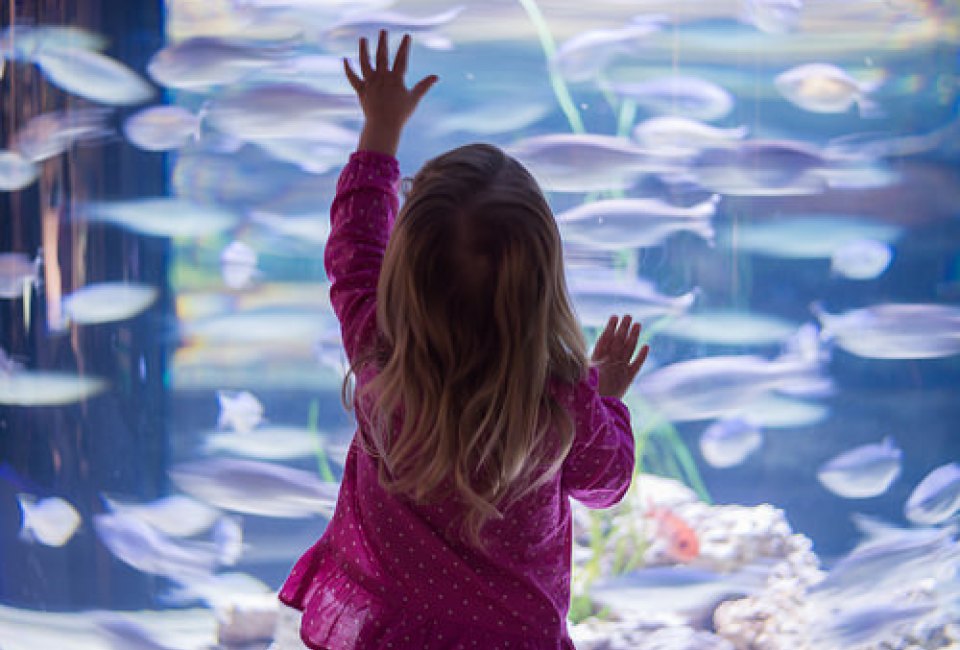 9/6/16
- By
Frances Broussard Denenburg
I'm so glad I finally made a trip to the Downtown Aquarium. I was hesitant at first, only because of my daughter's tenancy to go a little crazy when surrounded by souvenirs and snacks, but every time we would drive by the massive Ferris wheel near I-45 she would exclaim, "I go there!" After our first trip together I immediately regretted not coming sooner. From food to the numerous attractions, it was a hit. Read on for my tips and tricks for enjoying a morning or afternoon at Houston's Downtown Aquarium.
You can also save with the top attractions in Houston with Go City - Houston card. By purchasing this ticket, you receive admission to several Houston attractions at half the regular price: Space Center Houston, Downtown Aquarium, Houston Museum of Natural Science, the Houston Zoo or the Museum of Fine Arts Houston, and the Kemah Boardwalk or the Children's Museum Houston.
Logistics: parking
Valet and self-parking are offered. Self-parking is cash only with both covered and non-covered spots available with no distinction in price. We visited during a holiday weekend, and it took about 30 minutes to find a spot. Valet was full when we arrived.
Navigating the Ticket Options
The "aquarium adventure" is the basic ticket and includes access to the fish and white tiger exhibits. Adults are $11.99, children under 42-inches-tall are $8.99, and children under 2 are FREE. Offered separate and a la carte are the stingray reef exhibit (fish food is extra), the rides, including a train through the shark tank, Ferris wheel, carousel, lighthouse dive, and frog hopper, as well as games. An all-day adventure pass offers unlimited rides and access to the exhibits and stingray reef, and would be the way to go on a sunnier visit if you plan to do it all. If I had known it was going to rain, I would have opted for only the aquarium adventure ticket, and not the all-day pass, since the rides were closed during the storm. Children under 2 are free for everything! Be sure to check the website because there are frequently two-for-one coupons for specific days of the week during certain months, typically June, July, August, and September.
Strollers
Strollers are welcome but other than outside the stingray reef, there is no designated stroller parking. Word of advice: bring the stroller with the smallest footprint, and if it looks like rain, take cover with your stroller.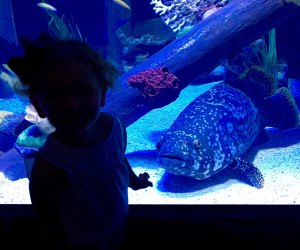 Photo by Frances Broussard Denenburg
Aquarium Adventure and Stingray Reef (First Floor)
Plan to spend at least an hour to fully explore this level. Large floor-to-ceiling viewing tanks make it easy and exciting for smaller kids to get really up close and personal with the more than 200 species of fish. You'll also find alligators, lizards, snakes, frogs, and sea horses in higher viewing areas. In addition to the marine life, the Aquarium is home to majestic white Bengal tigers. The tiger we saw was quite active and much to the delight of kids and cameras, strutted continuously in front of the glass viewing window. Rounding out the exhibit are the stingrays. My toddler was content to look at them, but petting and feeding are the highlights of this attraction. Don't worry - proper feeding techniques are displayed on signs above the tanks and a hand-washing station can be found near the exit.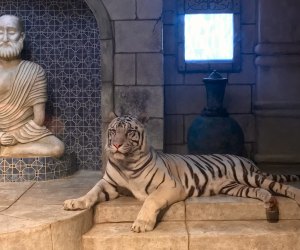 Photo by Frances Broussard Denenburg
Games and Rides
When you venture outside it's like entering a mini amusement park. There are attractions for both older kids and those who don't quite meet the height requirements. You'll find the Diving Bell Ferris Wheel, which is lit up in the evening (children under 42 inches must be accompanied by an adult). We will definitely be returning one crisp fall night to ride this. I can only imagine how striking the downtown skyline looks from this view. Then there's the Lighthouse Dive where riders get lifted 65 feet high before taking a plunge to the bottom (riders must be 42 inches tall). The Frog Hopper is a mini-drop ride that bounces passengers 22 feet in the air (riders must be 36 inches tall). Younger ones will enjoy catching a wave on a dolphin or alligator with the Aquatic Carousel (children under 42 inches must be accompanied by an adult). And then it's all aboard the Shark Voyage for a train ride through the 200,000-gallon shark tank and all around the park (children under 42 inches must be accompanied by an adult). For even more water fun, bring a change of clothes for the kids and let them run around the splash pad.
Food
We only peeked inside the restaurant, which is on the second floor. It's a mini aquarium unto itself. Concessions are also available outside near the rides.
According to a pleasant employee, the least crowded times to visit are weekends between 1-3 p.m with crowds picking up around dinner time and weekdays during the school year 10 a.m.-3 p.m.
Top image courtesy of Donnie Ray Jones, via Flickr
Disclosure: We may earn a small commission if you click through our link and make a purchase. This revenue helps us maintain this site, so thank you for supporting us.
Places featured in this article: