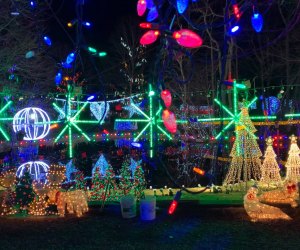 Outrageous Holiday Light Displays in the Lower Hudson Valley
Editor's note: While we are trying to promote safer activities that occur outdoors or with social distancing guidelines in place, please keep your family and others safe by always wearing a mask and practicing social distancing. If you are traveling to an activity outside of your state or local area, check to see if COVID cases are on the rise in the area, as well as any travel restrictions, advisories, or quarantine orders.
RELATED: Westchester's Winter Wonderland Charms Visitors With New Drive-Thru Light Show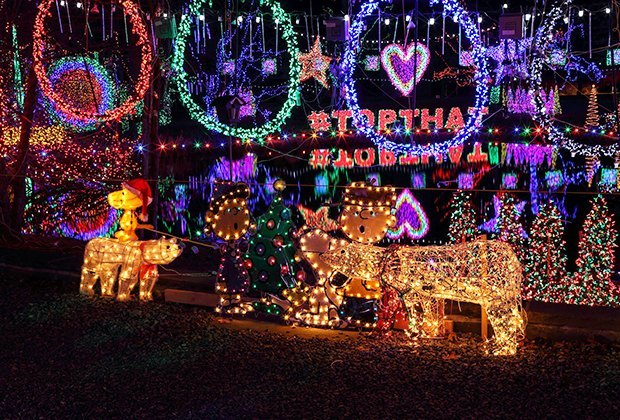 The ERDAJT display has made the Guinness Book of World Records for most lights!
Holiday Light Displays in Dutchess County
8 Patrick Drive
Nightly through Sunday, December 27
You know you've got a good light display when the Guinness Book of World Records takes notice: In years past, this display—which this year has about 670,000 lights—has set a record for most lights. The display celebrates its 25th anniversary in 2020 with 1,770 individually controlled items syncing up to more than 250 songs. If you want to hear a specific tune—ranging from traditional songs to modern favorites—check out the show schedule, which includes a song list and what time it'll play. You'll find snowmen, hearts, presents, Christmas trees, the loveable Peanuts gang, and so much more. The show starts at 4:45pm every day.
38 Sheafe Road
Fridays, Saturdays, and Sundays through Sunday, December 27
Head to the Enchanted Forest of Lights at this annual holiday extravaganza, where you can walk through the display and see what one million lights look like up close. Explore themed areas like Once Upon Christmastime, the Enchanted Forest of lights, and more. Enjoy a train ride or embark on a misfit-toy scavenger hunt.
RELATED: Best Things To Do in Westchester in December With Kids: Christmas Events, Holiday Lights, and More
Holiday Light Displays in Orange County
5 Madre Decristo Road
Nightly through Tuesday, December 29
The Bruschi family has been syncing its dazzling Christmas display to music since 2012, and it's continuing the tradition this year. Tune in to 87.9 FM to hear and watch the show—which runs about 30 minutes—and enjoy the brightly-lit candy canes, Christmas trees, and the rest of the twinkling lights that make up the display. Lights are on from 5-11pm.
310 Scotchtown Road
Nightly through Sunday, December 27
What began as a light display at owner John Watt's mother's house has grown into a stand-alone, drive-thru Christmas Village. See Santa, snowmen, and lots more holiday characters as you drive through this stunning holiday display, which boasts close to a mile of lights. Visit from 6-9pm (weather permitting), and tune the radio to 107.9 FM to hear the show. There's a recommended donation of $5 per car, and vehicles can't be taller than 8 feet. Pro tip: Consider making your trip on a weeknight when it's considerably less busy.
RELATED: Must-Do Holiday Experiences for Westchester Kids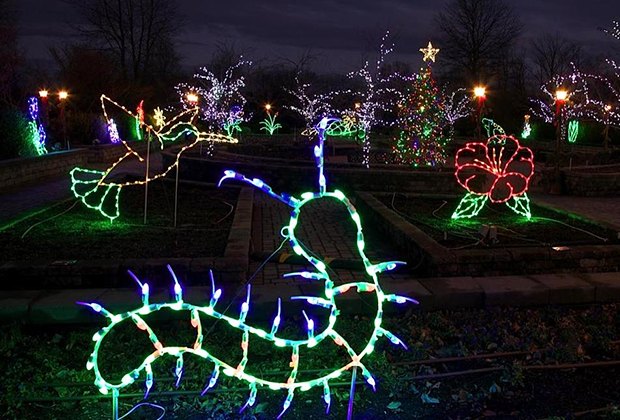 Holiday Lights in Bloom in Montgomery is a dazzling celebration of nature.
41 Grove Street
Fridays, Saturdays, and Sundays through Sunday, December 27
The Lights in Bloom show at the Orange County Arboretum in Thomas Bull Park is a must-see for bug lovers. Along with decked-out trees, the show dazzles with brightly lit snails, bugs, birds, flowers, and lots more of your favorites from nature. The show is totally FREE!
239 Wisner Avenue
Select dates through Sunday, January 3, 2021
Order some yummy carnival eats from the comfort of your car, and then sit back and enjoy this enormous holiday light display and multimedia show, which takes over the Orange County Fairgrounds. Don't forget your take-home gingerbread kit on your way out.
RELATED: Safe, In-Person Santa Visits in Westchester and the Hudson Valley in 2020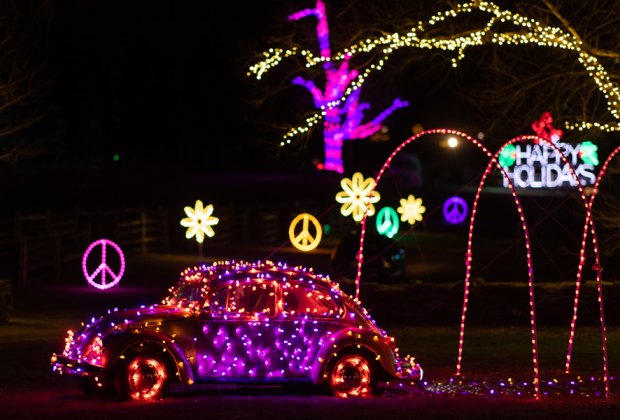 Peace, Love & Lights at the Bethel Woods Center features plenty of "groovy" displays.
More Hudson Valley Holiday Light Displays
200 Hurd Road
Nightly through Sunday, January 3, 2021
The Bethel Woods Center for the Arts hosts this brand-new drive-thru light display, which pays homage to the site's roots as the home of Woodstock. Travel through the 120-foot Twinkle Tunnel and enjoy themed areas like Groovy Way, an Enchanted Forest, Snowflake Alley, Santa's Workshop, and more. Special events are held some nights, like dinner with Santa. Visit the website for full details.
778 Broadway
Fridays, Saturdays, and Sundays through Sunday, December 27
There are lights of all sorts at this holiday festival. To keep guests safe, the annual hayride has been replaced with a drive-thru show. Eleven more attractions await, too, and countless characters are ready to pose for pictures. Meet Bubbles the Christmas bear, gawk a the larger-than-life Forest Snowman, and have a chat with Dasher, the talking reindeer. Santa is holding court in a socially distant manner, too.
55 West Railroad Avenue
Fridays, Saturdays, and Sundays through Sunday, December 20
Drive through the Garner Historic District, taking in various holiday-themed lights, video projections, music, site-specific art pieces, and more. This COVID-safe display allows guests to enjoy artworks by an array of artists, all from the safety of their cars. Timed-entry tickets are required. The drive-thru lasts about 15 minutes and includes safe areas where visitors can pause to snap photos.
This post was originally published in 2015 and has been updated since.
All photos courtesy of the houses/organizers.