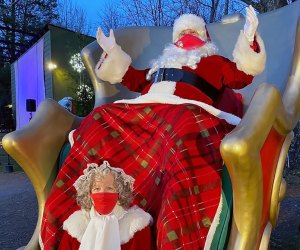 Where to Take Pictures With Santa in Westchester and the Hudson Valley in 2021
The Christmas season is hardly complete without a visit with Santa. While whispering in Santa's ear might not be advisable this year, there are still plenty of safe Santa visits in the Westchester area for the season.
From traditional mall photo-ops to drive-thru and walk-through Santa sightings, we've found many fun ways to meet the man in red. Even more options are available to meet Santa online.
For more holiday fun, check out our Holiday Fun Guide, especially our roundup of must-do holiday experiences for Westchester kids.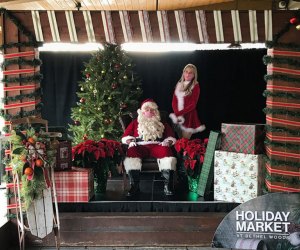 Santa stops by the Bethel Woods Holiday Market. Photo courtesy of Bethel Woods Center for the Arts
Santa Pictures Near Westchester
Multiple dates in December
When reserving your drive-thru experience, tack on a reservation for dinner with Santa—but don't delay, as sittings are known to sell out. Plus on weekends, check out special holiday market at Bethel Woods.
OUR LATEST VIDEOS
Thursdays-Sundays through December 24; daily from Monday, December 27-Friday, December 31
Combine your Santa visit with a holiday train show at this popular annual event in Lasdon Park.
Thursday, December 2
Reserve your meeting with Santa at this event sponsored by the Child Care Council of Westchester. Donate an unused toy for those less fortunate to receive a digital picture with Santa.
Saturday, December 11-Sunday, December 12
This event with holiday shopping at Museum Village includes a chance to not only meet Santa, but Mrs. Claus, too.
RELATED: Where to Cut Your Own Christmas Tree in Westchester and the Hudson Valley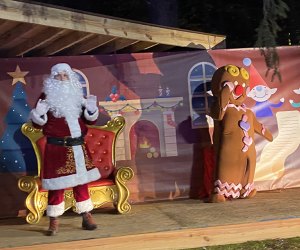 Deliver a Christmas greeting to Santa at Westchester's Winter Wonderland drive-thru in Valhalla. Photo by Susan Miele
Holiday Drive-thrus and Walk-Throughs Where You Can Spot Santa
Daily through Sunday, January 2 (Except Dec. 24 and 25)
Families pass a waving Santa and other costumed characters along this 1.2-mile, drive-thru experience, which also features elaborate light displays. Read our full review of the experience here.
Fridays, Saturdays, and Sundays through December 19
In addition to large-scale attractions, this annual event affords the opportunity to meet Santa outdoors. New this year: Santa's Magical Mansion features a choreographed light show.
Fridays, Saturdays, and Sundays through December 19, plus Wednesday, December 22 and Thursday, Deecember 23
Take a ride to the North Pole on an open-air flat car with a cup of hot cocoa to keep you warm. Along the way, wave to Santa and his elves as they say hello from the platform.
RELATED: Must-Do Holiday Experiences for Westchester Kids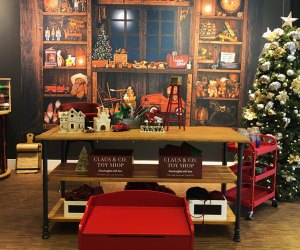 Santa and his elves set up shop at the Cross County Shopping Center. Photo courtesy of the Center
Pictures With Santa at Westchester Malls in 2021
Daily through Friday, December 24
The outdoor mall has set up Santa's Workshop in a vacant store, where families can watch Santa tinker away. Round out your visit by stopping for a photo-op at the walk-through Christmas tree, or take a spin around the pop-up outdoor ice rink. Face coverings are encouraged if you're not vaccinated.
Daily through Friday, December 24
Santa welcomes visitors at The Westchester with safety measures in place. Reservations are strongly encouraged. Visitors can get a bird's-eye view of Santa from his spot on Retail Level 1, Center Court from the floors above.
Daily through Tuesday, December 21
Santa and his team visit Jefferson Valley Mall in Yorktown Heights. Children are encouraged to bring their letters to Santa to deposit in his mailbox. Assorted photo packages are available for a fee, and reservations are encouraged.
Daily through Friday, December 24
Choose your photo package for this Santa encounter, located across from the Apple Store. Reservations are encouraged—and Santa, who is vaccinated, will also don a mask if asked.
Daily through Friday, December 24
While walk-ins are accepted, your best bet is to reserve your child's spot for a visit with Santa, who is set up on Level 1.
This post was originally published in 2014 and has been updated for 2021.