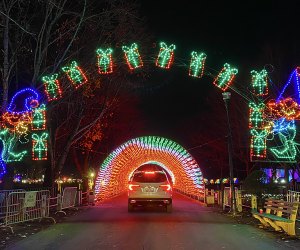 Westchester's Winter Wonderland Charms Visitors With New Drive-Thru Light Show
Drive-thru light shows are all the rage in 2020, bringing with them visual all-ages entertainment that avoids exposure to COVID. Numerous illuminated extravaganzas have popped up in the tri-state area to put a twinkle in our children's eyes, and we couldn't wait to check out Westchester's Winter Wonderland at the Kensico Dam Plaza. Formerly an uber-popular walkthrough experience, Westchester's Winter Wonderland has been reimagined for safe, seasonal fun this year.
Read on for our full review and a sneak peek at some of the stunning displays, and remember our Event Calendar and Holiday Fun Guide are overflowing with curated picks to celebrate, whether you want to venture out or need some ideas for a festive night at home.
Editor's note: While we are trying to promote safer activities that occur outdoors or with social distancing guidelines in place, please keep your family and others safe by always wearing a mask and maintaining an appropriate distance.
Remember to subscribe to our FREE newsletters to get stories like this delivered to your inbox.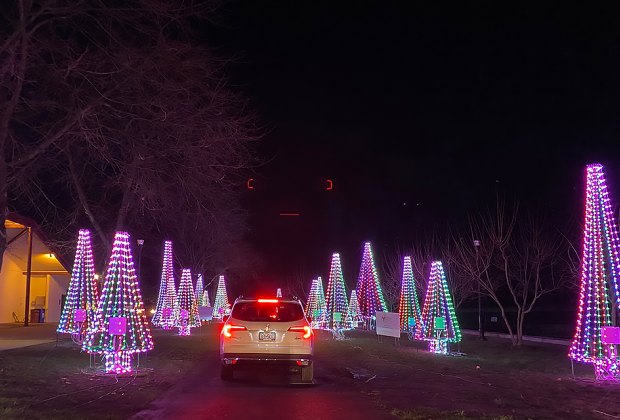 Gaze at lovely decorated trees while listening to holiday music on the radio.
While the previous iteration of Westchester's Winter Wonderland included holiday lights exhibits, it has very little in common with the newly conceived format. In years past, visitors could go ice skating, visit a circus tent, peruse market stands, dine at food trucks, hop on carnival rides, and exchange greetings with Santa. Switching to an exclusively drive-thru attraction was no small adjustment, but the exhibition's artistry and scope make it a worthy addition to your holiday bucket list. At $25 per vehicle, you're sure to get your money's worth.
The one-way driving path meanders through festively named exhibits, some of which feature animation, color changes, or additional components. Entering the park, visitors are greeted by an illuminated Frosty the Snowman and then proceed through Fireside Forest, where a family is gathered by the tree and hearth, while a child and his teddy bear dream animatedly. Winter Winds Way depicts Old Man Winter blowing chilly air, and Peace on Earth Place features an arch of stained-glass angels flanking the message "Goodwill Toward All."
RELATED: Best Things To Do in Westchester This December With Kids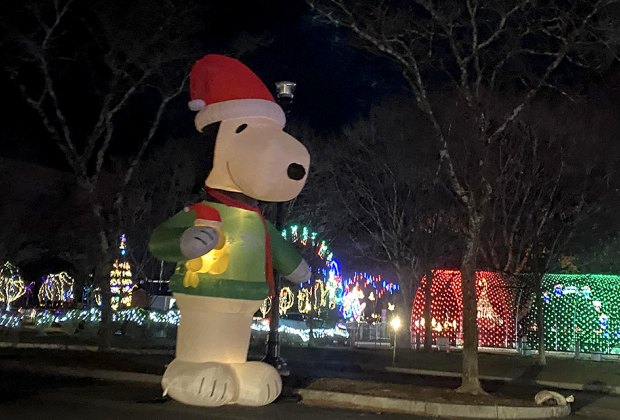 See your favorite characters like Snoopy in larger-than-life, illuminated form at this holiday lights drive-thru.
In all, the 15 exhibits—which also include Santa's elves, reindeer, Snoopy, the Grinch, and more—stretch your ride out for just over a mile. The culmination is a costumed Santa and gingerbread man waving as cars cruise toward the exit. Standout features include a 40-foot tree with animated lights—reportedly the county's tallest—and the Twirling Tunnel, with stylized lights that make you feel as if you're on a carnival ride and not in your car.
In all, it took us about 30 minutes to drive through the exhibit; your pace is largely determined by the cars ahead of you. A soundtrack enhances the experience and can be streamed on your car radio.
Plan now for New Year's Eve when the route adds in a continuous ball drop.
Upon arrival, visitors are directed to the car queue that snakes around a traffic circle in three lanes, progressing every few minutes. Expect your wait time to range from 15 to 30 minutes, with the shorter wait times coming earlier in the evening.
There are advantages to remaining in the car. As someone who freezes easily, I found the drive-thru experience a relief from all the times I've trudged through whipping winds or couldn't feel my toes after hours of staking out a spot to see the Macy's Thanksgiving Day parade. The 30-minute wait time we experienced was spent comfortably. Moreover, mild precipitation won't cause the event to be canceled or foil a family's plan to attend.
RELATED: The Most Spectacular Christmas and Holiday Light Displays in Westchester

Make priceless memories at this one-of-a-kind holiday event.
Know Before You Go
Tickets are $25 for passenger cars and should be purchased in advance to guarantee entry.
With Bluetooth, satellite radio, and other technologies complicating car radios, it's worth making sure you're ready to access the old-fashioned dial before you arrive.
You'll pass several costumed characters along the journey, but only at a distance. No one approaches vehicles, so don't expect to see Santa or anyone else up close. The character appearances vary throughout the season.
During my family's visit, Santa and the gingerbread man were stationed on the right side of our car, while the 40-foot Christmas tree was on the left. Not all seats are afforded an equal view of all sights.
Make sure your car windows squeaky clean and streakless for those fleeting photo ops through the windshield or side window. Yes, you can roll down your windows, but you might want to snap pictures from various viewpoints, and you might get complaints (as I did) that it's cold. The combination of darkness and motion make photos more challenging than during the walkthrough.
Photos by the author