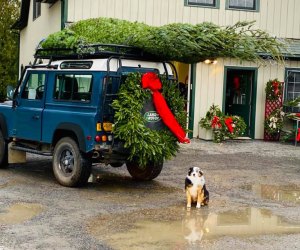 Where to Cut Your Own Christmas Tree in Westchester and the Hudson Valley
Few things are more quintessential than picking out the perfect Christmas tree. The smell of a fresh-cut pine is even sweeter when you've trekked to the farm, found the perfect Christmas tree for your family, chopped it down, loaded it on your car, and brought it home as a labor of love. The experience offers a chance for family bonding, fun seasonal photo opportunities, lots of laughs, and a diversion from the everyday.
We've rounded up eight cut-your-own Christmas tree farms in Westchester and the Hudson Valley. If you're not quite sure you're up to the challenge of chopping down your tree, many also offer fresh-cut trees to choose from.
So, load up the family station wagon and start a new holiday tradition this season. For more seasonal fun, visit our Holiday Fun Guide.
Editor's note: While we are trying to promote safer activities that occur outdoors or with social distancing guidelines in place, please keep your family and others safe by always wearing a mask and maintaining an appropriate distance. Please note, while we've tried to highlight these farms at their best, there are many restrictions in place due to the pandemic. Be sure to click through to each farm's website or call before heading out for the most up-to-date information.
2020 update: Visitors must wear masks and adhere to social distancing guidelines. Stuart's is open Wednesdays-Sundays, 10am-5pm.
62 Granite Springs Road
914-245-2784
Families can cut their own Douglas fir or shop for a pre-cut Fraser or balsam fir at Stuart's. Staff members bale the tree for you and help you tie it to your car. Afterward, stop in the farm's bakery to shop for wreaths and other holiday decorations as well as pies, hot coffee, cider, cocoa, and other treats.
RELATED: Holiday Craft Fairs and Markets in Westchester and the Hudson Valley

Douglas and Fraser firs are available for choose-n-cut at the Wilkens Farm fields. Some pre-cut Fraser firs are available.
2020 update: Wilkens is operating at reduced capacity, and visitors must make reservations. All visitors must wear masks and adhere to social distancing guidelines. Hand washing and sanitizing stations are available. There are no tractor rides to and from the field. Open weekends, 8:30am-4pm; weekdays, 10am-4pm; closed Tuesdays.
1335 White Hill Rd.
914-245-5111
Comb the farm's fields for the perfect Douglas or Fraser fir tree. Afterward, head to its farm market and bakery for seasonal treats and holiday decorations.
2020 update: Face masks and social distancing are required for visitors. No tailgating will be allowed on the farm this season. Battenfeld's is open daily, 8am-4pm.
856 Route 199
845-758-8018
Battenfeld's cut-your-own field is filled with six different tree varieties. Handsaws can be borrowed, but chainsaws are allowed here if you want to bring one from home. Once you've loaded your pick onto the tree taxi and sent it off to the bailing barn, peruse the Christmas Shoppe for holiday decor or grab a snack from the concession stand while you wait to load your tree for the ride home. Wreaths, centerpieces, and more greenery can also be purchased here. Leashed dogs can visit the farm with you, too.
2020 update: Reservations are required on busy days. Visit the website for details. All visitors over the age of 3 must wear a face mask. The winter store is online, and wreath orders are taken for drive-thru pick up. Open weekends, 10am-4pm.
2187 State Route 32
845-883-7825
One of our favorite family-friendly farms in any season, Hurds carries Douglas, concolor, and balsam fir, plus Norway and blue spruce, and all trees are $75 no matter the size. Visitors can check-in at the drive-thru to pick up tree-cutting essentials, like hot apple cider, hot chocolate, and Hurds well-known apple cider donuts before heading to the fields. Once you've made your selection, load it onto the bin train for a ride back to the bailing station.
RELATED: Must-Do Holiday Events for Westchester Families in 2020

Wander through the trees to find the perfect one at Emmerich Tree Farm.
2020 update: Reservations are required, as are masks and social distancing. Please check the inventory page before reserving a time to cut your tree. There is no food, hot chocolate, bonfires, tractor or wagon rides this season, and dogs should be left at home. Open weekends, 9am-4pm; weekdays, noon-3pm.
101 Sleepy Valley Road
845-986-015
When it comes to variety, it's hard to beat the selection at Emmerich Tree Farm. The farm grows five types of spruce, five varieties of fir, and one type of pine. Families can pick the perfect one and cut it themselves or get some help from farm staff. They'll also prepare your tree for a stand, shake off the old needles, bale it up then give you and your tree a tractor ride back to your car, where they'll tie it to your roof. Families can also shop for fresh wreaths and garlands to complement their seasonal decor. Emmerich makes the long drive worthwhile by offering free cookies, hot cocoa, holiday music, live entertainment, wagon rides, holiday photo ops, and a bonfire.
2020 update: Manza Family Farm is open Monday through Thursday, 10am-5pm; Fridays, Saturdays, and Sundays, 10am-6pm.
730 State Route 211
845-692-4364
Live reindeer add to the Christmas atmosphere at this farm, which invites visitors to cut their own Norway spruce trees. Pre-cut Douglas, Fraser, and Turkish fir are available for sale, plus a selection of potted, living trees that can be planted after the holidays. The farm aims to make your day a true holiday experience. Children can enjoy pony or horse-drawn carriage rides, feed some friendly animals, pose for a festive holiday photo, and even visit with Santa on the weekend. Coloring books and candy canes are given to every child.
RELATED: Drive-Thru Christmas Lights and Holiday Displays in Westchester and the Hudson Valley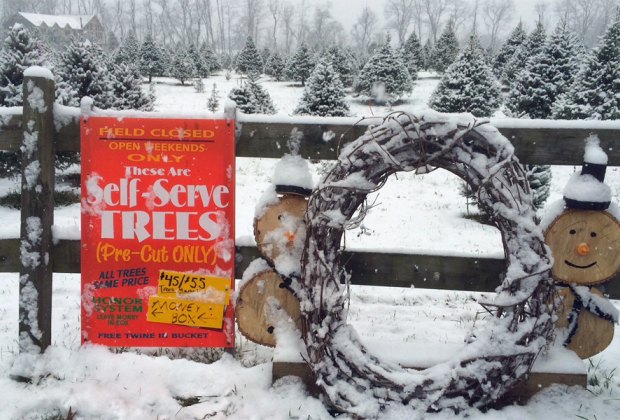 Christmas Tree Lane offers plenty of picture-perfect trees and family fun. Photo courtesy of the farm.
2020 update: Christmas Tree Lane is following all New York health and safety guidelines. Hand sanitizer stations are available. Open from 9am-4pm weekends only.
9 Christmas Tree Drive
845-895-3536
What could be more Christmas-y than cutting your own tree at a farm on Christmas Tree Drive? This family-owned destination sells a wide variety of pine and spruce, including some rainbow-colored picks, plus it supports the local Boy Scout pack with wreath sales. Enjoy hot chocolate and freshly roasted marshmallows by the fire, and be sure to visit Grandma's Barn for unique handmade holiday gifts. Kids will be delighted with a ride on the reindeer barrel train, and everyone can enjoy tasty eats from the Milk and Honey food truck.
2020 update: Face masks are required, hand sanitizing stations are available, and the Christmas Cabin is fully outdoors this year. Open Wednesdays and Thursdays, noon-4:30pm; Fridays-Sundays, 9am-4:30pm.
80 Bedell Road
845-473-0224
Solvang's selection of cut-your-own Christmas trees range in size from 3- to 9-feet tall, but it's a flat $60 fee no matter the size you choose. Larger Fraser firs can be had for $110-149, and pre-cut trees are also available in sizes from 6- to 10-feet tall. When you've found the perfect tree, visit the Christmas Cabin for more decorative goodies.
This post, first published in 2017, has since been updated.
Photo courtesy of the farms