A New Christmas Village Opens in Central New Jersey
12/6/21
- By
Rose Gordon Sala
My family relishes checking out the many holiday displays and Christmas lights in New Jersey. It's one of our can't-miss holiday traditions, so we couldn't wait to see the brand-new Christmas village decked out with holiday lights, Santa, a gingerbread house, and more holiday activities at the Anne Ellen Christmas Tree Farm in Manalapan, New Jersey.
We've enjoyed the drive-thru Christmas lights popping up, but we also love the chance to get out of the car for an in-person stroll. The Village at Anne Ellen allows kids to do just that all while sipping hot chocolate, walking along an outdoor trail, and popping into different experiences from a North Pole post office to a model train room.
Subscribe to our newsletters to get stories like this delivered directly to your inbox.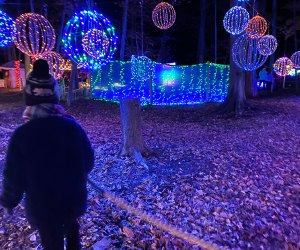 Glowing lights lead the way through the walk-through Christmas village at Anne Ellen Christmas Tree Farm.
Find more things to do in New Jersey this season with our Holiday and Christmas Activities Guide for NJ kids.
Best Things To Do at The Village at Anne Ellen
The Anne Ellen Christmas Tree Farm has always been a favorite Christmas tree farm for New Jersey families as there are barnyard animals to visit, Christmas shops loaded with decorations, homemade treats and concessions, gorgeous photo-ops with the pretty trees and farm props in the background, and of course, plenty of wreaths and trees to purchase and carry home!
In 2021, the farm added this new outdoor, immersive holiday village, which opened in November and runs evenings, from Wednesday through Sunday, into the second week of January. It's essentially an outdoor holiday lights display set in a wooded section of the farm, but it's made a bit more special with the extra holiday decor and experiences.
Families can pick a tree from the tree farm before they load into a wagon hayride, which transports everyone through the tree fields to The Village. The wooded village comes into focus quickly with thousands of lights glowing from within it.
RELATED: Dazzling Drive-thru and Walk-Through Christmas Lights in New Jersey

Pass by glittering trees and tons of holiday decorations while you're exploring The Village at Ann Ellen.
We visited on a Sunday evening in November and didn't find the Christmas village too crowded, but this was pre-Thanksgiving, so perhaps crowds will pick up. My kids clambered out of the wagon and took off toward the lights in a flash. Nearly every tree is wrapped with colorful, twinkling lights while little holiday scenes are set up along the pathways as well, including a set of brilliantly lit neon "cherry trees," a large stack of presents at the entrance, Santa's sleigh, Santa in a boat surrounded by a sea of lights, polar bears, wagons, trucks, snowflakes, candy canes, and reindeer, too.
RELATED: 35+ Christmas and Holiday Events for NJ Toddlers and Preschoolers

No Christmas village visit would be complete without a little face time with jolly old St. Nick.
The kids were excited to meet and sit with Santa at his little open-air "room," found just after entering the one-way pathway in the Village. Each person in our group was able to meet with Santa and take their own photo of the kids with Santa. We waited just a few minutes in line. Santa is available each night at the Village for a free photo-op through Sunday, January 9, as well as at the tree farm on weekend days.
RELATED: 13 Picture-Perfect Holiday Day Trips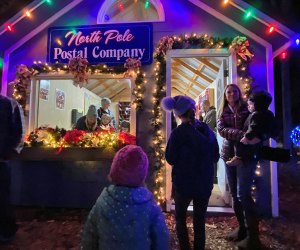 If you don't get all your requests in in-person, you can drop a note to Santa at the North Pole Postal Company, too.
We also loved watching the model trains zip around in the train room and writing letters to Santa at a magical North Pole post office, complete with a mailbox. The kids grinned ear to ear upon entering a sparkling faux hot air balloon that's just perfect for another holiday photo-op, and they also checked out a walk-through, inflatable igloo, and a decked-out gingerbread house. I imagine if the experience sticks around, the farm will add more interactive elements to some of the little houses, too, as both the igloo and the gingerbread house were more just nice to look at versus activity-filled like the other stops. The wishing well and write-on wall of lights were also popular among visitors.
The Village at Anne Ellen is certainly a welcome and magical addition to New Jersey's growing list of must-see holiday experiences, and it was a lovely way for my family to kick off the season and get into the holiday spirit.
RELATED: 11 New Jersey Christmas Towns That Go All-Out for the Holidays

The Village at Anne Ellen is practically guaranteed to get visitors into the holiday spirit.
Good to Know Before You Go to The Village
Tickets to The Village at Anne Ellen must be purchased online in advance.
The Village is open from 5pm-9pm Wednesday through Sunday, through Sunday, January 9, 2022.
Wear boots or sneakers as the trail is not paved; bundle up in your hats and mittens to keep everyone toasty on winter nights.
Leave the strollers behind as they won't fit on the wagon or navigate along the bumpy trail. It's better to wear baby if you can and walk tots.
The experience takes about 45 minutes to an hour to walk through, depending on your pace and whether you stop for snacks.
Masks are not required, nor worn by many participants.
Several concession and souvenir stands are located throughout the experience.
There are portable toilets available in the parking lot.
Pay attention to the farm's Facebook page for any winter weather cancellations.