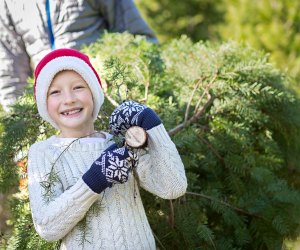 Cut-Your-Own Christmas Tree Farms in Connecticut
Once you cut your own Christmas tree straight from a field, it's hard to go back to purchasing one from a parking lot pile. From the crack of the bark to the sharp evergreen aroma, a fresh-cut tree is special, and finding the perfect one and chopping it down makes for a fun family adventure in the great outdoors. Many cut-your-own Christmas tree farms in Connecticut also have festive music and beautiful holiday decor for sale, too. Here are some of our favorites for festive outings, from Fairfield County to Southeast Connecticut and spots in between.
See our Connecticut holiday fun guide for more ideas for making merry with your family in 2020.
2020 update: While we are trying to promote safer activities that occur outdoors or with social distancing measures in place, please keep your family and others safe by always wearing a mask and maintaining appropriate distance. If you arrive at a farm that appears too crowded, try using the "see all locations" feature at the bottom of this article or "nearby" search feature on our event calendar to find something else to do.

Families who buy a fresh-cut tree get a special ornament with it at Jones Family Farm. Photo courtesy of Jones Family Farm
Cut-Your-Own Christmas Tree Farms in Litchfield and Fairfield Counties
Angevine Farm—Warren
Families can cut their own trees from 35 acres of evergreens, including Blue Spruce, Meyers Spruce, Frasier Fir, Balsam Fir, Canaan Fir, Concolor Fir, Nordman Fir and White Pine. They have saws but recommend bringing your own. There are also fresh pre-cut trees to choose from. The Christmas Barn has a large selection of unusual ornaments, garland, tree stands and gifts. Also offered are fresh made wreaths, swags. While in the area, explore more things to do in Litchfield County.
Paproski's Tree Farm at Castle Hill Farm—Newtown
Paproski's Castle Hill Frm touts beautiful views across 42 acres, and families can roam 20 of those acres to find their perfect Norway Spruce, Douglas Fir, Blue Spruce, or White Spruce tree. (People are encouraged to bring their own handsaws.) Pre-cut trees as well as wreaths, swag, and decorative boxes are also available. Dogs are permitted on leashes.
Fairview Tree Farm—Shelton
Fairview is a fourth-generation farm offering full-service hauling, baling, and tethering after you pick out your tree among 60 acres o Fraser Fir, Blue Spruce, Norway Spruce, and White Spruce. There's also a Christmas shop, refreshments and hayrides from Santa himself on weekends. The farm also offers live balled and burlap trees.
Jones Family Farm—Shelton
In Shelton, you'll find the Jones Family Farm: 400 acres of beautiful farmland owned and operated by the Jones family for more than 200 years. Guests who harvest their own Blue Spruce, Fraser Fir, Douglas Fir, Balsam Fir, White Pine or White Fir trees receive a special, dated, and farm-designed pewter ornament from Woodbury Pewter. You can also buy pre-cut trees, as well as holiday ornaments in an outdoor Holiday Courtyard Market. On weekdays, the wine and gift shop will be open to limited guests to shop safely.
Maple Row Farm—Easton
Maple Row Farm has been in the Edwards family since the 1700's, and they've been growing Christmas trees across 200 acres for the past 60 years. The farm offers nine tree varieties to choose from, including Balsam Firs, Blue Spruces, Concolor Firs, and Norway and White Spruces. Customers can cut their own trees (bring your own saw or borrow one at the farm) or can have it cut for them. There are warming huts and restrooms amidst the over 200 acres of trees, and a not-to-be missed holiday store featuring crafts from local artisans, holiday wreaths, and roping.

There are saws to borrow at DeMaria Farm. Photo courtesy of DeMaria Family Farm
Cut-Your-Own Christmas Tree Farms Hartford and Central Connecticut
Dzen Family Christmas Tree Farm—South Windsor
Open for business starting November 29, this farm offers cut-your-own (saws are available) and pre-cut trees and best of all, the reindeer are back! Their price of $55 per tree includes tax. There is also a nativity scene, a snack bar on weekends, wreaths, tree stands, and other accessories available for purchase in the greenhouse.
Karabin Farms—Southington
There are 15 acres of trees for you to choose from, including Frazier, Douglas, and Canaan Firs, and Balsam Spruces. Trees are $70 plus tax. Cut-your-own trees are available starting November 23, 2019, on Saturdays and Sundays, while supplies last. Pre-cut trees are available as well.
DeMaria Farm—Berlin
This is a family-owned farm with a selection of Fraser Fir, Douglas Fir, Concolor Fir, Balsam Fir, and Blue Spruce trees to pick and cut yourself. It has saws, netting, and plenty of people to help get it on your car. Weather permitting, it offers free hay rides for tree customers on weekends for a tour of the farm. It also offers free coffee and a campfire. Available for purchase are snacks, wreaths, greenery, tree stands, and more. Cash and credit cards are accepted. Dogs are allowed, but they must be on a leash.

There are 50 acres of trees at this fourth-generation farm in Coventry. Photo courtesy of Hickory Ridge Tree Farm
Cut-Your-Own Christmas Tree Farms in East Connecticut
Hickory Tree Farms—Coventry
Prepare for a true naturalist experience: The 50 acres of this fourth-generation-operated Christmas tree farm contributes to one of the largest unbroken forests in Southern New England. Choose from Fraser Fir, Canaan Fir, Blue Spruce, and more. Bring your own saw or borrow one; hand carts help you bring trees to your car.
Maple Lane Farms—Preston
You can choose from a large selection of Balsam Fir, Fraser Fir, Canaan Fir, and Concolor Fir at this 50 acre farm. Staffers provide saws, tree transport from the field, tree shaking, and baling. There's no Santa visiting or cocoa this year, but you can complete your holiday decor from an assortment of decorated and undecorated wreaths, kissing balls, garland, and tree stands.