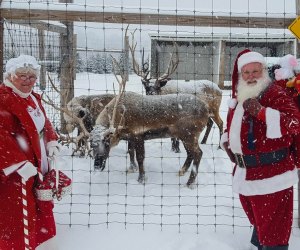 Cut-Your-Own Christmas Tree Farms in Connecticut
In classic New England style, Connecticut during the holiday season comes alive with cars toting their big green, freshly cut tree purchases home. Cut-your-own Christmas trees have become one of our most anticipated activities of the holiday season. After choosing a favorite Fraser fir or blue spruce, even my teenagers enjoy placing the saw blade to the base and cutting it free. The comedy which ensues in trying to get it back to the car is also a great memory, but mostly for mom and dad. Tips: Bring thick work gloves, cut your tree low to the ground, and then give your fresh-cut tree a good shake to get rid of any lingering bugs or critters.
Explore our Connecticut holiday fun guide and list of Free Holiday and Christmas Events for more ways to make great holiday and Christmas memories in 2021.
Cut-Your-Own Christmas Tree Farms in Litchfield and Fairfield Counties
New for 2021: Christmas trees are by reservation ONLY and they are booked full for the 2021 season already. In years past, families could cut their own trees from 35 acres of evergreens, including blue spruce, Meyers spruce, Fraser fir, balsam fir, Canaan fir, concolor fir, Nordman fir and white pine. The Christmas Barn and wreath barn has a large selection of unusual ornaments, garland, tree stands, and gifts and is open on weekends from 9:30am to 4:30pm.
OUR LATEST VIDEOS
Christmas trees on Sugar Lane are by appointment only in 2021. Paproski's Castle Hill Farm touts beautiful views across 42 acres, and families can roam 20 of those acres to find their perfect Norway spruce, Douglas fir, blue spruce, or white spruce tree. Visitors are encouraged to bring their own handsaws. Pre-cut trees as well as wreaths, swag, and decorative boxes are also available. Dogs are permitted on leashes. Masks are required.

Take a hayride with Santa and then enjoy full-service support after you cut your own family Christmas tree in Shelton. Photo courtesy of Fairview Tree Farm
Fairview is a fourth-generation farm offering full-service hauling, baling, and tethering after you pick out your tree among 60 acres of Fraser fir, blue spruce, Norway spruce, and white spruce. The farm re-opens in mid-November for Christmas tree sales. There's also a Christmas shop, refreshments, and hayrides with Santa himself on weekends. The farm also offers live balled and burlap trees. No reservations needed.
For the 2021 season, make your reservation to choose a tree now at Jones Family Farm. This beautiful 400-acre farmland has been owned and operated by the Jones family for more than 200 years and is a popular spot for Christmas tree cutting. Guests who harvest their own blue spruce, Fraser fir, Douglas fir, balsam fir, white pine, or white fir trees receive a special dated and farm-designed pewter ornament from Woodbury Pewter. You can also buy pre-cut trees, as well as holiday ornaments in an outdoor Holiday Courtyard Market. The farm recommends visiting the wine and gift shop on weekdays, not during Thanksgiving weekend.
Maple Row Farm has been in the Edwards family since the 1700s, and they've been growing Christmas trees across 200 acres for the past 60 years. The farm offers 9 tree varieties to choose from, including balsam fir, blue spruce, concolor fir, and Norway and white spruces. Customers can cut their own trees and are encouraged to bring their own saws since the farm has a limited number to borrow, or can have their trees cut for them. There are warming huts and restrooms amidst the more than 200 acres of trees, and a not-to-be missed holiday store featuring crafts from local artisans, holiday wreaths, and roping. Cut your tree on a weekday and get a $10 discount. There's also oxen and hayrides on the weekend.
A portion of the proceeds from trees sold here is donated to the Connecticut Audubon Conservation and Education programs. Because the farm is located in a nature sanctuary, you should spot some spectacular birds. A variety of spruce are available to cut, and pre-cut varieties can be purchased. Please bring your own saws. The farm is open from Saturday, Nov. 27 to Wednesday, December 23; Tuesdays-Fridays from noon-4pm; weekends, from 10am-4pm.
Cut-Your-Own Christmas Tree Farms Hartford and Central Connecticut
Open for business starting November 20, this farm offers cut-your-own (saws are available) and pre-cut trees and best of all, the reindeer are back! Their price of $55 per tree includes tax and you can select from 4 different kinds of tree. There is also a nativity scene, a snack bar on weekends, wreaths, tree stands, and other accessories available for purchase in the greenhouse.
There are 15 acres of trees for you to choose from, including Fraser, Douglas, and Canaan firs, and balsam spruces. Trees are $70 plus tax. Cut-your-own trees are available starting in late November on Saturdays and Sundays, while supplies last. Pre-cut trees are available as well. Make sure to pick up a long-stem tree watering funnel, too.

After you pick your Christmas tree, have complimentary coffee by the campfire. Photo courtesy of DeMaria Family Farm
This is a family-owned farm with a selection of Fraser fir, Douglas fir, concolor fir, balsam fir, and blue spruce trees to pick and cut yourself. They can offer you saws, netting, and plenty of people to help get it on your car. Weather permitting, it offers free hayrides for tree customers on weekends for a tour of the farm. It also offers free coffee and a campfire. Available for purchase are snacks, wreaths, greenery, tree stands, and more.
From Thanksgiving through Christmas, you come and pick your family's perfect tree for the season. No need to bring a saw, as the farm will provide you with one. Choose from 4 different options of tree; Colorado blue spruce, and Canaan, balsam, and Fraser firs. You can also pick up wreaths, kissing balls, and more. This farm is located right on Route 5.
Cut-Your-Own Christmas Tree Farms in Eastern Connecticut

Cut your own Christmas trees at a tree farm in one of the largest forests in Southern New England. Photo courtesy of Hickory Ridge Tree Farms
Prepare for a true naturalist experience. The 50 acres of this 4th-generation-operated Christmas tree farm contributes to one of the largest unbroken forests in Southern New England. Choose from Fraser fir, Canaan fir, blue spruce, and more. Bring your own saw or borrow one; hand carts are available to aid you in bringing your fresh cut Christmas tree to your car. Tree season opens on November 26.
You can choose from a large selection of balsam fir, Fraser fir, Canaan fir, and concolor fir at this 50 acre farm. Staffers provide saws, tree transport from the field, tree shaking, and baling. There's no Santa visiting or cocoa in 2021, but you can complete your holiday decor from an assortment of decorated and undecorated wreaths, kissing balls, garland, and tree stands. Open 7 days a week.
Scott's Tree Farm has trees to cut for reasonable prices starting November 24. You can bring a chain saw or use one of their hand saws. Starting on the November 24, they are open 7 days a week from 9am to 5pm. You can also grab a pre-cut tree for $40 or even a precious Charlie Brown tree for $10.

Cutting down a Christmas tree is a great childhood memory! Photo courtesy of Bigstock
A family farm since 1891, Allen Farm opens for Christmas tree sales on the day after Thanksgiving. All weekend they are open from 8am to dark to assist you in finding the perfect tree for your family. Trees are priced at $8 per foot for a Douglas fir, blue spruce, Fraser fir, and more. Stop in the craft shed for some warm cider and cookies.
There are 15-acres of trees to choose from at Gray Ledge. You can choose from their field of spruce, and then one of the tree assistants will cut it for you. Any size tree is $40. Masks and social distancing are required.
Cut-Your-Own Christmas Tree Farms in Southern Connecticut

Don't forget, many Christmas tree farms are in a rural setting and only accept cash. Photo courtesy of the Connecticut Christmas Tree Growers Association
Select your Christmas tree from one of Joseph's firs and spruces. You can also pick up a wreath, garland, or swag to decorate you home. All business will be conducted outside, so masks are optional.
Opening the weekend before Thanksgiving, Busy Acres will be ready for you and your family to come and harvest your own tree for decorating. Choose from a variety of firs and spruces with saws and twine is provided fpr you to cut and get your Christmas tree home safely. Cash or check only. Leashed pets are welcome to join in the memory making. No sales after 3:30pm.
Opening day for cut-your-own Christmas tree is November 26. The tree farm offers several types of trees including Colorado blue spruce, Canaan fir, concolor fir, Fraser fir and other exotic varieties. There is free baling, refreshments, and a Christmas shop filled with wreaths, sprays, tree stands, and ropes. Don't forget to grab some of their very own maple syrup, too.
Updated November 2021