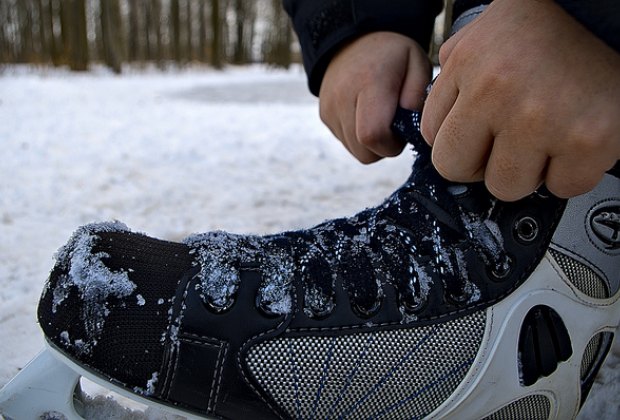 The Best Places for Outdoor Ice Skating with Kids in Westchester
This time of year can be tough. The holiday excitement is over and we're still months away from springtime temperatures. Sure, you can head to one of Westchester's many indoor play spots for a romp sans the coat and gloves. But how about embracing the season and heading outdoors to enjoy the crisp air and sweeping winter landscape?
If there's not enough snow for sledding, outdoor ice skating might just do the trick. A new outdoor rink debuted in Westchester this season and several county parks offer skating options once the lakes freeze over. The best part is most options are FREE or charge nominal fees, so grab your mittens and skates and head outdoors for some winter fun and exercise that can keep little ones (and your wallet) happy all winter. Read on for your best bets for outdoor ice skating with kids in and around Westchester!
Bear Mountain Ice Rink – Tomkins Cove
Bear Mountain offers a "full service" (skate rentals, skate sharpening services, lockers, etc.) outdoor skating rink with majestic mountain views. Here you'll also find a hockey club and figure skating. Bear Mountain also hosts birthday parties. Public skate sessions vary so check their website for a full list and be sure to call ahead, just in case as the rink may be closed due to inclement weather or other factors. Admission is $5 for ages 5 and up, and free for tots 4 and under. Non-skaters and seniors are $2. Skate rentals are $5, and there is a $10 parking fee on weekends and holidays.
Westchester County Parks
Several of Westchester's parks allow ice skating once the lakes and ponds freeze over. You must bring your own skates, snacks and hot cocoa, but the price is right (FREE) and skating is permitted daily from dawn to dusk. Worried about how to tell if it's safe to skate? The ice is checked daily at all locations for safety. Look for a white flag with a green ball or a sign indicating safe conditions. You can also call ahead to verify its safe to skate at 914-864-7275 or call the individual parks (numbers are listed below).
Blue Mountain Reservation – Peekskill
45 Welcher Avenue
914-862-5275
Mountain Lakes Park – North Salem
201 Hawley Road
914-864-7312
Tibbets Brook Park – Yonkers
355 Midland Avenue
914-231-2865
Wampus Pond – Armonk
Route 128
914-273-3230
Wilson's Woods – Mount Vernon
East Lincoln Avenue
914-813-6990
Other county parks also allow ice skating when conditions are safe but may not offer the flag system noted above for ice conditions. Your best bet is to call ahead (we've provided the numbers).
Bedford Hills Park – Bedford Hills
60 Haines Road
914-666-7004
The park system is located right in Bedford Village. Lake Marie in Bedford Hills is a great option for skating. Todd Pond is also located close by within the same park system.
Twin Lakes Park – Eastchester
California Road
914-961-2192
The gorgeous lakes that form the chain composing two combined parks totaling 220 acres (spanning parts of New Rochelle and Eastchester) make for lovely ice skating in the winter.
The Woodlands Lake section of V.E. Macy Park – Ardsley
914 New York 9A
914-946-8133
The Woodlands Lake part of the park is where ice skating access is located, while the entire park spans 172 acres. This section is also home to the Great Hunger Memorial, also worth checking out. Unlike other county parks, hours are daily from 9am to 3:45pm.
Leonard Park – Mount Kisco
1 Wallace Drive
914-241-0500
Leonard Park is the village's 116-acre park and offers wonderful skating opportunities in the winter.
If outdoor skating is a bit too cold for your taste, try one of Westchester's indoor rinks.
Updated for 2019.