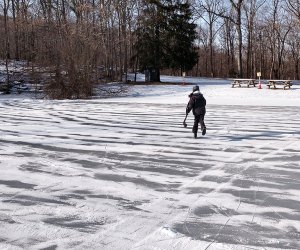 Outdoor Ice Skating Ponds and Rinks For Westchester Families
Westchester is home to numerous outdoor ice skating rinks. What these skating spots—ranging from rinks to local ponds—lack in upscale amenities, they make up for in old-school charm.
In most cases, you'll need your own pair of skates to glide across the ice and below-freezing temperatures to ensure it's safe to set foot on the county's frozen ponds. While temperatures haven't plunged enough yet, you'll know a go-to spot when the weather cooperates.
If you just can't wait for the ice to freeze, consider a visit to one of NYC's best rinks and find plenty more seasonal fun in our Winter Fun Guide and our winter fun list, which features 30 exciting things to do this season.
Editor's note: While we are trying to promote safer activities that occur outdoors or with social distancing guidelines in place, please keep your family and others safe by always wearing a mask and practicing social distancing. If you arrive at a venue that appears too crowded, try using the "nearby" search feature on our Event Calendar to find something else to do.
OUR LATEST VIDEOS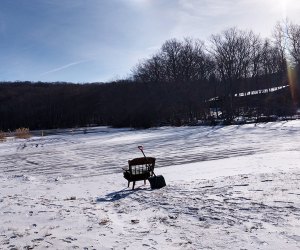 Sal J. Prezioso Mountain Lakes Park in North Salem offers a pretty backdrop for your ice skating outing.
Ice Skating Rinks and Ponds in Westchester County Parks
The ponds and lakes within the Westchester County Parks jurisdiction are checked daily in the winter for ice conditions. Before skating, call 914-864-PARK or visit the Westchester County Parks Facebook page to check whether conditions are safe for skating. On-site, look for a white flag with the green ball or other signage indicating safe conditions. When conditions allow, ice skating is permitted daily from dawn to dusk, and it is FREE.
The northernmost county park offers extensive recreational pursuits in winter, including ice skating, hiking, snow-shoeing, and cross-country skiing. For skating conditions at Hemlock Lake, check the park's Facebook page or call the park office.
In addition to ice skating, cross-country skiing and ice fishing are recreational options at this county-owned park. Kids can also romp in the playground. Parking is FREE during skating season.
While summer at Wampus Pond is for boating and fall is for foliage, the pond becomes a destination for skating in the winter. Ice fishing is also available.
Perhaps best known for its summertime wave pool, this park also offers picnicking and fishing in the summer and ice skating in the winter. Hiking trails and a playground are also offered.
Spanning parts of Eastchester and New Rochelle, this multifaceted (and somehow off-the-beaten-path) park complex may be best known for its equestrian center—but slip past the horses to find the lakes, where ice skating is available in winter.
The Woodlands Lake section of V.E. Macy Park is conducive to ice skating in winter and fishing in summer. It also offers access to hiking along the South County Trailway. Other sections of the park include a playground, ball field, and picnic pavilion. Park hours are daily from 9am to dusk.
2021 update: Due to construction, skating is not available this season.
A popular destination for mountain biking and hiking, Blue Mountain Reservation also features a trail lodge and Sportsman Center, where shooting and archery are offered. Cross-country skiing and a playground are also available. The park is open daily from 8am to dusk year-round.
2021 update: Rink capacity is limited to 25 and masks and social distancing are required.
Twirl on the ice rink at this Ossining park, and bring a thermos of hot cocoa to enjoy by the fire after your skate.
These two town parks offer unsupervised skating on their local ponds.
Towns and Villages Offering Outdoor Ice Skating
While county-owned parks are open to all Westchester residents, some towns and villages boast outdoor skating rinks open to residents. These include:
Check your town's recreation department for local options not listed here.
RELATED: 9 Family-Friendly Ski Areas For Your Next Winter Getaway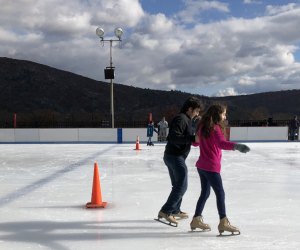 The Bear Mountain Ice Rink is but one of the attractions in this stunning state park. Photo by the author
Outdoor Ice Skating Near Westchester
2021 update: Participation is capped at 50% capacity, and lockers aren't available. Masks are required upon entering the building. Tickets must be purchased on-site and go on sale 45 minutes before session start times. The carousel and Bear Mountain Inn Restaurant & Cafe are currently closed.
While most of our attention is focused on Westchester options, there are many reasons to recommend a jaunt to nearby Bear Mountain State Park. Majestic mountain views surround the rink, and a visit here can be rounded out with any of many activity options, including sledding, hiking, a casual walk around the lake, a visit to the lodge, a twirl around the carousel, a visit to the zoo, and more. Consult the rink's website for holiday schedules (which includes Super Bowl Sunday) and announcements of any closures, as skating is weather-dependent. Admission is $5 for ages 5 and up and FREE for tots 4 and under. Non-skaters and seniors are $5. Skate rentals are $5, and there is a $10 parking fee on weekends and holidays. The season runs through Sunday, March 7.
Harriman State Park – Sloatsburg
Decidedly more rustic than Bear Mountain, the skating facilities at Harriman are, indeed, the pair of lakes in the park. You won't find any Zamboni's here. It's old-school pond skating only once the ice is 6-inches thick, and skaters are responsible for removing any snow before they skate. Steer clear of ice fisherman and their holes when you glide.
Unless noted, photos courtesy of Westchester County Department of Parks