Indoor Ice Skating Rinks for Westchester Families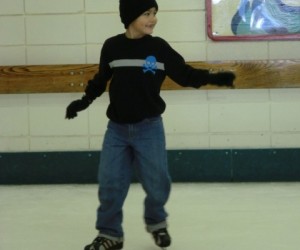 Winter is here and many parents are looking for ways to keep little ones busy when its too cold for the park. We've mentioned several great indoor play spaces for kids to burn off excess energy. Now we've got the scoop on ice skating rinks in Westchester. Ice skating is a great way to get the whole family out and active when the weather is not cooperating. Ice skating can be lots of fun for kids of all ages and plus it's great exercise for you and the kids!
Ice skating is rapidly becoming one of my family's favorite activities. We are happy to find active ways to enjoy the cold weather. Some rinks are geared more toward the budding 3-year-old hockey star and some are better places for birthday parties. Read on for the scoop on indoor (or covered) rinks in Westchester.
Brewster Ice Arena – Brewster
This three-level, 90,000-square-foot facility has two regulation-size hockey rinks and a studio rink. In addition, you'll find a full-service pro shop, restaurant and bar, a fitness center and seasonal outdoor batting cages. Brewster Arena also offers youth and adult hockey programs, birthday parties and ice skating and figure skating lessons. Check their website for their full schedule.
Ebersole Ice Rink – White Plains
Tucked behind 287 and the White Plains Housing Authority, this rink carries more of the feel of Delfino Park and the neighborhood to which it belongs, than a skating academy, although it does host clinics and feature lessons. A fixture of White Plains for nearly 60 years, the rink is a fun place for families to come and skate. Discounts are offered for White Plains residents. Check their website for a full schedule and information on rates.
Hommocks Park Ice Rink – Larchmont
Located behind Hommocks Middle School (you have to drive all the way back behind the school to the end of the parking lot to get close to it), this rink offers all the usual academy-type programs and attracts families hoping to interest their children in skating. Its a standard rink with a bit of character (my children loved the Christmas lights) and well maintained. There is a utilitarian snack bar and the place has a fun feel to it. Public skating is only closed on Wednesday, and the hours are very good. They also offer season passes and discounts for residency. Call or check their website for more details on pricing and for a full schedule.
The Ice Hutch – Mount Vernon
The Ice Hutch offers lessons, public skating, and ice hockey and figure skating sessions. Public skate sessions take place on Tuesdays and Saturdays—check the website for info and pricing. The rink also hosts birthday parties.
Murray's Skating Center – Yonkers
This place has been a community staple since 1960, and there are regulars who talk with nostalgia about it. It is a covered rink and is a great place for parties. The open skate hours are very narrow windows on only a handful of days so be sure to call ahead or check their website for a full schedule.
PlayLand Ice Casino – Rye
The Ice Casino at Playland Park is a popular destination for families. With two large rinks, plus a small rink only for kids 7 and under, this is a great place for novice and seasoned skaters to enjoy time on the ice. In addition to public skating, Ice Casino has youth and adult hockey leagues, offers ice skating and figure skating lessons and hosts birthday parties and corporate events. There is also a cafe with standard fare like pizza and hot dogs. Check the website for schedule and pricing.
Westchester Skating Academy – Elmsford
This is the place my children and I usually frequent. It's pretty easy to find, professionally maintained and staffed and seems to have very good hockey and learn-to-skate programs. This is a child-athlete's rink, but I have also been impressed with the friendliness and responsiveness of the staff. When the skate rentals left a lot to be desired, I communicated my concerns to the staff and received 3 passes to skate again free, rentals included. The crowd that skates there is friendly and full of families. Check their website for a details on the rates and a full schedule of public skate times.
This post has been updated for 2019.