Workouts for Westchester Families to Try Together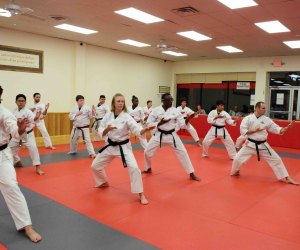 While there are lots of Mommy and Me classes to take in Westchester, they're usually geared towards the under-5 set. But what if you're looking to spend time trying a fitness activity with your kids, like swimming or yoga, once they've made their way to elementary school? We've got those too!
Here are a few places in where families can work up a sweat together. The best part? You'll get in a workout, kids will see firsthand the importance of staying healthy and active—and everyone will have fun.
Prefer to workout solo? Check out a list of gyms in the area with on-site childcare.
1. Family Karate
True ChampionZ Martial Arts Westchester Krav Maga - New Rochelle
Karate fans take note: In the Family Karate classes at this New Rochelle studio, parents and kids (in fact, anyone between the ages of 4 and 65-plus) can train at the same time—and families have even become black belts together. These Shotokan Karate classes are taught by Sensei Vladimir Zolottev—a World Cup Shotokan Karate Champion—who focuses on the fundamentals, including the correct way to stand, kick and punch. There are three sessions available each week, and, if they want, families are welcome to take kids or teen/adult classes on their own in addition to their class time together.
2. Family Yoga
Sprout Wellness - Pleasantville
On Saturday afternoons at this family-friendly yoga studio in Pleasantville, parents and kids (usually anywhere from 5 to 12 years old) can hit the mat together for a Family Yoga class. In the 45-minute session, you'll learn key poses, how to breathe properly and even try your hand at partner yoga to further boost your parent-child bond. Have a tween or teen? Starting at age 12, they can take any of the adult classes offered—which include vinyasa yoga and restorative yoga—but you'll have to be in class with them. Once they hit 16, you don't have to be on site, but they'll need a signed waiver.

3. Family Swim
Kinetic Sports Club - Pelham
What's that old saying: Families who swim together, stay together? Not exactly, but that doesn't mean it doesn't ring true! Families are able to spend time in the pool together during Family Swim, which is held on the weekends at this 50,000-square foot sports club in Pelham. In addition to a lap pool, there's also an on-site water park with water slides, waterfalls and more. Along with adult memberships, there are junior memberships for kids, which include various activities, as well as pool access. If you're a member, but your kids aren't, you can pay a day-rate for either the pool or waterpark.
4. Family Basketball
Rye YMCA - Rye
There are lots of different activities you can take part in at the Rye Y with a Family Membership, including basketball and swimming. The entire family is encouraged to get out on the court together during Family Basketball and in the pool during Family Swim, both of which happen on the weekends. On Sundays, there's also an Aquatic Playtime for Youth with Special Needs & their Families, where kids with special needs and their families, including siblings, can swim together. A facilitator is on hand to help with games and water safety and you don't have to be a member to take part. Also fun? The ExerZone, where kids and adults (kids between the ages of 5 and 10 need to be with a parent/caregiver) can try their hand at various interactive activities, like an exerbike and kickboxing.