Westchester Gyms with Childcare: Where Parents Can Exercise While Kids Work Out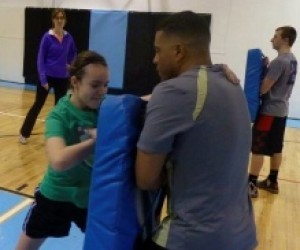 Warmer weather is just around the corner and springtime often brings with it resolutions to get active and stay fit--great ideas for the entire family! Along with indoor play spaces and kids-only gyms, Westchester also has several choices for families who want to get all of their exercising done in one fell swoop. While many local gyms have nurseries or playrooms where little kids can hang out while their parents work out, several have gone one step further and created sports and activity programs to keep kids busy while parents pound out miles on the treadmill or try to master those impossible double-unders.
Several fitness centers throughout Westchester offer comprehensive programs for kids that include everything from dance to cheerleading; sports to CPR training. Read on for details on keeping the whole family fit and active.
Lifetime Fitness - West Harrison
1 Westchester Park Drive
At Lifetime Fitness, the Kids Academy programs for kids start as young as 3 months with Mommy and Me Yoga. There are art and gymnastics classes for the under-2 set and then a whole host of activities for ages 3 and up. While you work out, your big kid can participate in classes that teach general sports skills or more specific activities like, dance, art, yoga, gymnastics, music, cheerleading, Spanish and Karate.
Premier Athletic - Montrose
2127 Albany Post Road
In addition to babysitting, birthday parties and summer camps, Premier Athletic offers fun-filled lessons for kids on site at their fitness center. Children can learn tennis, racketball, soccer, swimming skills or CPR while you work out. There are also general fitness programs for both kids and teens to help start healthy habits early. These lessons and programs are often to the public, but members receive a hearty discount.
New York Sports Club - Somers
80 US 6
NYSC's Sports Club For Kids program offers basketball clinics, sports academy and TUFF kids training, along with swim lessons. Classes take place in the club's studio's and, with a nursery on site for younger children, the whole family can get a workout in under one roof! Classes are open to the public as well, but members get a discount and the ability to reserve spaces online.
Kinetic Sports Club - Pelham Manor
872 Pelham Parkway
Kinetic Sports club has a great program for kids that lets you work out and know your kids are having a blast. Children can participate in a variety of sports programs on site including basketball, dodgeball, flag football, youth cycling, soccer, whiffle ball and "MultiSport" training (specifically for kids 5 and under). There are less sport-oriented classes too like stretching, dance, healthy cooking, music and art, so families are sure to find something for everyone. For older kids and teens there is an Elite Sports Training Program and the Kinetic Sports Academy while really little ones can hang out in the Kids Club nursery.
Fenom Fitness - Harrison
67 Grant Avenue
Fenom Fitness offers a different model for fitness than many other gyms, with an array of workout options for both kids and adults. Parents can take a class or schedule private training sessions while their kids take a class. Fenom also offers Family Fusion, a 60 minute fitness class for the entire family.
CrossFit
CrossFit is the new fitness craze, and some Westchester boxes (see? That's the cool CrossFit word for gyms) are helping kids get in on the action. (A word to the wise on CrossFit--programs are popping up EVERYWHERE and many will say they offer a kids program. Make sure you are completely comfortable that the kids' trainer is truly well trained to teach a children's fitness class. Don't be afraid to ask about credentials, experience and CPR/First Aid Training.)
CrossFit Port Chester has three dedicated children's classes--Rookies (3-7), All Stars (8-12) and Pros (13-15). Classes for Rookies and All Stars are offered twice a week while the Pros group meets once a week on Friday evenings. For the kids' safety, classes are kept small and limited to only 10 participants. Kids in these groups will learn many of the same CrossFit skills as adults, but taught on their own level.
CrossFit Yorktown's program is smaller, kids ages 4 to 12 are groped together in Kids class while older Teens have separate classes. Each class follows the same general format of the adult classes; participants will warm up, learn and practice a new skill, go full out in a short but intense workout and then learn to cool their bodies down again.
CrossFit Westchester offers a class for kids 4 times a week and focuses on universal scalability. Designed for ages 5 to 16, all activities in this class are scaled up or down to meet each individual child's needs and abilities. If you are interested in trying out CrossFit, this might be a good place to start- the first class for both kids and adults is FREE!