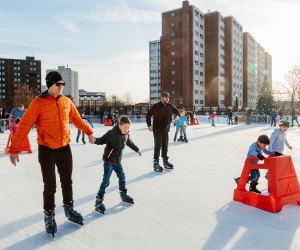 Outdoor Ice Skating Rinks in Connecticut Open in 2020-21
One of New England's most enchanting winter offerings is the opportunity to skate outdoors on frozen ponds or quaint, tree-lined rinks. Whether it is the fresh air, the gentle winter sunlight, or starry night sky, outdoor rinks offer kids a feel of frosty (Frozen?) magic. These outdoor rinks in Connecticut offer a special setting for family time,and playdates, especially in 2020 and 2021, when we prefer to have our kids outside as much as possible.
If you find yourself heading north for the holidays, see our roundup of Outdoor Skating Rinks in Boston and New England. Kids who prefer to skis to skates will enjoy exploring these Northeast family ski mountains that are open in 2020.
2020: We will continue adding outdoor skating rinks to our list as we learn of opening plans. Note that due to COVID-19, closures to ice rinks can happen at any time. Be sure to contact the facility before heading out, and wear your face masks.
Skaters of all stripes are welcome at the new Steven & Alexandra Cohen rink in Stamford. Photo by Ally Noel​
Outdoor Ice Skating Rinks in the Fairfield Area
Steven & Alexandra Cohen Ice Skating Center - Stamford
2020 Update: The rink will remain closed for the 2021 season.
This outdoor rink spans more than 9,000 feet of ice, allowing plenty of space for triple axels, scratch spins, or just gliding with friends. The rink is open most days though February.
Westport PAL Rink - Westport
2020 Update: The rink will remain closed for the 2021 season.
For more than 20 years, this open-air rink nestled just a few yards from Long Island Sound has been a longstanding winter tradition in Westport. While there are some lessons and private parties, and an occasional bout of "pond hockey," the rink is mostly dedicated for open skate time, up until 11pm.
Gorham's Pond - Darien
Known for its postcard-perfect winter scenes of ice skating and hockey playing, Gorham's Pond invites families for a picturesque afternoon of skating.
Redding Community Center - Redding
Located in a parking lot, the seasonal ice rink at the Redding Community Center will be open from dawn to dusk every day in addition to designated evening skate times. The ice rink is provided for the enjoyment of Redding residents and their guests.
Gould Manor Park - Fairfield
When the weather turns cold, you're sure to see a Currier & Ives scene of children skating across Gould Manor Park.
Owen Fish Park - Fairfield
Another classic New England winter scene comes to life here once the Parks & Recreation Department measures the thickness of the ice daily when the temperature dips and deems it safe to skate. The tree-lined pond is a a great place for a game of hockey or ice skating practice.
Outdoor Ice Skating Rinks in the New Haven Area
Osbornedale State Park - Derby
One of the only state parks with a designated skating area, Pickett's Pond in Osbornedale State Park offers a perfect setting for skating. When the weather allows for sufficiently thick ice (decided by park rangers), skaters can be found gliding across Pickett's Pond. Warm up next to the roaring fire in the pavilion's fireplace (don't forget to bring your own marshmallows and hot chocolate). Bright lights illuminate the night for skating after the sun sets.

Simsbury Farms Ice Rink has a roof, but open sides for fresh air. Photo courtesy of Simsbury Culture, Parks & Recreation Department
Outdoor Ice Skating Rinks in the Hartford Area
The Bushnell - Hartford
2020 Update: Due to COVID, the Winterfest Skating Rink will not be open for this season.
In the heart of downtown Hartford, a frozen oasis awaits from late November through early January. Winterfest offers free skating, rentals, and even skating lessons at various times.

Simsbury Farms - Simsbury
This rink is covered, but you will still experience the thrill of fresh air. Skates available for rental, along with a heated changing/waiting area.
Winding Trails - Farmington
When (and if) Walton Pond freezes sufficiently to at least 6 inches thick (ice depth is regularly tested), skating here is a wonderfully old-fashioned experience surrounded by snow-encrusted pines, a scenic bridge, and a rustic lodge.

Eastbury Pond - Glastonbury
If the weather allows, this pond offers a thrilling skating adventure. It is one of the few outdoor rinks that does not offer rentals, so make sure to pack your own skates.
Beaverbrook Linear Park - Weathersfield
Spring Street Pond is available for ice skating when the weather cooperates. Follow posted signs regarding safety conditions of ice.