Best Outdoor Ice Skating Rinks in Connecticut for Kids and Families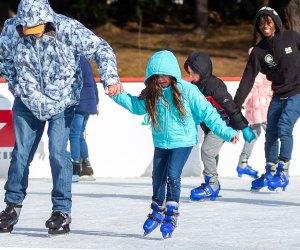 11/6/22
- By
Clementina Verge
The best outdoor ice skating rinks in Connecticut are opening, so don't let winter weather keep you stuck inside! Experience an old-fashioned winter tradition when you lace up your skates and jump on the ice. We may complain when the thermometer drops, but that is also the perfect time to get onto a frozen pond or find an outdoor ice rink and glide away on the ice (if you can stay upright that is). We've rounded up our favorite spots for kids and families to enjoy the best outdoor ice skating rinks in Connecticut.
Looking for more fun outdoor winter activities? Explore our list of 30 Winter Activities in Connecticut with Kids or our jamp-packed winter activities guide.
Best Outdoor Ice Skating Rinks near Fairfield

Skaters of all stripes are welcome at the new Steven & Alexandra Cohen rink in Stamford. Photo by Ally Noel​
This outdoor ice rink spans more than 9,000 feet of ice allowing plenty of space for first timers to slip and slide, and the more experienced to glide and glide. The ice rink is open most days though February. Opening for 2022 is planned for late November/early December.
For more than 20 years, this open-air rink nestled just a few yards from Long Island Sound has been a longstanding winter tradition in Westport. While there are some lessons and private parties, and an occasional bout of outdoor hockey, the rink is mostly dedicated for open skate time, up until 11pm. Opening for 2022 is scheduled for November 25, 2022, weather permitting.

Outdoor rinks invite families to ice skate and practice pond hockey. Photo courtesy of Friends of Gorham's Pond
Known for its postcard-perfect winter scenes of ice skating and hockey playing, Gorham's Pond invites families for a picturesque afternoon of ice skating as weather permits. The colder it gets, the earlier the skating season starts.
Located in a parking lot, the seasonal ice rink at the Redding Community Center will be open from dawn to dusk every day, in addition to designated evening skate times. The ice rink is provided for the enjoyment of Redding residents and their guests. They will be open for this year's season in January 2023.
When the weather turns cold, you're sure to see a Currier & Ives scene of children skating across Gould Manor Park.
Another classic New England winter scene comes to life in Fairfield. The tree-lined pond is a a great place for a game of ice hockey or ice skating practice. When the temperature is right, the city Parks Department measures the ice thickness daily, and posts it on the city website.
During the winter months, skating is available to the public, just look for the "skating" sign to make sure the ice is thick enough.
Best Outdoor Ice Skating Rinks near New Haven
One of the only state parks with a designated ice skating area, Pickett's Pond in Osbornedale State Park offers a perfect setting for skating. When the weather allows for sufficiently thick ice (decided by park rangers), skaters can be found gliding across Pickett's Pond. Come and warm up by the fun, stone fire pit. Bright lights illuminate the night for skating after the sun sets.
A fun and beautiful place with lots of wildlife, it's also a great place to go sledding and then lace up your skates for ice skating. Wright's Pond is monitored by the city Parks and Recreation Department for ice safety. There are signs posted when it's safe to skate.
Best Outdoor Ice Skating Rinks near Hartford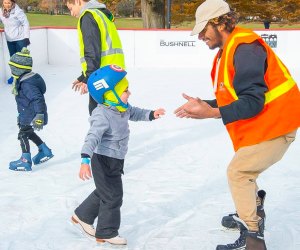 The best outdoor ice skating rinks let little ones develop skating skills. Photo courtesy of the Bushnell Park Foundation
In the heart of downtown Hartford, a frozen oasis awaits from late November through early January. Winterfest offers free skating, rentals, and even skating lessons at various times and they are back in 2022 starting in late November. Open daily from 11am to 8pm
This rink is covered, but you will still experience the thrill of fresh air in this huge space. Skates available for rental, along with a heated changing/waiting area. Ask for a skating trainer for first timers. The rink opens November 5, 2022.
When (and if) Walton Pond freezes sufficiently to at least 6 inches thick (ice depth is regularly tested), skating here is a wonderfully old-fashioned experience surrounded by snow-encrusted pines, a scenic bridge, and a rustic lodge. The plan is to open as soon as weather allows in 2022.

Pond hockey and pond skating are New England traditions. Photo courtesy of Ice Skating at Eastbury Pond, Facebook
If the weather allows, this pond offers a thrilling skating adventure. It is one of the few outdoor rinks that does not offer rentals, so make sure to pack your own skates.
Spring Street Pond is available for ice skating when the weather cooperates. Follow posted signs regarding ice safety conditions.
Published on November 12, 2019