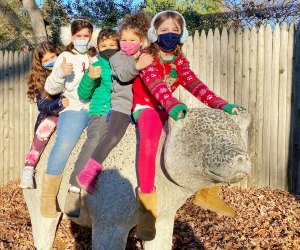 25+ Winter Activities in Connecticut with Kids
Winter in New England: It can feel cozy, yes, but also incredibly long. Here is some inspiration for winter activities in Connecticut that will get your family out and about on some fresh-air adventures—or at least make indoor time a little more interesting. Whether you want to sled, ski, hike, collect some maple syrup or explore the great outdoors at our fantastic nature centers, there are fun (and safe) ideas for kids of all ages.
If this isn't enough to keep your troops from a winter mutiny, you can find even more ideas in our Connecticut Winter Fun Guide.
2020-21 editors' note: While we are trying to promote safer activities that occur outdoors or with social distancing guidelines in place, please keep your family and others safe by always wearing a mask and maintaining appropriate distance. If you arrive at an event that appears too crowded try using the see all locations in this article or "nearby" search feature on our event calendar to find something else to do. If you are traveling to an activity outside of your state or local area, check if COVID cases are on the rise in the area, as well as any travel restrictions, advisories, or quarantine orders.
Winter Outdoor Activities in Connecticut with Kids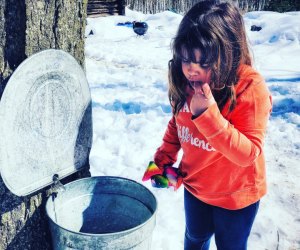 OUR LATEST VIDEOS
Look forward to a taste of fresh maple syrup later this winter. Photo by Ally Noel
Learn how maple syrup was discovered and see how it is made at one of CT's many sugarhouses.
Cruise down our sledding favorite hills in Hartford or Fairfield.
Conquer the slopes at a local ski and snowboard resort.
Try out cross country skiing with the family.
Bundle up and see how the animals spend their winter at Connecticut's Beardsley Zoo, which is open every day except Thanksgiving and Christmas.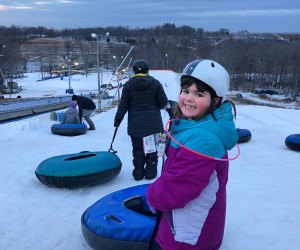 Tubing offers the thrill of skiing minus the extra cost and gear at Powder Ridge. Photo by Ally Noel
Enjoy the thrill of snow tubing at Powder Ridge in Middlefield.
Hike the trails at the Roaring Brook Nature Center in Canton.
Enjoy the crisp air and sparkling views that only a winter walk can offer.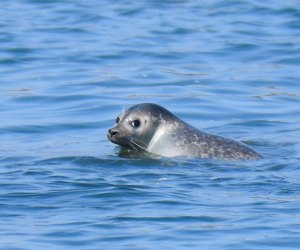 Spot seals on a winter cruise. Photo courtesy of Maritime Aquarium
Take a cruise on the Long Island Sound to see the seals with the Maritime Aquarium.
Explore art in the great outdoors every Sunday at the Stamford Museum and Nature Center.
Explore nature outside or in at Milford Audubon Center.
Winter Indoor Activities in Connecticut with Kids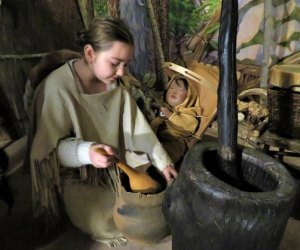 Learn about the history of Connecticut Native Americans.
Head to the Institute for American Indian Studies Museum and Research Center in Washington and learn about the contributions of indigenous cultures.
Spend a day in Mystic greeting Beluga whales at the Mystic Aquarium and exploring maritime history at Mystic Seaport Museum.
It's always a beautiful day at the Westport Winter Farmer's Market, located in the greenhouses at Gilberties' Herb Garden. Make sure to sign up for a Get Growin' Craft Kit To Go!
Speed seekers will be able to get their adrenaline pumping at RMP Raceway in Stamford.
Check out the largest indoor ropes course in the world (yes! in the world...): IT Adventure Indoor Ropes Course in New Haven.
Take a look at restored carousel horses housed at The New England Carousel Museum in Bristol.
Grab a hot chocolate at our favorite treat places in Fairfield County.
Spend some time rock climbing and jumping in the trampoline room in the Adventure Center at Chelsea Piers CT.
Create a painted piece of pottery at home or in the studio at Hands on Pottery.
Snowy conditions won't prevent you from boarding on a family adventure at the New England Air Museum in South Windsor.
Pet jellyfish and stingrays at the Maritime Aquarium in Norwak.
Build your very own indoor obstacle course without leaving the house.
Check out the Holiday Train Show at the Connecticut River Museum in Essex, open through Valentine's Day.
Try guided, hands-on engineering projects at home during National Engineers Week (mid-late February).
Originally published on December 8, 2017