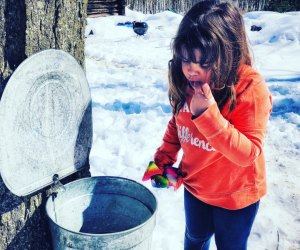 55 Things to Do with Kids This Winter in Connecticut
1. Learn how maple syrup was discovered and see how it is made at one of CT's many sugarhouses.
2. Visit one of the state's wonderful museums, including the Wadsworth Atheneum in Hartford, and Lyman Allyn Art Museum in New London.
3. Sled down the hills in Hartford or Fairfield.
4. Conquer the slopes at a local ski and snowboard resort.
5. Snowy conditions won't prevent you from boarding on a family adventure at the New England Air Museum in South Windsor.
6. See the beautiful white-headed birds that are so loved and protected along with the Connecticut River Museums' Winter Wildlife Eagle Cruises.
7. Lace up your skates and enjoy a day at Newington Ice Arena or another of the many indoor rinks across the Hartford area and the state.
8. Check out the largest indoor ropes course in the world (yes! in the world...): IT Adventure Indoor Ropes Course in New Haven.
9. Head to Bushnell Park of Winterfest and enjoy free ice skating against the city backdrop.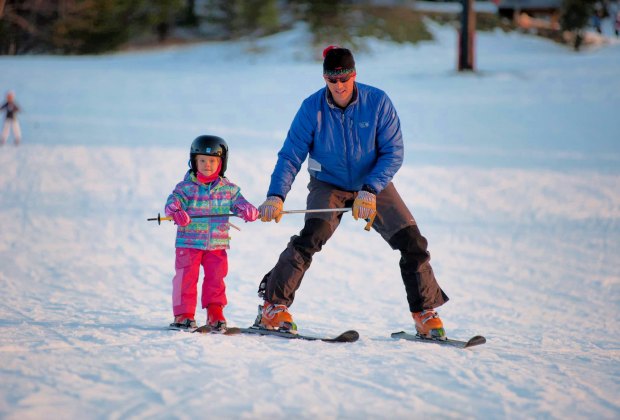 Hit the slopes and learn to ski at Mohawk Mountain or another one of Connecticut's ski resorts. Photo courtesy of Visit Connecticut. Flickr.
10. Take a look at restored carrousel horses housed at the The New England Carousel Museum in Bristol.
11. Grab a thermos filled with hot cocoa and stroll through the Festival of Lights in Meriden.
12. "Feast" your eyes on some amazing gingerbread creations. Think candy lined walkways, roofs made of chocolate and lollipop lights!
13. Skate in the fresh air at one of Connecticut's gorgeous outdoor skating rinks.
14. Try out cross country skiing with the family.
15. Throw your hair in a scrunchie, get your boogie on, and head to the roller skating.
16. Spend some time rock climbing and jumping in the trampoline room in the Adventure Center at Chelsea Piers CT.
17. Grab a hot chocolate in Fairfield County.
18. Experience the history and drama of "Anastasia" at the Bushnell Theater in production January 14-19.
19. Explore nature indoors or out at Milford Audubon Center.
20. Be stunned by talented magicians and illusionists from the television show "Masters of Illusion."
21. Take in a family-friendly show at Bridgeport's Downtown Cabaret Theater.
22. Bundle up and see how the animals spend their winter at Connecticut's Beardsley Zoo, which is open every day except Thanksgiving and Christmas.
23. Enjoy the thrill of snow-tubing at Powder Ridge in Middlefield.
24. Have pancakes with penguins at Mystic Aquarium, greet the Beluga whales, and check out the newest "Weird and Wonderful" exhibit.
25. Check out one of Yale Art Gallery's free family programs and put your creativity to work in New Haven.
26. Pet jellyfish and stingrays at the Maritime Aquarium in Norwak.
27. Learn about maple sugaring at the New Canaan Nature Center.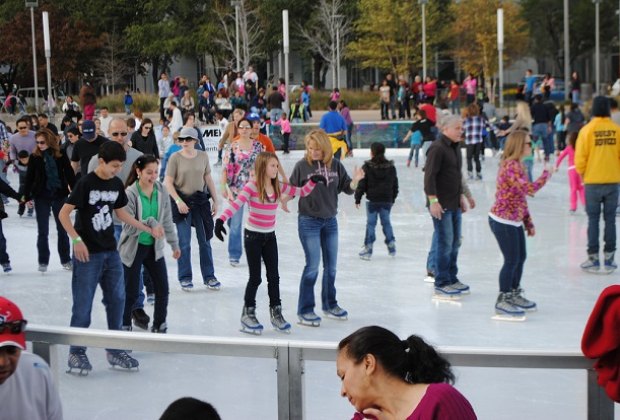 Connecticut's ice rinks will keep you having fun all winter long. Photo courtesy of Flickr.
28. Sweeten your day at some top spots for hot chocolate.
29. Head to the Greenwich Reindeer Festival and ride the Winder Wonderland Carousel.
30. Get hot cocoa and a salted chocolate caramel at Kent Coffee and Chocolate in Kent.
31. Spend the day playing at Imagine Nation in Bristol, where you can build, craft, and enjoy treats in the old-fashioned Imagine Cafe.
32. Check out the Holiday Train Show at the Connecticut River Museum in Essex.
33. Climb, bounce, jump, and play games at Nomads Adventure Quest in South Windsor.
34. Hike the trails at the Roaring Brook Nature Center in Canton.
35. Find dinosaurs throughout Connecticut, including at Dinosaur State Park in Rocky Hill, where you can also do some winter hiking on the serene trails.
36. Warm up with a spot of tea at Alice in The Village in Mystic.
37. Go see Mr. Gilbert's train collection, a tradition spanning six decades. The AC Gilbert American Flyer train collection is on display till mid-January.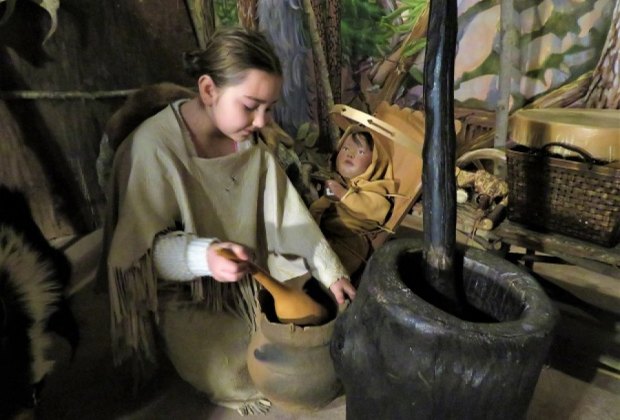 Learn about the history of Connecticut Native Americans.
38. Head to the Institute for American Indian Studies Museum and Research Center in Washington and learn about the contributions of indigenous cultures.
39. Go indoor rock climbing.
40. Enjoy the crisp air and sparkling views that only a winter walk can offer.
41. Play board games in a secret castle with the Mysterious Pendragon Society at Storyteller's Cottage.
42. Brush up on history at Noah Webster House in West Hartford, or Stanley Whitman House in Farmington.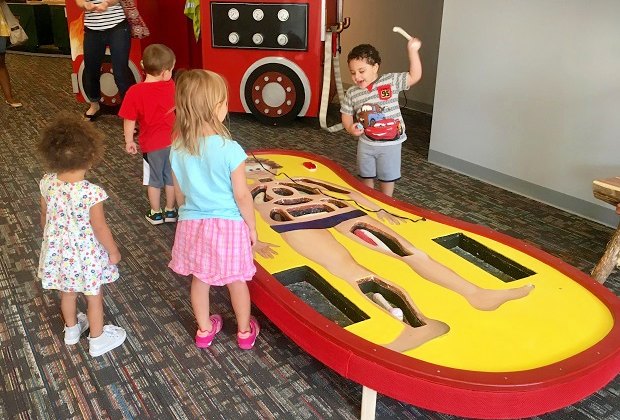 Play Operation on a lifesize game board at KidsPlay Children's Museum in Torrington. Photo by Mommy Poppins

43. Meet for a play-date at the very awesome KidsPlay Children's Museum in Torrington.
44. Technically, Springfield is in Massachusetts, but The Amazing World of Dr. Seuss is so much fun, you won't mind crossing the state border.
45. Learn about the stars and the planets at one of Connecticut's planetariums.
46. Get bouncing at a trampoline park.
47. Check out the Salt Caves of Darien, a special treasure!
48. Take a kid's cooking workshop at Fig Cooking School.
49. Create a painted piece of pottery to take home at one of Connecticut's paint and take clay establishments.
50. Go bowling! There are great places to bowl all over the state.
Originally published on December 8, 2017