Day Trip to Roaring Brook Nature Center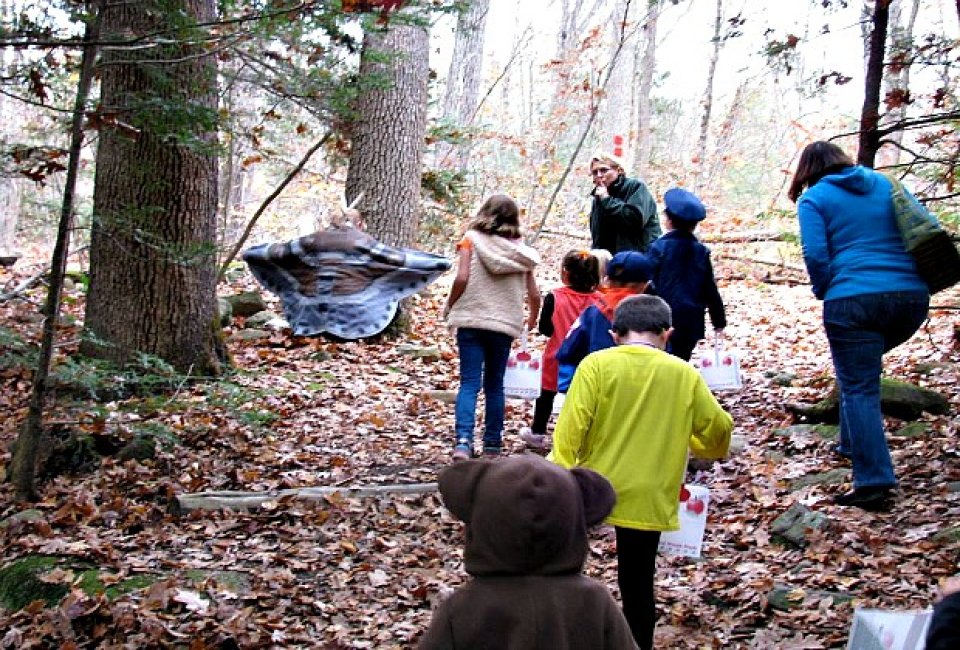 3/21/14
- By
Tania Pesce
New England is a place of weather extremes. In the span of a month, we witness cold and snowy blossom into balmy spring, and when summer has run its steamy course, autumn cools things down again. Whatever the weather, Roaring Brook Nature Center in Canton is a fabulous destination for a fall day trip in Hartford County. The center offers indoor and outdoor activities, as well as a year-round calendar of activities and events. There is surely something for everyone, and there are few better ways to connect with each other than to connect with nature together.
Roaring Brook Nature Center is a wildlife sanctuary and educational facility affiliated with the Children's Museum of West Hartford. The center offers indoor seasonal exhibits, a collection of live animals, and five miles of beautiful trails for you and your family to explore. Inside, rows of small aquarium tanks house frogs, turtles, snakes and more. Take some time to look through the drawers in the education room, explore the Ancient Forest exhibit, and invite yourself inside a Native American Longhouse. The center is also home to a wide-eyed Saw-whet Owl, a Turkey Vulture named Thomasina, and many other rehabilitated wildlife. The center cares for both native and non-native species, and you can find a wish-list of items required for the care of these creatures.
If weather permits, check out one of the six trails on the 100-acre nature center property and keep a lookout for native wildlife species and birds. Soak in the changing leaves of autumn, or seek the shade of the trees in the heat of summer. If you and your family are intrepid sorts, why not strike out during winter by foot or cross-country skis and bask in the silence that only a fresh blanket of snow can bring. The trails encompass a full range of ecosystems, from forest to field, rushing brook to vernal pool.
Along the trails are three letterboxes, Werner's Woods, What We Saw, and A Froggy Went a Hiking. For those unfamiliar with letterboxing, this scavenger hunt style activity takes place across the globe. Boxes are located in about 90,000 locations in North America alone, each housing a rubber stamp to be added to your collection. To learn more about letterboxing, click here.
The museum offers a year-round schedule of educational opportunities for all ages. There are programs aimed at younger children accompanied by a parent, to begin exploring nature. Classes for early elementary aged children dive into topics like animal camouflaging and instincts. For older students (grade 4 and up) there are junior vet programs and a winter survival series. The center hosts events for the whole family to enjoy as well. There are guided night hikes, bird walks, a mushroom identification lesson, even a course on what to do if you get lost in the woods. Check back at the Roaring Brook site often for their impressive and ever changing schedule of events.
The Nature Center is open Tuesday-Saturday from 10-5 pm and Sunday from 1-5 pm. Admission for adults is $6, seniors $5, and children $4.
Happy Trails!
Roaring Brook Nature Center
70 Gracey Road, Canton, CT
860.693.0263
Updated 9/21/16. Photo Credit Roaring Brook Nature Center

Sign up for our free
newsletters.
Mommy Poppins is a family activity website that helps people find things to do with kids.
©
2023
MommyPoppins. All Rights Reserved.
mp-prod4-v4.32.99
We use cookies and other data collection technologies to provide the best experience for our customers.
Learn More
Sign up for the Mommy Poppins Newsletter today!