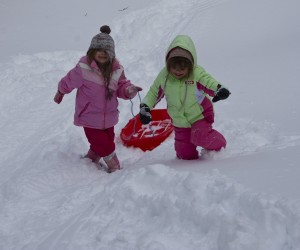 Sledding Hills in Fairfield County
When winter weather turns into a day off from school it's time to head for the hills - sledding hills that is. Some of my favorite memories of growing up in the 'burbs involved bundling up in my snow gear and getting kicked out of the house for a few hours. I'd come running back into the house and tell my parents stories of epic trips down the mountain while warming up to cups of hot cocoa. These are the things that snow day magic is made of. Here in Fairfield County, we have our fair share of mountains to pick from.
Here is a list of some local favorite spots to spend a couple hours burning off that cabin fever. This way, the next time that phone rings at 5:30 in the morning declaring it a "snow day!", you can share in your child's enthusiasm. And, if you are looking for a little bit more of an adventure, check out our Snowshoeing and Cross Country Skiing Guide for Fairfield County and great Sledding Hills in the Hartford Area too.
Fairfield
Gould Manor Park
655 Holland Hill Rd
Sturges Park
550 Mill Plain Road
Tunxis Hill Park
225 Melville Ave
Bridgeport
Beardsley Park
1875 Noble Ave Bridgeport, Ct 06610
Norwalk
Oak Hills Golf Course
165 Fillow Street
Wolfpit School
1 Starlight Drive
Westport
Winslow Park
North Compo Road
Stamford
Cummings Park
464 Shippan Ave
Stratford
Bunell High School
1 Bulldog Blvd
Greenwich
Bruce Park
Bruce Park Drive

Danbury
Richter Park
100 Aunt Hack Road
Tarrywile Park
70 Southern Blvd.
Newtown
Treadwell Park
8 Philo Curtis Road
Darien
Baker Park
Noroton Ave