A Visit to the New England Carousel Museum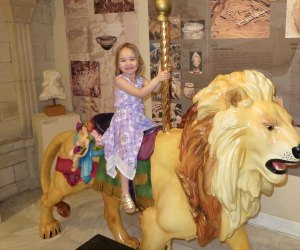 Most children love carousels and Connecticut features quite a few places where you can catch a ride on a merry-go-round. The New England Carousel Museum, a little-known gem in the Hartford area, goes beyond offering the opportunity for a whirl. Here you will find hundreds of carousel figurines on display, or being repaired and restored. Though it is small, the Bristol-based museum is still a fascinating place, geared toward older children and adults -- artists, historians, and carousel connoisseurs are sure to appreciate the fragile exhibits. Young children will enjoy feasting their eyes upon the colorful figurines, but without much opportunity for hands-on interaction, they could also lose interest quicker. Still, this is definitely one of the Fun Things To Do With Kids in Bristol and can be a quick stop on a day filled with other in-town adventures.
The whimsical journey begins as soon you step under the "Entrance" sign featuring carved cherubs and roses, and enter the main exhibit housed in a large room. Here you will find rows of intricately carved carousel animals (on average three figurines deep) featuring everything from beautifully adorned horses, to farm animals, an elephant, and even a dragon. Nostalgia lingers in the room as informational placards tell of various merry-go-rounds, from Coney Island, to Chicago, and even Lake Compounce.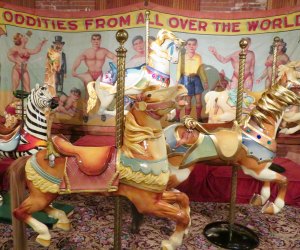 During our visit, the kids were offered a scavenger hunt which kept them busy as they enjoyed admiring all the shiny details: from golden manes to jewel-encrusted bridles and saddles. With the exception of a full-size carousel animal - a lion - that children are allowed to climb, unfortunately, there are not many other hands-on options, but the knowledgeable and friendly tour-guide delivered bits of trivia about the art and history surrounding carousels in a child-friendly way and maintained their interest as much as possible.
Admission includes a ticket for a ride on the working carousel in the adjoining room (additional rides can be purchased for $1), but, regrettably, on the day we visited, it was out of service due to an electrical problem. We were, however, given courtesy passes for free rides on the Bushnell Park Carousel (open on weekends from 11 a.m. to 5 p.m.) in Hartford, which appeased my little gals. Otherwise, the authentic carousel here includes a horse that rocks on springs, and a spinning teacup; because it is small and slow, it may be under-whelming to children used to larger and faster merry-go-rounds. By the way, the weight limit is 150 lbs., so even adults can enjoy a sentimental ride, enhanced by the sounds of the Wurlitzer organ.
My art-minded older daughter appreciated being able to peek at the rehabilitation work taking place in the restoration room on the second floor, where horses await in various stages of repair. Also upstairs, the museum houses a section called the Museum of Fire History. It is filled with interesting, historical pictures of the Bristol Fire Department and authentic equipment spanning decades; among them an old-fashioned hook-and-ladder, uniforms, sirens, and a seat from an old truck. Children will have fun trying on helmets (they are heavy!) and ringing an emergency bell that resonates throughout the room.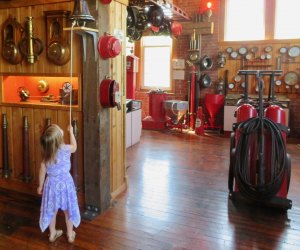 We spent almost an hour here, though you might linger longer depending on the ages of your children and how interested they are in historical trivia or restorative art. At $8 admission for adults and $5 for children (free for under 2), even though our visit was short, it was a neat experience.
If you're visiting on a warm day, for a cool treat check out The Churn Ice Cream Shoppe, or head to Harvest Bakery, my children's favorite sweet spot in Bristol. You can also grab lunch at Gino's Pizza, another kid-approved eatery. All destinations are less than a mile from the museum.
New England Carousel Museum is open Wednesday through Saturday, 10 a.m. to 5 p.m., and Sunday, from noon to 5 p.m. It is available for private events, including themed birthday parties for children, and is a fully-accessible building that includes restrooms, an elevator, and ramps. On-site parking is free.
Images courtesy of Clementina Verge