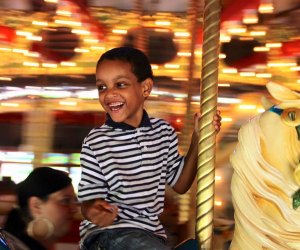 Carousel Rides in Connecticut
For more than a century, carousels have added magic to childhood and nostalgia to our adult years. Racing for the most bedazzled horse or the one with the fanciest saddle is a right of passage since many children are naturally drawn to the whimsical figurines, whether they sparkle and shine, stand stoic in the breeze, or gracefully glide up and down to the sounds of carnival music. Being immersed in countless lights and bright colors, while the sense of flight is perpetrated by the circular motion, makes it seem like one is living in a musical water globe, if only for a few moments. Carousel rides are synonymous with summer breezes, but many can be enjoyed year-round. Below are 11 recommendations for where to catch a carousel ride in Connecticut...or close to the state border.
New England Carousel Museum
A Visit to the New England Carousel Museum is a must for any child who loves carousels. The museum's mission is to acquire, restore, and preserve carousel figures, and dozens of them await to be seen here, representing different eras and styles. Ultimately, visiting this museum feels like a walk through a magical, beautiful art book. All admissions include a one-ride ticket for the indoor carousel, which includes a horse that rocks and a spinning tea cup. The Museum of Fire History, located next door, is also included in the admission price. Open year-round. Closed Monday and Tuesday.
95 Riverside Avenue, Bristol 860-585-5411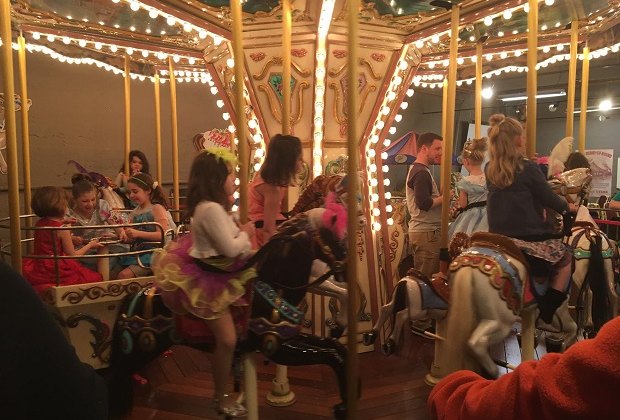 Photo courtesy of New England Carousel Museum, whose mission is to preserve and rehabilitate these beloved figurines.
Lighthouse Point Carousel
Housed in a building dating back to 1916, the carousel features 69 horses, a camel, and two dragon chariots, making it one of the biggest carousels still in operation today. It is open from Memorial Day through Labor Day, on Saturdays, Sundays, and holidays. The carousel ride costs just 50 cents, but admission into the park for Connecticut vehicles is $25, so plan on enjoying a day at Lighthouse Point Park to get your money's worth. Walk the shoreline, spend time at the playground, or just relax to the sound of gentle waves.
2 Lighthouse Road, New Haven 203-946-8019
Beardsley Zoo
Pandas, elephants, and zebras! Enjoy colorful versions of animals that can be visited at the zoo. The indoor carousel is open 9 a.m. to 4 p.m. every day. Cost is $2 per ride, plus admission to Beardlsey Zoo. You can also peruse a display of carousel horses representing various styles and time periods.
1875 Noble Avenue, Bridgeport 203-394-6565
Bushnell Park
This vintage 1914 carousel features 48 hand-carved, wooden horses, two chariots, and a 153-band organ. For just $1, riders enjoy a 3.5-minute whirl. The Bushnell Park Carousel is adjacent to a playground, so children will delight in spending time here. There is also a great place for a picnic or to fly kites, and, of course, Hartford features other child-friendly attractions such as the Connecticut Science Center and Wadsworth Atheneum. The carousel reopened for the 2017 season on April 1.
1 Jewell Street, Hartford 860-585-5411
Lake Compounce
This horse ride will cost a little more since it requires admission into Lake Compounce, but think of all the other rides, splashing, and amusement park food you'll get to savor during this day of adventure. The carousel, built in 1890, features 49 horses, two chariots, and…a goat. It is listed on the National Register of Historic Places.
186 Enterprise Drive, Bristol 860-583-3300
Quassy Amusement Park
The 50-foot Grand Carousel features hundreds of lights, a suspended ceiling, and many "jumping" horses. Children of all ages are welcome to enjoy the thrill of this nostalgic ride, then spend the day making other memories in the park. Admission/ride wristband required.
2132 Middlebury Road, Middlebury 203-758-2913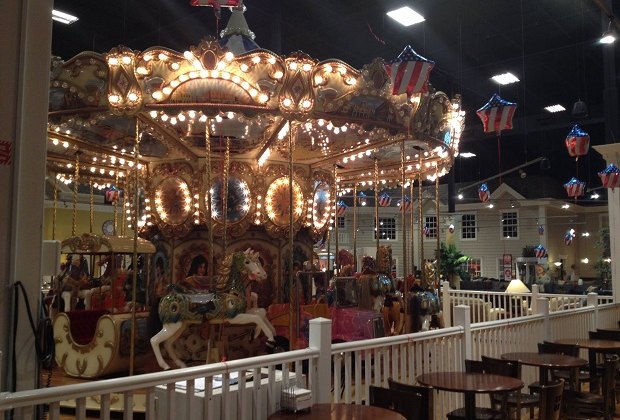 Carousel horses are carefully crafted and decorated, making them a work of art. Photo courtesy of Pilgrim Furniture.
Pilgrim Furniture
Whether you're in the market for a new couch, or just browsing home accents, children will probably not give you a hard time during this shopping trip. The carousel, imported from Argentina, is sure to put a smile on their faces, and…on yours: rides are free.
55 Graham Place, Southington 860-276-0030
Danbury Fair Mall
The bell marks the start of an enchanting ride on the Danbury Fair Carousel, which dazzles in lights, rocking horses, and chariots. A staircase leads to a second story, so enjoy a ride on this double-decked Venetian wonder.
7 Backus Avenue, Danbury 203-207-0305
The Shoppes at Buckland Hills
Ride a horse, a lion or an elephant, or sit back in a chariot …and lose yourself in lights and mirrors. Parents have reported that the hours of operation tend to be a bit unpredictable, so plan a shopping trip around this visit, or call ahead.
194 Buckland Hills Drive, Manchester 860-644-1450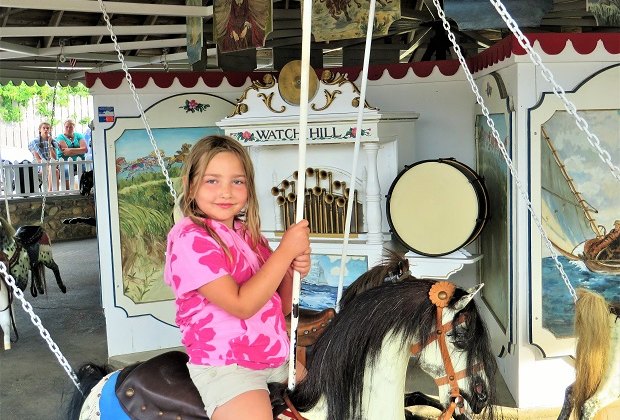 Carousels offer a magic and tradition that delight children.
Watch Hill, Rhode Island
If you're in the Mystic area, you can cross the border into Rhode Island (shhhh, we won't tell) and ride the Watch Hill Flying Horses Carousel, built circa 1894. This historic seaside carousel is said to be the only surviving flying horse carousel in the country (meaning that the horses are suspended from above, not attached to the floor), and the oldest continuously operating in the United States. It has survived natural disasters and delighted thousands of children, so it's certainly a special kind of thrill and tradition. For 2017, it is open Memorial Day weekend, weekends in June, and daily from June 17 to after Labor Day.
151 Bay Street, Westerly, RI 401-348-6007
Six Flags New England
If you find yourself traveling on I-91 North, you might as well keep going just a few extra miles until you cross the border into Massachusetts (again, we won't tell) and ride the 1909 Illinois Grand Carousel. For more than 100 years, 68 horses adorned in colorful armor have thrilled visitors of all ages. You can also choose to ride a lion, a tiger, or a zebra…or feel like royalty in a dragon chariot. Six Flags admission is required.
1623 Main Street, Agawam, MA 413-786-9300
Photo credit: Cover Photo Courtesy of New England Carousel Museum