A Day Trip to CT's Oldest Park, Bushnell Park in Hartford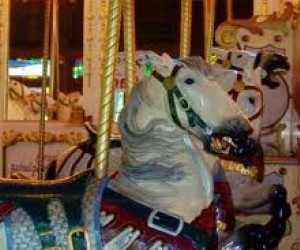 Located amidst our state capitol lies Connecticut's oldest park, the beautiful Bushnell Park, which is a great site to visit for residents of all ages. Its scenic grounds make for a perfect spot to hold a picnic or spend the windy fall days flying kites. Throughout the year it is grounds for a variety of fun events such as the annual Winterfest. Bushnell Park is also home to the vintage 1914 carousel, one of the must see locations for Connecticut families. Tickets to ride this antique indoor merry-go-round are only $2 and it operates from May to mid-October. Conveniently positioned adjacent to the carousel is a playground for the little ones to run around in after they rode along the hand carved horses. During the winter season you can spend time skating in their outdoor rink and during the warmer months walk along the pond filled with ducks.
During our visit we packed up a small basket with lunch and a blanket and situated ourselves next to the carousel under a shady tree. After running around the playground and a ride on the carousel we walked around the beautiful park. We threw our leftover bread scraps to the ducks in the pond and even got to pet a large horse that a police man was riding along the walkway. Of course we couldn't leave without stopping for ice cream at one of the many trucks that lined up on the side streets. If ice cream isn't your snack of choice (or if you're hungry and didn't pack a picnic) you have option from a variety of food trucks such as cupcakes, hot dogs, sausages, Mexican and more. Bushnell Park is a perfect setting in Hartford County for an entertaining day out with the family.
The park is simple to get to with nearby parking lots and garages but we found it easiest to just park along the street metered parking that's available along the perimeters of the park.
Originally published Nov. 5, 2012.