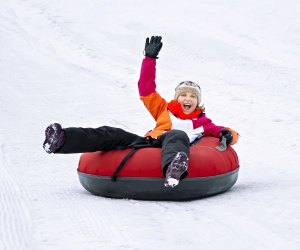 Snow Tubing Parks for Connecticut Kids and Families
What's easier than skiing, more thrilling than sledding, and a fantastic winter activity in Connecticut? At these snow tubing parks in or near Connecticut, kids (and adventurous parents) can launch down a well-maintained trail in a soft-sided inner tube, maximizing comfort while reaching giggle-inducing speed. For a low-stress, relatively low-cost family day that requires no skill but will earn major points with the kiddos, check out one of these nearby snow tubing parks, including two right here in Connecticut and a few just over the border.
For other ways to hit the slopes, check out these Hartford-area sledding hills or Fairfeld County sledding hills, or these Northeast family ski resorts that are opening safely this season. Our Connecticut Winter Fun Guide has even more ideas for getting out and enjoy the fresh air with your family.
2020-21 note: Due to the fluctuating nature of COVID-19, businesses listed below could change their hours or policies at any time, so be sure to contact attractions and venues before heading out. If you are traveling to an activity outside of your state or local area, check if COVID cases are on the rise in the area, as well as any travel restrictions, advisories, or quarantine orders.
Snow Tubing Parks in Connecticut
Mohawk Mountain—Cornwall, CT
2020 Update: Advance reservations are strongly suggested and lodge use is limited.
A popular destination for skiers and snowboarders, Mohawk Mountain has a super-fun tubing area, too, with a magic carpet and eight tubing lanes made for speed. Participants must ride alone and provide a signed waiver.
Age/height requirements: 42 inches tall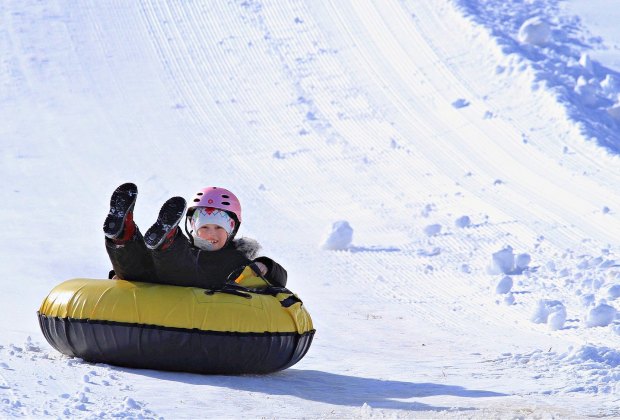 There are 10 tubing lanes at Powder Ridge Park. Photo courtesy of the venue
Snow Tubing at Power Ridge Mountain Park and Resort—Middlefield, CT
Powder Ridge is an ideal destination for anyone looking for some mountain top thrills. Tubes and helmets (required here) are included with park pass purchase; no tube sharing is allowed. It's a long way down each of the 12 tubing lanes, but a magic carpet will bring you back to the top and slope lights help take the fun into the night. The Ridge offers two-hour passes and reservations are strongly recommended. Bonus: if you're a really big fan of tubing, you can enjoy it here year round, thanks to the 365 Synthetic Snow Park that opened in September 2017.
Age/height requirements: None
Snow Tubing Parks near Connecticut
Ski Butternut—Great Barrington, MA
2020 Update: Tubing tickets have a daily maximum limit and must be pre-purchased online. Be aware of travel restrictions traveling to and from Massachusetts.
Located only 15 miles from the Connecticut border in North Canaan, this is a destination well deserving of crossing state lines. Offering 200 tubes, 14 lanes, and a magic carpet to transport you to the top, this mountain is a full service operation. It even guarantees 100% snow-making coverage so that there is plenty of snow even when your own backyard doesn't have any at all. Participants must be able to ride in a tube by themselves; only single tubes are available. A release of liability form is required.
Age/height requirements: None

These seven carved lanes are just over the Rhode Island border. Photo courtesy of Yawgoo Valley
Yawgoo Valley Snow Tubing Park—Exeter, RI

2020 update: At press time, Yawhoo Valley is still finalizing their winter operation plans. Be aware of travel restrictions traveling to and from Rhode Island.
If you live in the eastern part of the state, Yawgoo Valley is only about 45 minutes away (or 1 hour and 15 minutes from Hartford). Tubing is available only on weekends (with extra hours during holidays or school vacations, weather permitting) and reservations are encouraged for each 50-minute sessions. Participants must provide a signed waver and ride alone. Helmets are not required, but guests are welcome to bring their own. Don't feel like zipping down one of the seven carved lanes? Grab a seat at table inside the park lodge and watch the action from a cozy space. Or, if you don't mind the fresh air, an outside deck area overlooks the park. Because parking is limited, participants are encouraged to arrive at least 30 minutes before their purchased session.
Age/height requirements: 42 inches tall
Campgaw Mountain - Mahway, NJ
2020 update: Be aware of travel restrictions traveling to and from New Jersey.
For residents of the western part of the state, crossing the border into New Jersey will offer daily opportunities for day and night snow tubing. Campgaw is located 35 miles west of Greenwich and just about an-hour drive from Danbury. It features 17 tubing lanes, a "magic carpet," and snow-making capabilities. Guests must ride alone and provide a signed waver. Sessions run two hours and online reservations are highly recommended. Tickets go on sale six days in advance of a visit.
Age/height requirements: 42 inches tall