Best Sledding Hills in Hartford, Connecticut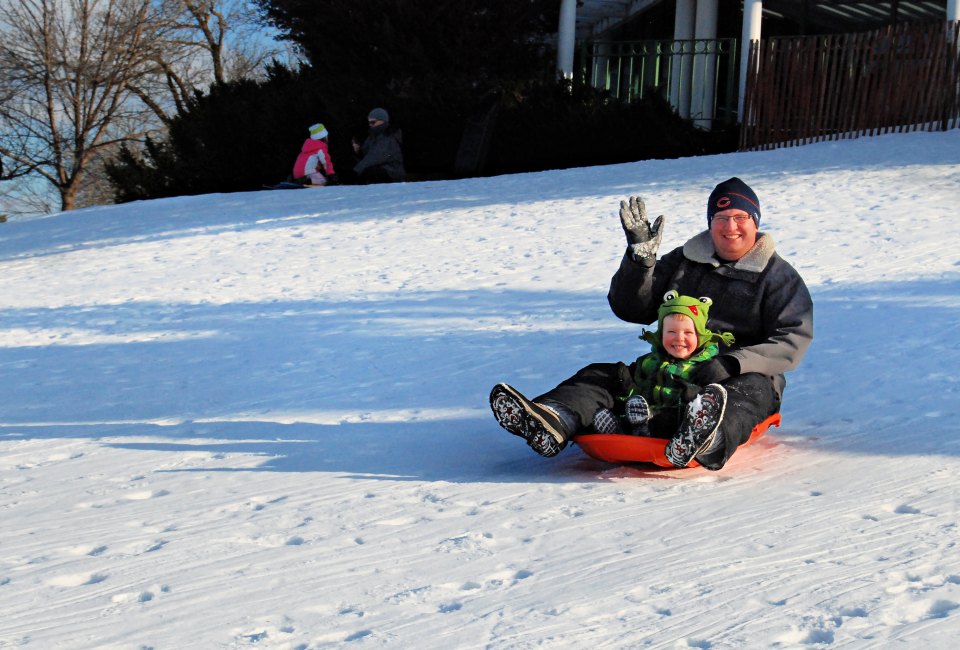 12/1/20
- By
Clementina Verge
The first storm of the season creates quite a stir for those of us who excitedly await a winter wonderland, and it's hard to match the thrill of holding tight to a sled while careening down one of these awesome sledding hills in the Hartford area. Winter lasts only about 12 weeks, so pack a thermos with hot chocolate, maybe grab an extra pair of mittens and socks, and embrace the snowy (and socially distant) adventures.
If you are looking to explore more winter activities, check out these Fairfield-Area sledding hills and our Connecticut Ski and Snow Sports Guide.
Elizabeth Park
Best known for its impeccable rose garden and lavish flower beds, Elizabeth Park is not to be forgotten in the winter. It has two sledding hills, with the better and more popular one located on the Hartford side, near the intersection of Asylum and Prospect avenues.
1555 Asylum Avenue, Hartford
Page Park
This public park is considered by many to be the best sledding destination in Hartford County. Three hills of varying sizes accommodate both little ones and older children seeking more thrills. Parking is available both inside the park and, on weekends, across the street at Bristol Eastern High School.
647 King Street, Bristol
Lewis Mills High School
Descending this steep hill will whiz you across a soccer field; a fence in the distance separates you from Route 4. Don't worry…chances are your sled won't make it that far. Children will definitely tire themselves by climbing back up.
26 Lyon Road, Burlington
Goodwin Park Golf Course
This golf course has many sledding hills, some quite steep. It is fairly open, but steer clear of the trees on the outskirts. Parking is available in the golf course parking lot.
1130 Maple Avenue, Hartford
Wickham Park
The park is closed for the winter, but sledding is allowed and the huge hill that awaits here is long, wide, and open, with plenty of room for sledders to ascend and descend. The top offers a beautiful view of the Connecticut Valley below. The park also has a smaller hill with an easy grade that is less tiring for little ones to climb. Parking closest to the hill is available on Vernon Street, just over the Manchester line in East Hartford (near Marco Polo restaurant).
1329 Middle Turnpike West, Manchester
Henry Park
The Fox Hill Tower in Henry Park is a popular sledding spot with posted sledding rules. Lights were installed a few years ago, allowing families to safely sled the illuminated hills into the evening. Parking is available at the top of the hill.
120 South Street, Vernon
Vernon Center Middle School
To the left of the soccer fields is a long hill, usually dotted with sledders at the first glimpse of snow. A couple of bumps and changes in grade along the way keep the ride exciting.
777 Hartford Turnpike, Vernon
Farmington High School
This is one of the favorite sledding places in town. Plenty of space and a steep incline make for a fun outing, whether to accommodate a group play date or just a day of fun.
10 Monteith Drive, Farmington
Winding Trails
Winding Trails is a private outdoor recreational facility, but it is open to nonmembers for a small fee. A huge hill behind the sportsplex is wide and open, with a section designated for younger sledders. The hill is steep in certain places and best for older kids looking for something daring. Snow tubes and pulk sleds can be rented.
50 Winding Trails Drive, Farmington
Buena Vista & Rockledge Golf Courses
In West Hartford, the town's two public golf courses offer great sledding options. Buena Vista features many rolling hills of varying steepness so children can spread out and try out different hills in one trip. To best access the hills, park on Cornerstone Drive, which borders the course. For steeper hills, head to Rockledge and park in the main parking lot.
Buena Vista: 37 Buena Vista Road, West Hartford
Rockledge: 289 South Main Street, West Hartford
Simsbury Farms Golf Course
This is one of the most well-known and easily accessible sledding spots in town. Drive up the main entrance to the golf course and park behind the main building; the sledding hill is directly behind the parking lot.
100 Old Farms Road, Simsbury
​Here at Mommy Poppins we love to have fun, but we are also concerned with safety. To limit the chance of head injuries related to winter sports, the American Academy of Pediatrics recommends that children sled sitting up or feet first, since laying down head-first may increase the risk of injury. Of course, also make sure that the slope is clear of tree branches, rocks, or debris.
Originally published January 2015
Sign up for the Mommy Poppins Newsletter today!