Visiting Big Snow at American Dream with Kids
4/14/23
- By
Rosalind Muggeridge
Big Snow is North America's first and only indoor ski and snow resort, and it's a true gift if New York and New Jersey's mostly snow-free winter has left you feeling like you missed out on cold-weather sports. Located inside the over-the-top American Dream Mall–less than a 30-minute drive from Midtown Manhattan–Big Snow offers beginner to advanced slopes, guided instruction, and real snow year-round.
Read on for everything you need to know to make your visit to Big Snow at American Dream a super fun snow day for the whole family.
Check out our roundup of top things to do in the American Dream Mall for more great activities to try at the mall.
Subscribe to our newsletters to get stories like this delivered directly to your inbox.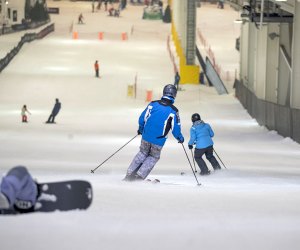 Hit the slopes all year round at Big Snow. Photo courtesy of the venue
Skiing and Snowboarding at Big Snow American Dream: What to Know
How High Are the Slopes at Big Snow?
Big Snow boasts a beginner, an intermediate, and an advanced trail. The beginner slope is 270'by 95' with the main slope coming in at 800' by 145'. Slope grades max out at 26% with a minimum of 3%. The beginner and intermediate trails can be assessed by two 225' carpet (think conveyer belt) lifts, while the larger slope uses a 635' quad chairlift, and a 635' surface platter lift. There's also a small snow play area for younger kids with a gentle sledding hill.
RELATED: American Dream's Nickelodeon Universe Lives Up to the Hype

Big Snow sports a sledding hill that younger kids may enjoy.
What Are the Conditions at Big Snow?
Kept to a chilly 28 degrees Fahrenheit (-2 degrees Celcius) year-round, Big Snow is carpeted with 5,500 tons of snow at a depth of 2 feet across 180,000 square feet. Real snow is made through a process of adding minuscule molecules of water into the cold air from units in the domed ceiling. Through the same process by which snow is naturally made, these droplets freeze as they fall, adding to the snow that covers the 4 acres of slopes. Radiant cooling in the flooring as well as the air's temperature keeps the snow frozen and maintains its dry powdery consistency. Due to this controlled environment, snow conditions stay consistent no matter what time of year you visit.
RELATED: Kids' Sports Centers, Gyms, and Fun Zones in New Jersey

The facility has snowboarding classes for beginners.
Learning to Ski and Snowboard at Big Snow
Big Snow is the perfect spot for beginners to suit up and hit the slopes for the first time. The Camp Big children's program for ages 5-10 includes ski or snowboard rentals, helmets, and outerwear. This 3-hour program begins with dry-land training in an indoor space followed by on-snow instruction with a break in the middle for kids to take a rest (snack and water provided). Friendly counselors provide supervision for the whole time so parents can drop kids off if they want. (Note: Camp Big is only for kids at the beginner skill level.) If you don't want to commit to 3 hours, there are plenty of super helpful staff members around to assist with putting on equipment and to offer tips and tricks on how to get started. Two-hour private lessons for up to four guests are also available. In the summer months, there's a weeklong day camp for ages 5-12. Campers can choose one week and attend from 1-4pm Monday through Thursday.
If your kids are older than 12 and you'd prefer to spectate, you can skip the admission fee and watch from a glassed-in cafe that looks out onto the slopes. (You'll be able to see your kids if they're close to the window but you won't be able to speak to them.) There's plenty of seating inside the center but you'll have to pay the regular admission fee even if you aren't skiing or snowboarding.
RELATED: Where To Go Ice Skating Indoors with Kids in NJ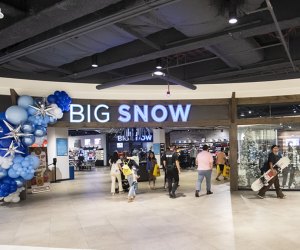 Gear rental is available at Big Snow. Photo courtesy of Big Snow
Know Before You Go to Big Snow at American Dream
Big Snow is open to the public Monday-Thursday from 1-8pm, Friday from 1-9pm, Saturday from 10am-9pm, and Sunday from 10am-8pm.

Advance timed-entry tickets are required and need to be purchased online in advance. Two-hour slope access without snow gear or rentals is $49.99 (kids under 6 are free with adult purchase); adding skis or snowboard and outerwear rentals will run you $89.99 per person over age 2. Snow play and sledding only (recommended for ages 3-10) is $19.99 per person; add outerwear rentals for $39.99 each.

Outerwear rentals come with coats, snow pants, boots, and helmets. A nice perk for beginners: Staff put your boots on for you when you pick them up. Bring your own gloves or rent a pair for $12. Free lockers are available.

All children under the age of 12 should be accompanied by a parent or guardian.

The children's 3-hour drop-off program is $169.99 and includes all ski and snowboard and gear rentals (except gloves), helmets, and continuous instruction.

Big Snow is 28 degrees Fahrenheit year-round. All guests must be wearing suitable winter clothing including long pants, long sleeves, and footwear that is closed front and back. No flip-flops, sandals, or Crocs.

Snacks and drinks are available onsite at Joe C's Café. You may also bring your own snacks in and store them in your locker. If you're looking for more substantial fare, American Dream offers several food halls, restaurants, and cafeterias onsite.

The onsite shop offers a full selection of ski and snowboard equipment, clothing, helmets, eyewear, and Big Snow merchandise.

For the closest parking, head to deck A in the ground-level lot. As of this publication date, parking is free for the first 30 minutes and $5 for the rest of your visit.
Unless noted, photos by the author
Places featured in this article:
Click Here to Sign Up!
i