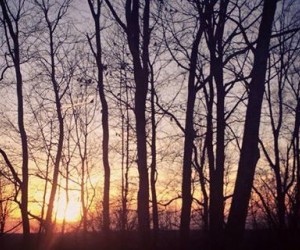 Winter Walks in Fairfield County
When the seemingly endless cold and gray of Winter is giving you a case of cabin fever, it's time to bundle up the family and head to one of your local parks. Winter brings its own magic to the local parks and preserves of Fairfield County. Less crowds means more peace and quiet to enjoy your natural surroundings. Take in a refreshing breath of cold air and see how many animal tracks you can find in the snow or just spend some time gathering materials to make an awesome Ice Suncatcher.
No snow? No problem! You don't need snow shoes, skis, sleds to enjoy these parks and preserves - a pair of weatherproof boots and your winterwear should do the trick. So, disconnect from the screens and devices for an afternoon and reconnect with nature.
1. New Canaan Nature Center - New Canaan
This winter, have fun discovering nature at the The New Canaan Nature Center. The Center is located on a 40-acre site which features several trails through diverse terrain. Warm up in the Visitors Center which houses our Discovery Room, Art Exhibits and the Nature Gift Shop.
144 Oenoke Ride New Canaan 06840
2. Waveny Park - New Canaan
Take a walk through the winter woods while enjoying Waveny's 250 acres of parkland.
677 South Avenue New Canaan
3. Earthplace - Westport
​Earthplace maintains a 62-acre wildlife sanctuary. Pick up a scavenger hunt at the front desk and enjoy one or more of their six trails.
10 Woodside Lane Westport, CT 06880
4. Saugatuck Trail - Weston
Trails are open every day of the year from sunrise to sundown. Make sure you take a map along with you (you can grab one at any of the trail heads or print one online). The maps not only serve to keep everyone safe, but also as your permit to walk the trails.
Rt. 53 and Valley Forge Road Weston
5. Devil's Den- Weston
At 1,756 acres, Devil's Den is the Conservancy's largest preserve in Connecticut allowing you plenty of opportunities to view nature at its finest.
33 Pent Road, Weston, CT 06883
6. Larsen Sanctuary - Fairfield
Enjoy a winter walk along the boardwalk to see a Winter Wren, Hermit Thrush, Brown Creeper. The Larsen Sanctuary has seven miles of trails that include the Chiboucas wheelchair-accessible trail for the disabled.
2325 Burr Street, Fairfield
7. Jump Hill Preserve - Easton
The Jump Hill Preserve encompasses the northern most section of the 1,009 acre Trout Brook Valley Conservation Area. Explore the frozen vernal pools and have fun on the The White Trail and Green-White Trail. Both trails loop back to the parking lot.
18270 Black Rock Turnpike, Easton. (Opposite Country Club Ln)
8. Cranbury Park - Norwalk
An active community of disc golf enthusiasts keep the trails in walkable conditions most of the year. Enjoy a quiet walk through the woods and explore the park's 227 acres of wooded trails.
300 Grumman Ave. Norwalk
9. Mianus River Park- Stamford
​Mianus River Park, a nearly 400-acre urban forest sandwiched between Greenwich and Stamford. Before you go, check out all the different animal tracks you may encounter by clicking here.
Merriebrook Lane, Stamford 06902
10. Roosevelt Forest - Stratford
This 400 acre hidden gem is a wildlife sanctuary with marked hiking trails. Quiet, mostly level and well marked, you can bring your dog to enjoy the trails through a lovely example of a typical Connecticut forest. Fire pits available.
700 Peters Lane, Stratford
11. Pequonnock Valley Greenway - Trumbull
Enjoy this paved, 3-mile stretch of the Pequonnock River Trailway just off the main drag in Trumbull. Its longer, "parent" rail trail -- still in development-- stretches from the Bridgeport transportation hub to the Monroe-Newton town line. This portion welcomes hikers and bikers of all ages along its wide scenic route all year.
30 Tait Road, Trumbull
12. Stepney Rail Trail - Monroe
A part of the Monroe's expansive Wolfe Park, this 2.6 mile, level trail starts on Pepper Street and ends at the beautiful Great Hollow Lake. Perfect for scuffing along with the kids or snowshoeing. No dogs allowed.
248 Pepper Street, Monroe
--
Originally published 1/30/16.