Our Trip to RPM Speedway Go-Karting in Stamford is a Highway to Fun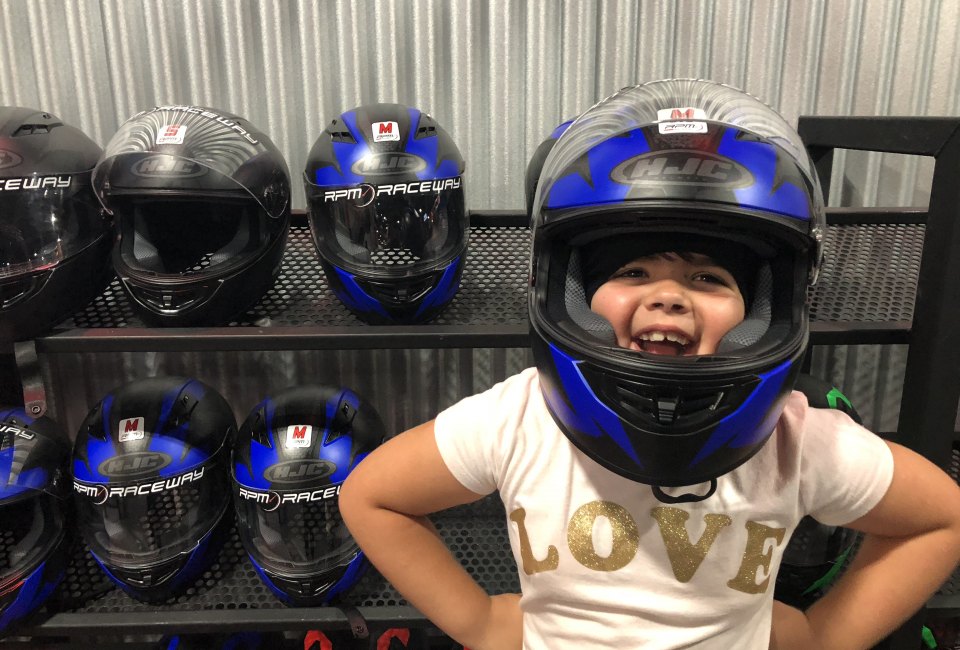 7/15/18
- By
Ally Noel
It's been a little while since a new family entertainment venue opened in lower Fairfield County. So, when I heard that RPM Raceway was opening their sixth location in Stamford, I knew we had to check it out! Located on West Avenue, Connecticut's first location of RPM Raceway is filled with so much more than go-karts. It has a bowling alley, arcade, a full-service restaurant, virtual reality simulators, and more.
You have to be at least six years old and 48 inches to be able to drive a kart. Parents should also know that the karts only hold one driver so you need to be comfortable letting your child do this on her own. You should also be aware that the space is loud and can be a little overwhelming for some kids. I arrived at RPM with my six-year-old daughter and her eight-year-old friend - not knowing completely what to expect or prepare them for. When we walked in, we filled out an online waiver, driver information, and paid. Like most places, the more races you purchase at a time, the more affordable it gets. There is also a yearly membership that would pay for itself in a few visits. I decided to purchase one race for each of the girls and see where to go from there.
Naturally, go-karting comes with some inherent risks, but I felt comfortable letting my daughter have this experience. Racers are placed into one of three categories based on age, height, and driving experience (licensed or not). Every racer is required to watch a safety video to learn the rules of the road. Helmets are obviously provided by the venue and there are track attendants that are capable of stopping all of the karts on the track if there is an incident (such as a spin-out or reckless driving). The Junior Racers also use different karts that are only able to go 25mph.


Learning the rules of the road.
After watching the video, I had one girl raring to go, and the other one put on the breaks. The staff at RPM Raceway was so kind and caring about my reluctant racer. Ultimately, only one of them got behind the wheel, but that didn't lessen the fun.
We both cheered on my daughter as she zipped her way around the track and were pleasantly surprised by her progress. There are "scoreboards" that track each of the racer's times and progress. It is a lot of fun to watch!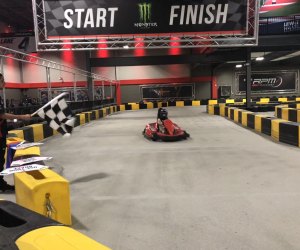 Look at her go! Go-Karting is also fun for the spectators!
After we finished racing, we headed upstairs to the arcade. This arcade is no joke. It's huge and filled with tons of NEW games (and a few classics for mom like Pac Man and Space Invaders.) There's also a bowling alley and a bunch of virtual reality experiences.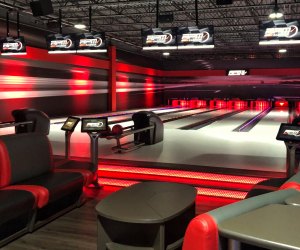 RPM Raceway has more than just go-karts! There is also bowling!
The girls had worked up quite an appetite after all this excitement. I had originally planned on taking them out for dinner, but they were starving so we decided to stay at RPM's Double Clutch Sports Bar. Generally, I have low expectations of food served at family entertainment venues - but, this food is honestly delicious. One of them even declared, "These are the best chicken fingers EVER!" And believe me, there's a lot of competition in that category.
All-in-all, we spent about three fun-filled hours at RPM Raceway and everyone left happy. This place definitely raises the bar for fun in Fairfield County and we are racing to go back.
All photos courtesy of the author.
Places featured in this article:

Sign up for our free
newsletters.
Mommy Poppins is a family activity website that helps people find things to do with kids.
©
2023
MommyPoppins. All Rights Reserved.
mp-prod4-v4.32.99
We use cookies and other data collection technologies to provide the best experience for our customers.
Learn More
Sign up for the Mommy Poppins Newsletter today!