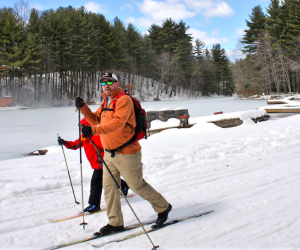 Best Snowshoeing and Cross Country Skiing Spots in Connecticut
Not all snow sports come with an adrenaline rush. Snowshoeing and cross country skiing are two fun, yet low-key winter activities that are easy for Connecticut kids to learn, offer the opportunity to experience beautiful surroundings, and make for a tranquil family outing or a fun, socially-distanced adventure with friends. There are several parks, trails, and winter sports centers in Connecticut where families can safely snowshoe or cross country ski, and some even rent out gear and offer lessons.
For more cold-weather thrills and chills, check out our favorite Connecticut snow tubing parks and family ski areas.
Many ski and sports gear outfitters offer cross country skis and snowshoes. Snowshoes are less expensive than skis and kids are apt to use them more often, as snowshoeing can happen on just about any terrain with snow cover. To invest in a pair, check out Amazon's options, including Yukon's Sno-Bash kids snowshoes and Sawtooth snowshoes for men and women.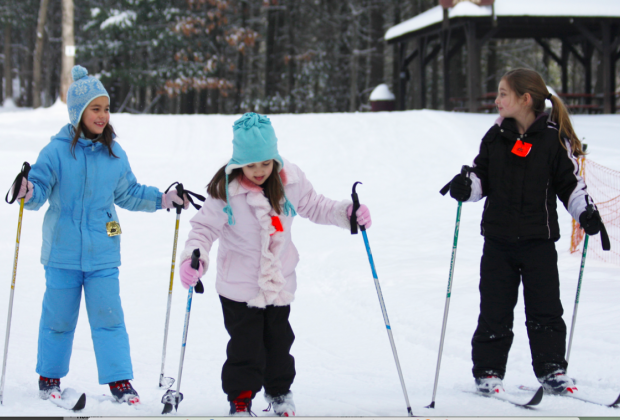 When kids tire of skiing, they can snowshoe or skate at Winding Trails. Photo courtesy of Winding Trails
Winding Trails welcomes families to participate in all types of outdoor winter fun, including cross country skiing or snowshoeing on its groomed trails, sledding or tubing down its hilly areas, and ice skating on the pond on the property. Weather-dependent, the trails here are open after a generous snow fall. Reservations are required. Rent skis, snowshoes, snow tubes, ice skates, or even pull sleds to tow little ones along more easily on your adventures.
The largest nature preserve in the state is also one of the most peaceful and beautiful stretches of land. Skiers and snowshoers are welcome on more than 40 miles of trails (some quite wide and accommodating) and open meadows, though there are no designated areas. There are no rentals, so bring your own equipment; Ski Haus at Mohawk Mountain and New Milford are both rental spots less than a half-hour from the park.
Enjoy three miles of marked trails through woods and fields, great for cross-country skiing or snowshoeing through pristine nature. You'll want to return in warmer weather to explore the beautiful gardens and grounds. Ski and Sport in New Canaan offers rentals.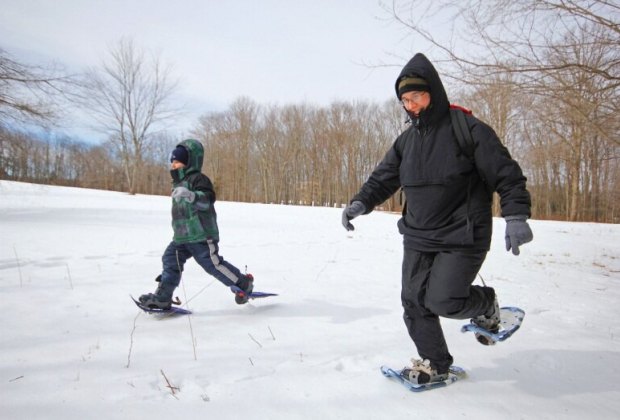 There's lots of open space to stretch out your snowshoeing legs at Randall's Farm. Photo courtesy of the Aspetuck Land Trust
Flat and spacious, Randall's Farm Preserve in Easton is a destination for many snowshoeing families. The open meadows bracketed with trees are good for spotting winter birds while you trek along.
Enjoy "one of the largest unbroken forest areas" (about 9,000 acres to be exact) in Eastern Connecticut, where the trails welcome cross-country skiers. For those desiring trails that start and end in the same place, the trails west of the park road both form loops and cover less distance than the trails leading to Breakneck (the loop around the pond is 6 miles). There are no rentals; New England Ski and Scuba is about a half-hour to the southwest.
The park features more than 10 miles of trails, but they are not groomed for cross-country skiing. The open fields, however, are great places for children or beginner skiers and those interested in snowshoeing. Winter parking is available off Route 85. Bring your own gear: Hartford's Alpine Haus for rentals is 22 minutes to the east.
The park maintains a cross-country ski trail on the lower, north side of the park; bring your own skis or snowshoes to explore.
This family-friendly wildlife preserve and education center is a wonderful place for hiking and sledding, but also cross-country skiing and snowshoeing through its meadows and woods. Mohawk Mountain's rental center is close by.
Some 14 miles of well-maintained trails (including signage), offer recreational opportunities year-round, including cross-country skiing.
The yellow trail here is only half a mile, a perfect distance for tiny skiers or beginners. The longest trail is 2.5 miles. Choose any of them except the blue one, which is only for walkers/joggers.
Predominantly paved, the wide trail is ideal for children and beginners by providing ample space to navigate. Bonus: the beautiful trees that line the property, including one of Connecticut's largest red oaks.
Venture along 12 miles of trails across nearly 500 acres of pristine land. The park is open from dawn until dusk, leaving you plenty of time for cross-country skiing or floating on freshly fallen snow with your snowshoes. They offer rental skis and snowshoes out of the warming shed.
The main trail cutting through the park is about 1 mile each way; perfect for cross-country skiing and snowshoeing side by side with your little ones while enjoying a majestic pine-lined path.