Cross Country Ski: Winding Trails in Farmington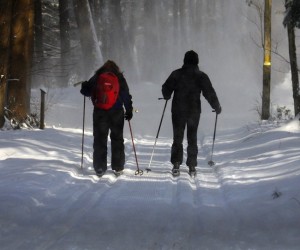 Connecticut has the winter sports scene covered with everything from ski runs for the newbies to racing lessons for the aspiring Olympians. With the sun glistening over snow covered treetops and crisp white blankets draping the hills and valleys, the Hartford area offers a powdery playground for all ages and skill levels. A peaceful natural area, Winding Trails is a great day trip full of fun for the entire family.
Conveniently located in Farmington, this amazing non-profit recreation center is transformed into a winter wonderland during the colder months offering activities such as snow shoeing, sledding, ice skating, and is Connecticut's only full-service cross country ski center. With three hundred and fifty acres of pristine woodland, lakes and wildlife it provides breathtaking scenery for the cross country skier.
Pulk sleds are available for pulling your infant or toddler so this can be a fun trip for a child of any age. Their 150 ft hill with a slope of 20 degrees provides a sledding adventure full of thrills and chills. After a day filled with outdoor fun, head indoors for some relaxation and comfort in their lodge where you can warm up by sitting next to the toasty fire. A snack bar serves light refreshments throughout the day. Indoor and outdoor tables invite you to picnic within the cozy warmth of the lodge or amongst the crisp scent of frosty pines. Enjoy the winter months in this beautiful setting rather than hibernating indoors and missing out on all mother nature has to offer.
If after all that time playing outdoors you work up an appetite that can't be satisfied by small treats at the snack bar than head over to one of the great restaurants in the area. Green Tea, a Chinese sit down restaurant right down the street, has delicious authentic meals for a reasonable price. Their fresh cooked dishes are a finer plate comparable to the usual Chinese takeout. They even offer a fun Dim Sum menu!
Winding Trails 50 Winding Trails Drive Farmington, CT 06032
Green Tea 1067 Farmington Ave. Farmington, CT
Originally published 2/28/12.