Free Public Swimming Pools in Chicago for Summer 2023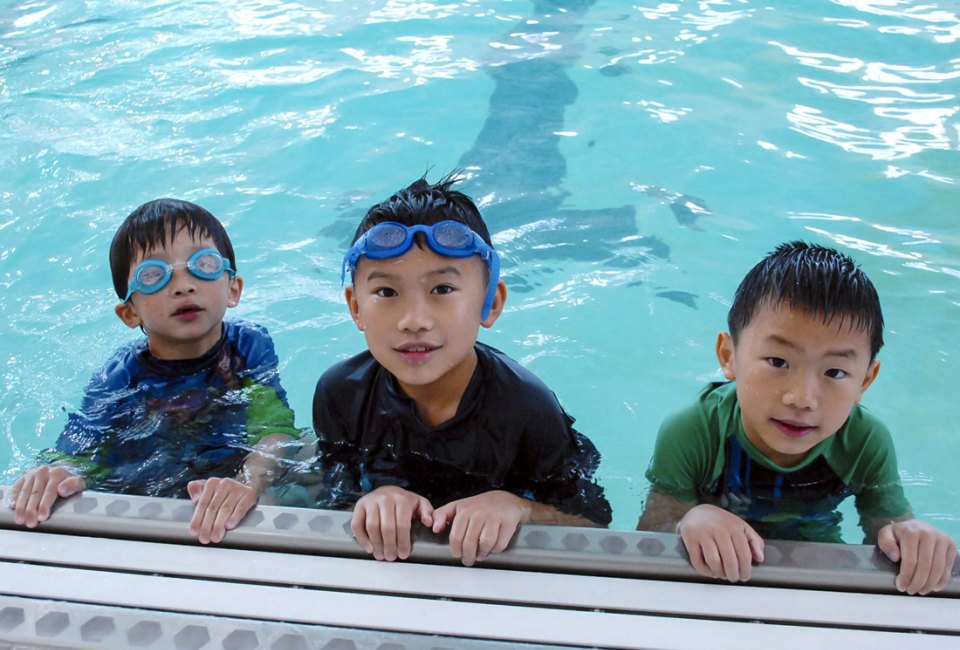 6/29/23
- By
Bonnie Broeren
Chicago's free swimming pools opened on June 23 and won't close for the season until August 20, 2023. So on sunny days, you can find Chicagoans swimming, floating, and soaking up the sun at one of Chicago's fifty (!) free outdoor swimming pools. Many free Chicago public pools have separate splash pads, or kiddie pools with zero entry for the littlest swimmers—and a few even have water slides!
Here are a few of our favorite outdoor pools in Chicago for no-cost summer fun with kids. Looking for more ways to play in Chicago with kids this summer without breaking the bank? Check out our list of Free and Affordable Summer Camps for Chicago Kids, and also our complete Summer Fun Guide for Chicago Kids!
Each pool has its own schedule with dedicated times for adults, families, classes, camps, all-female swim, all-male swim, and more. Be sure to check the schedule (and the pool rules!) before you go. You can see a complete list of free swimming pools in Chicago on the Chicago Park District website.
Most public pools are ADA accessible and offer locker rooms and bathrooms. While many of these pools do not have concession stands, one of the best things about the city is how close great food, snacks, and ice cream are. You are also welcome to bring your own food and non-alcoholic beverages.
Free Public Pools in Chicago: North Side

Holstein Pool has a wading pool and full-size pool.
Open 9am to 5pm on Tuesday and Thursday and 11am to 7pm on Wednesday, Friday, and Saturday
Holstein Pool is a favorite for a few reasons. First, its Bucktown location makes it easy to get to from many family-friendly neighborhoods, including Wicker Park and Logan Square. While popular, it's not overly crowded on a weekday. It also has a separate kiddie pool ranging in depth from about 6 to 18 inches that's small enough to allow parents to relax on a nearby shaded bench while still keeping an eye on their kids. The locker rooms are some of the newest and cleanest we have seen, and let's not forget the very attentive popsicle cart man.
Open 11am to 7pm from Tuesday through Saturday
Just 15 yards long and three feet deep all the way around, Wrightwood Pool proves that sometimes smaller is better. Located in Lincoln Park, this family-friendly pool is a favorite of parents in part because it is rarely too crowded, making it easy to keep an eye on your littlest mermaids.
RELATED: 50+ FREE Things to Do With Kids This Summer in Chicago

The kiddie pool and playground at Portage Pool is one that the entire family can enjoy.
Open 11am to 7pm on Friday and Saturday.
Portage Pool actually has 3 pools, including a diving pool, a gigantic lap pool, and a kiddie pool with a water playground. The kiddie pool is heated, as is the smaller pool, and the entire park is very family-friendly. Things to be aware of: these pools get crowded, and when they do, the lifeguards will do a 15-minute rotation in the kiddie pool so that all kids get a chance to play in it. The bathrooms and field house could also use a facelift, but overall, this is still one of our favorite pools and parks in all of Chicago.

A moment of calm at the Hamlin Park Pool. Photo courtesy of the Friends of Hamlin Park
Open 11am to 7pm from Tuesday through Saturday
Roscoe Village residents insist that Hamlin is the best pool in Chicago. They love the crowd, the lounge chairs, and the clean, well-maintained facilities. Families can also enjoy day camps, swimming lessons, and dedicated tot and family swim times, as well as a ton of youth programs and family-friendly events. The only downside to this pool is that it does tend to get crowded.
Open 11am to 7pm from Tuesday through Thursday
Chase Pool is miraculously uncrowded, and guests can enjoy lounge chairs, paddle boards, and pool noodles, as well as passable (if a tad outdated) showers and locker rooms. There are designated times for lap swimming, adults only, family swimming, and more, and some great kids camps and programs available. Street parking is relatively easy to find, and the park itself also has a playground, running track, and tennis courts.
RELATED: 16 Cool Water Playgrounds and Splash Parks for Chicago Kids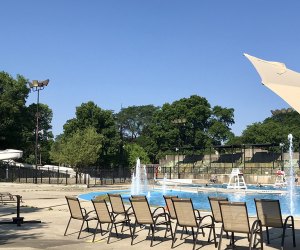 The Washington Pool has something for all ages—plus, you have Washington Park at your fingertips!
Free Admission Pools in Chicago: South Side and Downtown
Open 11am to 7pm from Tuesday through Saturday
Washington Pool has all the bells and whistles to make your kids' summer dreams come true: a huge pool (50 meters long), a zero entry wading area for the little ones, and the pièce de resistance: a waterslide! If you get tired of swimming, Washington Park also offers plenty of other things to do, including three playgrounds, basketball and tennis courts, a racquetball court, a harvest garden, and an arboretum— just to name a few.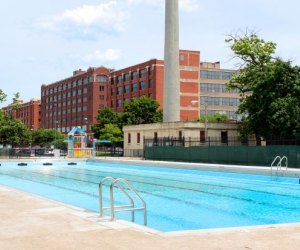 McKinley Park Pool has a huge pool for older swimmers and a separate pool for tots. Photo by Casey Cora/DNAinfo
Open 11am to 7pm from Tuesday through Saturday
McKinley Park Pool has a separate water playground for the little ones and a huge pool for the big kids and grown-ups. There are also lots of community programs for families, including swimming lessons and day camps. The only downside of this neighborhood gem is that it does get quite crowded, even on weekdays, making parking tricky.
Open 11am to 7pm from Tuesday through Saturday
OK, we admit it, we are suckers for water slides, and Palmer Pool has three of them! Neighborhood residents love that Palmer Pool is clean, well-maintained, and very family-friendly. Families can also take advantage of day camps, exercise classes, and swimming lessons for all age groups. The park itself has plenty of additional recreational spaces, including a renovated playground. Parents' only complaint about this pool is that they wish it had more dedicated family swim time.
Open 11am to 6:45pm from Wednesday through Sunday
Pulaski Park Pool is known for its clean, well-maintained facilities, friendly lifeguard staff, and separate kiddie pool and playground. Neighborhood residents insist that it is the best pool in Chicago, and love the free and affordable events and programming offered by the parks department. Parents love that the pool area is small enough to easily keep an eye on their kids.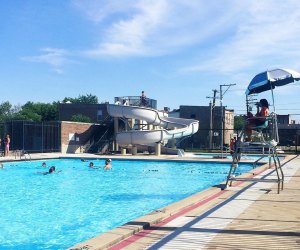 Humboldt Park Pool adds extra fun to swimming with its giant water slide. Photo courtesy of Humboldt House
Chicago's Free Public Pools on the West Side
Open 11am to 7pm from Tuesday through Saturday
Humboldt Park Pool is one of our top choices for a few reasons, not the least of which is its gigantic water slide. The park itself is one of the most stunning parks in Chicago, with a lagoon, boathouse, and beach area for additional swimming. The parks department also offers affordable day camps, swimming lessons, and dedicated family swimming times. Guests can check out the always-free National Museum of Puerto Rican Arts and Culture, located within the park, before or after their swim.
Open 11am to 7pm from Tuesday through Saturday
Located just behind the golden-domed former city parks headquarters, this pool is part of a park with a lot of amenities, including a conservatory, a fishing lagoon, and a boxing ring. The pool is a full 25 yards with six lanes and facilities are available inside the field house.
Open 11am to 7pm on Monday, Tuesday, and Friday
With a spray ground, a wading pool, and a 48-yard swimming pool, there's something for every level of swimmer at this southwest side park. The historic, artfully designed field house also hosts other activities for after little tadpoles finish swimming.
Unless noted, photos by the author
Click Here to Sign Up!
i