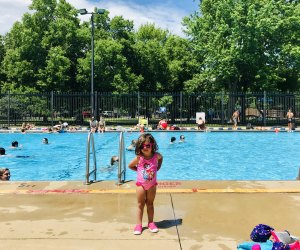 Best Free Public Pools in Chicago for Families
Summer takes its sweet time coming to Chicago, but when it finally arrives, you can find Chicagoans swimming, floating, and soaking up the sun at one of Chicago's fifty (!) free outdoor swimming pools. Many Chicago public pools have separate splash pads, water playgrounds, or kiddie pools with zero entry for the littlest swimmers, and a few even have water slides! Most public pools are also ADA accessible, and offer locker rooms and bathrooms. While most pools do not have concession stands, there is usually an entrepreneurial neighbor with a popsicle cart nearby.
Each pool has its own schedule with dedicated times for adults, families, classes, camps, all-female swim, all-male swim, and more. Be sure to check the schedule (and the pool rules!) before you go. Here are a few of our favorite FREE outdoor pools in Chicago for no-cost summer fun with kids.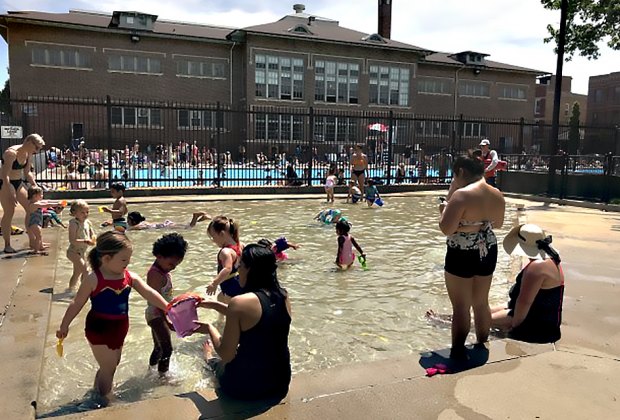 Holstein Pool has a wading pool and full-size pool.
Holstein Pool — Bucktown
2200 N. Oakley Avenue
Holstein Pool is a personal favorite for a few reasons. First, its Bucktown location makes it easy to get to from many other family-friendly neighborhoods, including Wicker Park and Logan Square. While popular, it's not overly crowded on a weekday. It also has a separate kiddie pool ranging in depth from about 6 to 18 inches that's small enough to allow parents to relax on a nearby shaded bench while still keeping an eye on their kids. The locker rooms are some of the newest and cleanest we have seen, and let's not forget the very attentive popsicle cart man.
Wrightwood Pool — Lincoln Park
2534 N. Greenview Avenue
Just 15 yards long and three feet deep all the way around, Wrightwood Pool proves that sometimes smaller is better. Located in Lincoln Park, this family friendly pool is a favorite of parents in part because it is almost never too busy, making it easy to keep an eye on your littlest mermaids.
RELATED: 50+ FREE Things to Do With Kids This Summer in Chicago

The kiddie pool and playground at Portage Pool is one that the entire family can enjoy.
Portage Pool — Portage Park
4100 N. Long Avenue
Portage Pool actually has 3 pools, including a diving pool, a gigantic lap pool, and a kiddie pool with a water playground. The kiddie pool is heated, as is the smaller pool, and the entire park is very family friendly. Things to be aware of: these pools get crowded, and when they do, the lifeguards will do a 15 minute rotation in the kiddie pool so that all kids get a chance to play in it. The bathrooms and field house could also use a facelift, but overall, this is still one of our favorite pools and parks in all of Chicago.
Hamlin Pool — Roscoe Village
3035 N. Hoyne Avenue
Roscoe Village residents insist that Hamlin is the best pool in Chicago. They love the crowd, the lounge chairs, and the clean, well-maintained facilities. Families can also enjoy day camps, swimming lessons, and dedicated tot and family swim times, as well as a ton of youth programs and family friendly events. The only downside to this pool is that it does tend to get crowded.
RELATED: 16 Cool Water Playgrounds and Splash Parks for Chicago Kids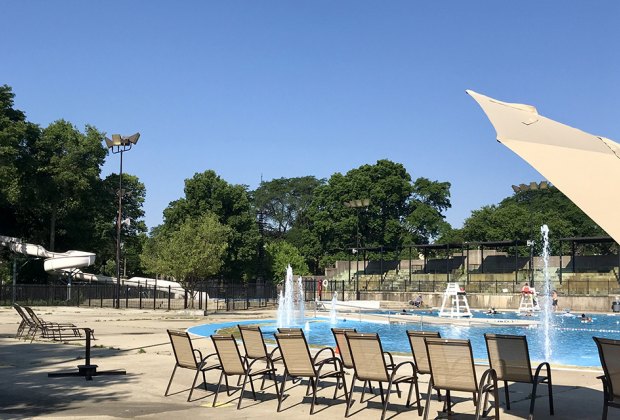 The Washington Pool has something for all ages—plus, you have Washington Park at your fingertips!
Washington Pool — Hyde Park
5531 S. King Drive
Washington Pool has all the bells and whistles to make your kids' summer dreams come true: a huge pool (50 meters long), a zero entry wading area for the little ones, and the pièce de resistance, a waterslide! If you get tired of swimming, Washington Park also offers plenty of other things to do, including three playgrounds, basketball and tennis courts, a racquetball court, a harvest garden, and an arboretum, to name a few.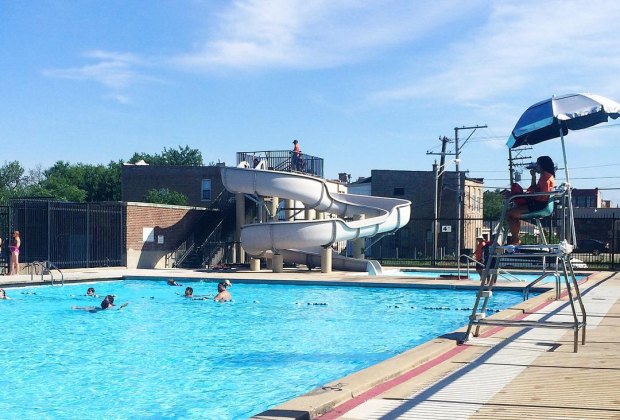 Humboldt Park Pool adds extra fun to swimming with its giant water slide. Photo courtesy of Humboldt House
Humboldt Park Pool — Humboldt Park
958 N. Sacramento Avenue
Humboldt Park Pool is one of our top choices for a few reasons, not the least of which is its gigantic waterslide. The park itself is one of the most stunning parks in Chicago, with a lagoon, boat house, and beach area for additional swimming. The parks department also offers affordable day camps, swimming lessons, and dedicated family swimming times. Guests can check out the always-free National Museum of Puerto Rican Arts and Culture, located within the park, before or after their swim.
Chase Pool — Uptown
4701 N. Ashland Avenue
Chase Pool is miraculously uncrowded, and guests can enjoy lounge chairs, paddle boards, and pool noodles, as well as passable (if a tad outdated) showers and locker rooms. There are designated times for lap swimming, adults only, family swimming, and more, and some great kids camps and programs available. Street parking is relatively easy to find, and the park itself also has a playground, running track, and tennis courts.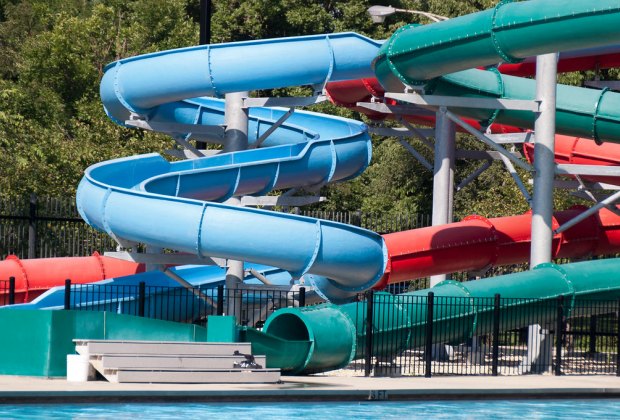 Zoom down one of the three water slides at the Palmer Park Pool. Photo by Eric Allix Rogers via Flickr
Palmer Pool — Palmer Park
201 E. 111th Street
OK, we admit it, we are suckers for waterslides, and Palmer Pool has THREE of them! Neighborhood residents love that Palmer Pool and Park are clean, well-maintained, and very family friendly. Families can also take advantage of day camps, exercise classes, and swimming lessons for all age groups. The park itself has plenty of additional recreational spaces, including a recently renovated playground. Parents' only complaint about this pool is that they wish it had more dedicated family swim time.
Pulaski Park Pool — Noble Square
1419 W. Blackhawk Street
Pulaski Park Pool is known for its clean, well-maintained facilities, friendly lifeguard staff, and separate kiddie pool and playground. Neighborhood residents insist that it is the best pool in Chicago, and love the free and affordable events and programming offered by the parks department. Parents love that the pool area is small enough to easily keep an eye on their kids.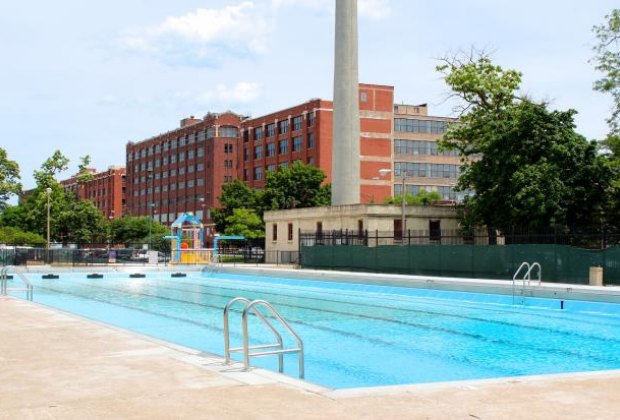 McKinley Park Pool has a huge pool for older swimmers and a separate pool for tots. Photo by Casey Cora/DNAinfo
McKinley Park Pool —McKinley Park
2210 W. Pershing Road
McKinley Park Pool has a separate water playground for the little ones, and a huge pool for the big kids and grown-ups. There are also lots of community programs for families, including swimming lessons and day camps. The only downside of this neighborhood gem is that it does get quite crowded, even on weekdays, making parking tricky.
Unless noted, photos by the author