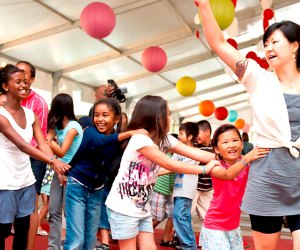 50+ Free Things to Do With Kids in Chicago This Summer
Given the high cost of raising kids these days, you might be surprised at just how much family-friendly summer fun in Chicago is totally FREE. Of course, the city's playgrounds and splash pads are always free, and there are free days at most museums and even a few restaurants. But in summertime, the no-cost fun ramps up all over Chicagoland.
As you can see from the bursting-at-the-seams list below, there's literally something free and fun to do every single day of the summer—so there's no excuse for anybody to be bored. Outdoor movies, summer festivals and street fairs, concerts and performances, public art, cultural celebrations, picnics, and of course, fireworks await, and you can leave your wallet at home. (In theory, at least. There's always ice cream to buy.)
Looking for more? Our list of 100 Things to Do With Chicago Kids Before They Grow Up might do the trick, and of course you can always find more daily activities in our Chicago Event Calendar.