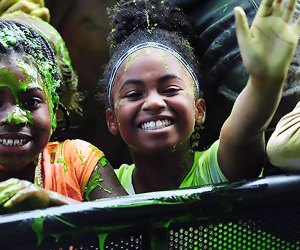 Summer Festivals Chicago Families Won't Want to Miss
Here it comes: The most fun-packed, jam-packed, outdoor festival-and-fair-packed season of the year in Chicagoland. Seriously, just compiling this list of all the family-friendly street fairs, festivals, and neighborhood celebrations in Chicago this summer—many of them FREE—called for major backup, and a nap.
Why do Chicago families love summer festival season so much? Let's count the ways: concerts in Millennium Park, movies on Navy Pier, and neighborhood festivals honoring the many communities that call our city home, including Lincoln Park Greek Fest, Lincoln Square's German Maifest, Andersonville's Swedish Midsommarfest, Hermosa's Colombian Fest, and the Chinatown Summer Fair. And then, because it's Chicago, there are the food fests: Ribfest, the Chicago Hot Dog Fest, the Pilsen Tacos y Tamales Festival, Roscoe Village Burger Fest, Taste of Polonia, and the big one: Taste of Chicago. Even the biggest party-scene street festivals in Chicago, like Do Division, make room for families with kids' zones and activities.
So while your local playground may beckon and your backyard grill may look lonely, there's just too much fun happening out there not to sample a street fair or two this summer. Bookmark this list and get your calendar (and some comfy shoes) ready.