Best Indoor Swimming Pools in Chicago for Families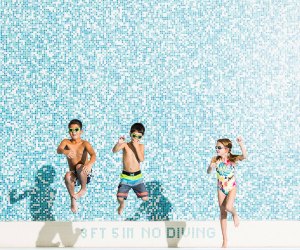 Chicago is called the Third Coast for a reason, and all summer long kids here enjoy our plethora of beaches; but come winter, those swimming options dry up (sorry, bad pun). Sledding, skating, and winter sports are great, but sometimes kids want to go for a swim, and in Chicago, that means an indoor swimming pool. That's why we found a whole bunch of places kids can go swimming right now, safely.
Whether you're just looking for a place to dip your toe in, or dive into a full weekend away, the Chicago area has many choices for indoor swimming pools for the whole family. Discover hotels with private indoor pool times or day passes, theme park-like adventures, and mini staycations at hotels with pools—here's how to get kids in the pool in Chicago anytime.
If you are traveling outside of your state or local area, check if COVID cases are on the rise in the area, as well as any travel restrictions, advisories, or quarantine orders.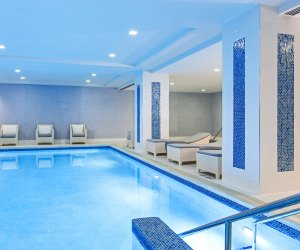 Reserve a pool session at JW Marriott Chicago and enjoy all the perks the pool and spa have to offer.
Pools with Day Passes in and around Chicago
A 90-minute reservation for $16 (per person) gets you a reserved pool chair, access to the pool, sauna, locker room, and showers, not to mention complimentary valet parking. This Loop hotel offers easy access to other downtown attractions like Millennium Park and the Art Institute of Chicago, as well as many recently reopened restaurants.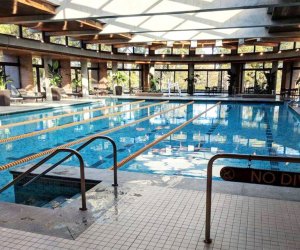 Parents and kids feel renewed after a day at the luxurious pool at the Hyatt Lodge Oak Brook.
Feel like you're out in the wilderness under 20 miles outside of the city at this suburban lodge that was once part of the McDonald's campus. Available for a day pass ($20 per person or $25 per family) or an overnight visit, the lodge has three hot tubs, a dry sauna, and a fitness center. The pool here has a skylight, allowing natural light in during the day to give the feeling of actually swimming outside on a sunny winter day. Conveniently located near Oak Brook Center, Hyatt Lodge has lots of dining and shopping options after your swim.
Visit the Mag Mile hotel with a $27.50 day pass to the fitness center and pool or stay overnight to enjoy the shopping and dining along Lake Michigan. The pool is on the 14th floor and was constructed in 1929, making it possibly the oldest pool in the city. Its junior Olympic size gives kids plenty of space to play and social distance. Staycations are encouraged here, with residents of Illinois, Wisconsin, Michigan, Indiana, and Ohio receiving a 20% off discount.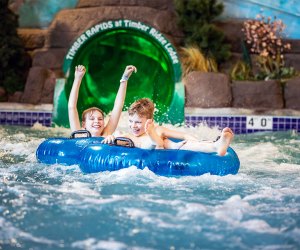 Timber Ridge Lodge and Water Park offers day passes to its water park for a daycation!
Options abound at Timber Ridge Lodge and Water Park at Grand Geneva for families willing to drive a little farther outside the city. Choose a day pass for $99 for your family to enjoy the water park as well as have a room to change and relax in, or pick the Splash and Ski package to get a little swimming and a little skiing with an overnight stay at the resort. It truly feels like summer here with an 86 degree water park with 35-foot slides and a 500-foot lazy river.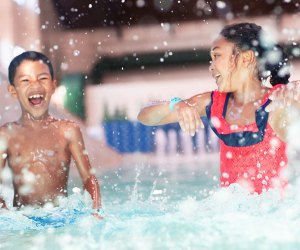 Enjoy a break from winter with a mini vacation at Great Wolf Lodge.
Staycations with Indoor Pools in and around Chicago
This giant indoor waterpark in the northern suburbs usually offers day passes, but until the pandemic is closer to being over, families can enjoy an overnight stay or a mini vacation. Attractions here appeal to little and big kids, with everything from a splash pool to a lazy river to a four-story water slide. Many activities have a minimum height, so this location is best for kids over 42 inches tall. Families can also dry off for mini golf, rock climbing, mini bowling, an arcade, and a Build-A-Bear workshop—all on site.
Kids can get more than just pool time with the Starry Night package, which includes a visit from the ice cream man (to further replicate summer) between 3-6pm, tents and glow sticks to recreate a camping experience in your room, and access to VIP tickets to Chicago museums, which are just starting to reopen. Ask the front desk upon check-in to see if reservations are required for pool time as restrictions ease.
Be sure to reserve your pool time at check-in before your kids get involved with the other fun amenities included in the Loews Hotel Family package. The 75-foot pool has plenty of space for kids to enjoy throughout the day. In addition to the pool, kids can enjoy a tent and campfire set up in their room, hot cocoa and cookies to warm up after their swim, and an in-room movie. Discounts on the nearby Pinstripes bowling lounge and Starbucks are also available.
The 67-foot pool at this River North getaway is lit by spotlights from above and below, giving it a shimmery look. Adults can enjoy the hydrotherapy hot tub, and conveniently located showers and changing rooms help kids get clean right after their dip. Sign up for the hotel's Family Swim package for up to $100 in food credit and have snacks delivered poolside from Private Kitchen. Maximum pool time is two hours for two adults and up to three kids.
Treat yourself at this posh Gold Coast hotel with its large indoor pool, available to families for a one hour time slot between 10am-noon or 4-6 pm. During COVID, pool toys will not be available. The hotel's luxurious Camp Peninsula package includes a tent for kids to set up in the room, a hotel scavenger hunt activity, free breakfast for the whole family, and a complimentary kids amenity during the stay.
Big families might enjoy the buy one, get one 50% off deal currently running on rooms this winter. Reserve your one-hour pool time at check-in at this recently renovated resort, and also enjoy dining in an igloo at Wright's Brew and Bistro on the grounds. The restaurant is also open now for indoor dining (limited capacity). On warmer winter days, families can hike a trail that extends 37 miles into Wisconsin during their stay.
West suburban families can vacation closer to home at this hotel near Yorktown Center. Pool reservations are required at check in, and families are limited to two hours in the pool. After your swim, order some grub from Harry Carey's to enjoy in your room, or visit the mall.

Indulge in a stay at Aloft Hotel Rosemont for this amazing pool and the closeby skating rink.
Come for the pool, which is available on a first-come-first-served basis, stay for the airport-adjacent entertainment. The Parkway Bank Park Skating Rink is also open, and many nearby restaurants are available for carryout.
Photos courtesy of the hotels/water parks