Best Sledding Hills In and Near Chicago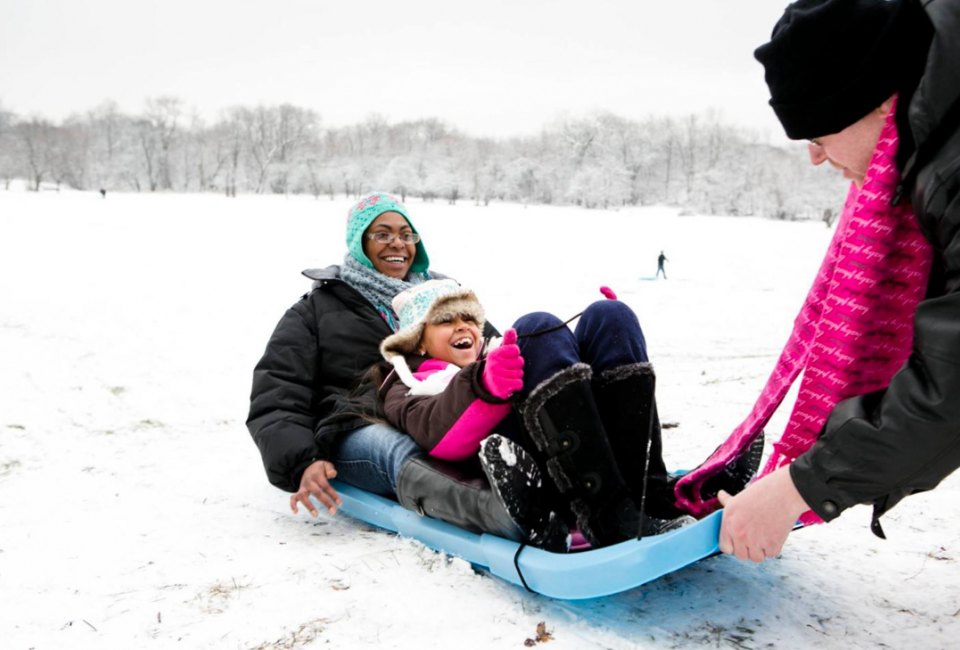 1/9/22
- By
Maureen Wilkey
Just add snow for instant fun. When you've got to get the kids out of the house or go crazy, but you also don't want to spend a fortune or drive too far—it's time to go sledding in Chicago. Visiting one of our favorite local spots means you are never too far from home, and you can just bundle up, grab a sled, and head for the hills.
Some are best for thrill-seeking big kids, while others are safe enough for even the littlest sliders. Lots of parks or forest preserves that have sledding hills in Chicago also include ice skating, but if the one you choose doesn't and you're ready for another chilly adventure, you can always check our list of the best outdoor skating rinks. So if you don't have the time (or money) for skiing or snowboarding, it's time to bust out the snowpants and parkas and hit the nearest hill!
The best time to sled is as soon as possible after the snow stops, but also when it's warm enough for your kids to last more than two rides down the hill. Some sled hills aren't open unless the snow is at least three inches deep and many don't allow sleds with metal runners. Parents should check each hill's guidelines before heading out to make sure the hill is open and that they have the right gear. Bear in mind that the sun goes down as early as 4:20 during the darkest days of Chicago's winter, so if you want an after-school run, look for a lighted hill. Also, if you've got littles who won't make it home before they have to go, many parks have restrooms or port-a-potties. Bring a mask in case you have to go indoors.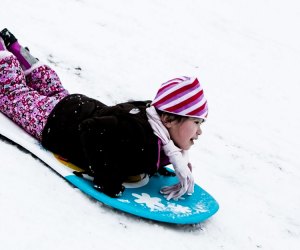 Flying down the hills in a winter wonderland!
Best Places to Sled in Chicago: North Side
Head to the Far North Side for all kinds of winter fun in the West Ridge neighborhood. Warren Park's sled hill has stairs up both sides for ease of climbing up the hill, and a warming house for little ones to warm up fingers and toes when they get cold. Getting tired of sledding? One of the North Side's best skating rinks is also in Warren Park, with skate rental available. Parking is available in a free lot off of Western Avenue. Make it an evening with a pizza at Candlelite, just one mile up Western Avenue.
One of the city's school cross country courses in the fall serves as a great sled hill in the winter within this huge park along the Chicago River in Irving Park. The hill at Horner Park isn't super-steep, making it fun for kids of all ages. A playground provides additional entertainment during less snowy days, and a field house in the park gives kids a chance to warm up during Chicago's coldest times. Parking is easy in perpendicular spots along the park's west side. Stop by Lutz Bakery near Western and Montrose for a sweet treat afterward.
Anyone who has traversed the Lakeshore Trail has recognized its great potential. With views of the lake, a restroom, and convenient parking, Cricket Hill has a steep slope best for bigger sledders. The hill can be crowded at peak sledding times, so families should prepare a back-up plan in case the hill is too packed for little kids.
It's been more than two years since Chicago's resident alligator Chance the Snapper vacated his premises at Humboldt Park Lagoon, but the park's sled hills are still perfect for little sliders. The hill west of the field house is small and best for little kids, allowing West Side families to get their sledding fix without driving too far. Free ice skating is also available in the park, and families can also enjoy food trucks that frequently come by. Street parking is available in surrounding neighborhoods and might be easier on the streets on the park's northwest side. If you're not packing huge sleds, taking the Blue Line to Damen is also an option.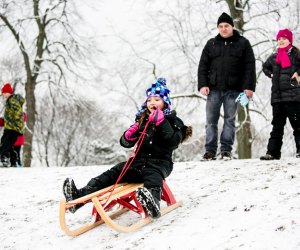 Sledding in Caldwell Woods, photo courtesy of the Forest Preserve District of Cook County
Cook County Forest Preserve's Caldwell Woods offers sledding with lights from 10am to 7:30pm on school nights and 10am to 8:30pm on weekends, which is useful for families who want to be out past 4:30pm on a winter day. This former toboggan run has enough slope for a fast ride, but can still be appropriate for younger sledders. Indoor bathrooms and a fire pit near the warming center make this a great place for kids who can't stand the cold for very long. A free parking lot is located at the southwest corner of the park. And a certain dad in this house would be upset if we didn't mention that it's right down the street from Superdawg, one of the city's most beloved hot dog stands, where eating in your car is a must.
Best Places to Sled in Downtown Chicago and the South Side
This giant forest preserve in the Beverly neighborhood isn't often crowded and offers opportunities for both sledding and snowboarding. The facility is lighted until 7:30pm on weekdays and 8:30pm on weekends. The 200-foot hill has great views of the Chicago skyline above the surrounding forest, easy paths up the hill for little ones. There are several free parking lots within the forest preserve. The Cook County Forest Preserve District requires three inches of snow for the hill to be open, so families should call ahead to make sure there's enough powder to sled.
The former landfill known as Mount Bridgeport is a thrilling sled ride for Downtown and Near South Side families. The park also has a hiking trail and pond for some scenic enjoyment when families want a break from sledding. Parking in the neighborhood may be tight on good sledding days, but the 8 Halsted or 62 Archer buses may be an option if you have a small sled. Nearby Bridgeport Coffee offers warm beverages to heat cold bodies at the end of the sled ride.
Bears season is over, and on a non-game day the 33-foot hill just north of the stadium's south parking lot (which should be easy to park in on non-game days) is a landmark sled hill for Chicago kids. The Chicago Park District makes its own snow as long as the weather is cold enough, so kids can stop by for most of Chicago's freezing winter. This could be a fun supplement for a trip to the Field or the Shedd Aquarium. Only plastic sleds are allowed on the hill and it is not supervised by the park district, so parents should ensure that their littlest sledders are staying safe.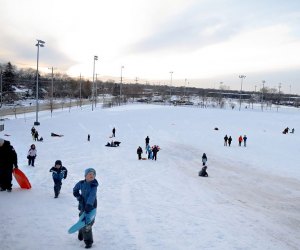 Wide open spaces means plenty of room to slide at Techny Prairie Park Fields.
Best Places to Sled in Chicago: North Suburbs
Parents who grew up on the Far North Side or Near North suburbs may remember the 65-foot landfill known as Mount Trashmore for its thrilling sledding. While the city of Evanston now prohibits skiing on the mount itself, four small and medium-sized slopes surrounding it in James Park provide sledding fun for kids of all ages. A small parking lot is available on the park's south side. Once indoor playspaces can reopen again, families can stop by Little Beans Cafe and Playspace near Oakton and Asbury after sledding.
One of the area's last remaining toboggan hills is in this Far Northern Suburb. The park is lit from 5:30 pm to 10 pm each evening, and the parking lot offers easy access for families driving in from other suburbs.
This 28-foot North Suburban hill has stairs for getting your sled up to the top easier, as well as lights for evening sledding and a warming house to heat little fingers and toes. The park also includes a prairie landscape with trails, playground, and a skatepark in case kids need a break or don't have enough snow to sled. Several parking lots line the south and west sides of the park. Downtown Northbrook isn't far away for sledders looking for a meal or warm drink after some thrilling sledding.
With convenient parking and lights for night sledding, this Glenview park is perfect for a low-key sledding trip. The Glenview Park District doesn't open the hill until they believe the snow is deep enough for sledding, so make sure you check the website before heading out. Flick Park also has a skating rink for a change of pace from sliding down the hill. Families can park their cars near the Flick Park Aquatic Center.

Photo courtesy Eldridge Park
Best Sledding Hills in Chicago: West Suburbs
This large park in the near Western Suburbs has a lighted sledding hill with paths on each side to help kids haul their sleds back up the hill. The park also includes a lagoon for skating or watching ducks, and a trail that connects to the Salt Creek Greenway Path. Parking is available on the park's east side or in nearby neighborhoods.
Near the heart of downtown Naperville, this lighted hill is adjacent to Naperville's Riverwalk. Fenced walkways along this side help kids get their sleds back up the hill. With the Riverwalk Cafe at its base and plenty of treats available, but has limited hours during the winter. Sledders at Rotary Hill will have no problem making a day out of their trip to this hill. On a non-school day, families can park across the street at Naperville Central High School, or find street or garage parking in the downtown area.
At one of the few suburban parks that still allows toboggans, kids can ride down this not-too-steep hill in Wheaton. The park also has a pond for skating (when it's cold enough) and a warming shelter for taking breaks from the cold. Parking is available in lots near the south and east sides of the park. Make a day of it by visiting nearby Cosley Zoo, a favorite for young West Suburban kids.
When the Park District of Oak Park remediated Barrie Park from 2000 to 2005, they designed and built a sled hill for West Side and Near West Suburban kids to slide down. The design is not too steep of a slope, but has a fast slide that may have little kids requesting a grown-up ride-along. The hill has stairs to help kids get back to the top, and park amenities include lights, restrooms, and a playground. Park on neighborhood streets or take the Blue Line to Austin to get to Barrie Park.
This massive Far West Suburban forest preserve has snow tubes and snow shoes available for rent when the snow is three inches or deeper. For just $10 a day, kids can whiz down Mount Hoy. Tons of trails also give families the chance to snowshoe, cross-country ski, ride horses, hike, or even ride a dog sled. Ice fishing is also allowed. Parking is plentiful throughout the preserve so families can get back to their warm car from lots of different winter fun activities.

As soon as there's any snow, Chicago kids hit the hills. Photo by the author
Where to Sled in Chicago: South Suburbs
The Forest Preserve District of Cook County maintains this unlit hill in the unincorporated area near Willow Springs. Portable bathrooms and picnic shelters are located nearby. The hill is also near the Palos Trail system, so families can hike, bike or cross-country ski to other preserves to explore a little more of the South Suburbs' nature. A parking lot provides access to the woods and trail system along 107th Street just east of 104th Avenue.
This South Suburban sled hill has stairs and lights to help little sledders get up and down the hill safely. The park features easy parking, a recreation building with bathrooms, and a half-mile walking trail. No metal sled runners are allowed on the Kasey Meadow Park sled hill. There's a parking lot on the park's south side.
Just south of the city, this park offers more than just sledding. Before or after hitting the slope, visit the dog park, educational agricultural farm, or disc golf course. The park's name was recently changed from 50-Acre Park, and it has more than 50 acres of recreational green space. Access the parking lot from 91st Street just west of Rockwell.
Unless noted, photos courtesy of the park districts
Click Here to Sign Up!
i