Best Outdoor Ice Skating Rinks for Chicago Kids and Families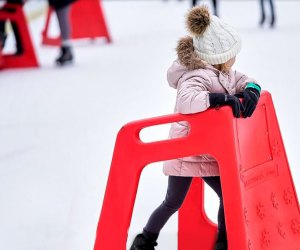 One perk of the long, cold winters in Chicago is the chance to glide across the ice at the many beautiful outdoor skating rinks throughout the city and suburbs—many of them FREE. Not all ice skating rinks in Chicago need polar-vortex temperatures to stay open; some refrigerated rinks are available for skating as long as the temperature is less than 40 degrees. Many rinks offer hockey, broomball, figure skating, or speed skating programs. And not all rinks are your standard oval, either: Maggie Daley Park's Skating Ribbon lets figure skaters enjoy a different kind of figure 8.
For all the details on where to enjoy ice skating in Chicago, read on. And for more winter activities to enjoy with your family, check out our Winter Activities Guide.
Most rinks on this list offer a website or app for skaters to check conditions before they head out to the rink. Families should also check to make sure skate rental is available if needed and obey all rink safety rules.
Chicago Outdoor Ice Skating Rinks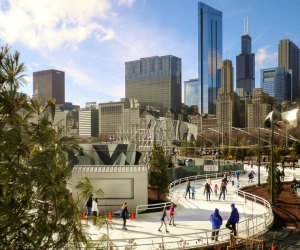 The Skating Ribbon at Maggie Daley Park, an ice skating rink in Chicago. Photo by Alan Scott Walker, CC BY-SA 4.0
Open through March 13, 2022
The Skating Ribbon offers a change from a traditional oval rink with a rolling landscape and figure-eight-shaped path. Along the ribbon, skaters can find a skate rental booth and a hot chocolate vendor. Admission fees vary by day of the week. There is also a rental fee for skates.

Enjoy ice skating in Chicago at the McCormick Tribune Ice Rink at Millennium Park, photo courtesy of the milleniumparkfoundation.org
Open through March 6, 2022
Located on Michigan Avenue between Washington and Madison Street, families can skate amongst Chicago landmarks at the McCormick Tribune Ice Rink at Millennium Park. This is a great place to skate during a Christmas outing visiting the lights on the Mag Mile.

Ice skate at this Chicago Hotel and your skate rental will go to charity. Photo courtesy of The Peninsula
Opened Nov. 20, 2021. Closing date to be determined.
The Peninsula Hotel offers a 2,100 square foot Sky Rink high above the Magnificent Mile. The rink is open to the public as well as hotel guests. Admission is free and skates are available to rent. Proceeds from skate rentals go towards Lurie Children's Hospital of Chicago as well as Hephzibah Children's Association.
Open through Feb. 21, 2022
For simple skating in a friendly environment, this far north side park is ideal for Chicago families. Warren Ice Rink has a warming house and skate rental along with designated times for kids to take lessons and play hockey. Small children can also rent skate trainers and walkers to help them learn to skate. Admission is free and there is a fee for renting skates.
Open through Feb. 21, 2022
Located on the grounds of the 1893 World's Fair Columbian Exposition, this Hyde Park Rink offers fantastic views of the city. Skaters can get on the ice for free and skates are available to rent. Skate trainers and walkers are available for those learning to skate and sled and sled-assisted skating devices are available for disabled individuals.

Ice skate in Chicago at the famous Wrigley Field. Photo courtesy of gallagherway.com
Little Cubs fans are welcome to skate right outside the Friendly Confines at Wrigley Field. Admission is free for children under 12. Skates are available to rent. After your skate, check out the adorable Christkindlmarket for a warm cup of cider or hot chocolate.
CLOSED FOR THE SEASON
This community-funded and community-maintained outdoor rink is located right in Wicker Park. The ice isn't refrigerated so you'll want to check the website for the ice conditions. This rink is free and open to the public. You must bring your own skates. No skate rentals are available. On select days there are also free ice skating lessons available for kids.
Outdoor Ice Skating Rinks in Chicago: Western Suburbs

Photo courtesy of Centennial Park, an ice skating rink near Chicago.
Open Dec. 15 through Feb. 15, weather permitting
Three lighted ice skating rinks invite skaters to Naperville's Centennial Park. The boarded rinks allow hockey and broomball while the third rink is for free skating. Rinks are free and open until 10 pm each night.
Open Dec. 15 through Feb. 15, weather permitting
This new park on west suburban Naperville's southwest side replaces the former skating rinks at Commissioner's Park. The rink takes the spaces occupied by sand volleyball courts in the summer in a park that also includes a sled hill, a 1.4-mile trail, and a nature playground for those who want activities other than skating.
Open as weather permits
This free skating rink offers staff-supervised hours on both weekdays and weekends. The facility has portable restroom trailers on-site and is located on the grounds of the Central Athletic Complex, which includes the gyms of the former Hubble Middle School, so kids can warm up their cold fingers and toes. The rink does not offer skate rentals.

Skate on Lake Ellyn's ice rink near Chicago. Photo courtesy of the Glen Ellyn Park District
Open through Feb. 28
The Glen Ellyn Park District has added lights to Lake Ellyn so skaters can enjoy the ice until 9 each night. Skating is only permitted when the ice reaches a thickness of eight inches, but visitors can check the park district's website before heading out to the ice. Because the lake isn't always frozen enough to skate, west suburban skaters can check out Newton Park in Glen Ellyn as a backup. A warming house is open from mid-December through late February so that skaters can take a bathroom break or warm up from the cold.
Open through Dec. 31
The Chicago Wolves Ice Skating Rink at the Brookfield Zoo is made of a synthetic material called Glice. The rink is open each day from noon until 4:30. Go before or after your visit to the zoo. There is an admission fee as well as a fee to rent skates. Visitors may bring their own skates as well.
Outdoor Ice Rinks Near Chicago: Southern Suburbs

Photo courtesy of the Winter Wonderland Skating Rink, Facebook
Open through Feb. 27, 2022
This family-friendly south suburban ice rink offers free skating for all. There is a fee for skate rentals; however, helmets are free. The warming house offers a chance for skaters to take a break from the cold. While skate rental is only available during warming house hours, those with their own skates may begin skating at sunrise. The rink does not allow hockey and figure skating jumps are only allowed when 30 skaters or fewer are on the ice.
Open as weather permits
This community ice skating rink near Chicago is open to both Cicero residents as well as non-residents. Free skate or come out and watch a hockey game. Check the rink's Facebook page for designated hockey times. Skating lessons are also offered weekly throughout December.
Outdoor Ice Rinks Near Chicago: North/Northwest Suburbs

Kids can skate or play hockey at one of Watts Center's two ice skating rinks. Photo courtesy of Glencoe Park District
Open through Feb. 27, 2022
Skaters can skate or play hockey at one of Watts Center's two ice skating rinks. The main rink is a regulation hockey surface with times scheduled for open hockey, adults-only hockey, or recreational skating. The smaller studio rink offers times for broomball, open skating, and hockey by specific age group.

Photo courtesy of the Rosemont Parkway Bank Entertainment District
Open through Feb. 27, 2022
Families can skate in the middle of Rosemont's Parkway Bank Park Entertainment district on most days in December, January, and February. Admission to the rink is free, with skates available to rent. On Sunday mornings in December, kids can skate with characters such as Anna and Kristoff or Santa and Mrs. Claus. Plenty of entertainment and dining options are available for little skaters if they want to go inside to get warm.