Best Indoor Water Parks Near Chicago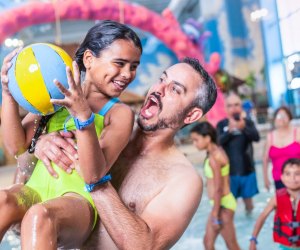 2/5/23
- By
Lauren LaRoche
Indoor water parks near Chicago will let you have a fun day swimming with your family without a plane ticket to a tropical destination. There are plenty of indoor water parks near Chicago with tube slides, lazy rivers, and even wave pools to help you beat those winter blues. We've grouped these indoor water parks by location so you can see which are easily done in a day trip and which would require a mini-road trip or staycation.
For more indoor family fun, check out our guide to indoor play spaces for Chicago kids. And if you're just looking for swimming without a bunch of slides, we also have a list of Best Indoor Swimming Pools in Chicago.
Best Indoor Water Parks near Chicago
Pelican Harbor Aquatic Park in Bolingbrook is a great option for those looking to stay close to home. Located in Bolingbrook, this water park features two slides, tumble buckets, and a 10-person hot tub for tired parents looking to relax. Because this water park is operated by the Bolingbrook Park District, it is on the smaller side compared to a Wisconsin Dells-type resort park. It's still great for big kids and when you're looking for an easy day trip.

The Water Works is an indoor water park near Chicago. Photo courtesy of the Schaumburg Park District
If you're looking for a no-fuss, inexpensive day at a water park without a 3-hour road trip, The Water Works is your spot. You don't have to drive far, stay overnight, or drop hundreds of dollars for a day in the pool. There are plenty of shallow areas for tots and thrills for older kids. With water slides and a diving well, even the big kids will have plenty to keep them entertained. There is also a spray ground and open pool to keep the entire family busy.

Pirate's Cay is an indoor water park less than an hour from Chicago. Photo courtesy of Pirate's Cay
Less than an hour from Chicago, Pirate's Cay in Sheridan is a great day trip. This water park features tube slides, a lazy river, a pirate ship water playground, dump buckets, and water guns. There's also an on-site arcade and movie theater when you're ready for some dry fun. Pirate's Cay is located on the Holiday Inn property if you're looking for an overnight hotel experience as well. A hotel stay is not required to use the park.
Best Resort Indoor Water Parks near Chicago

Photo courtesy of the Great Wolf Lodge Water Park near Chicago.
When you want a mini-staycation with a water park, the Great Wolf Lodge in Gurnee is the perfect place. Gurnee is about 45 minutes from Chicago, making it an easy overnight or weekend getaway without crossing state lines. They have a variety of packages which include access to their massive indoor water park. The lodge also has several restaurants on-site so you won't have far to go when hunger strikes.
The water park features a shallow, padded play space for younger swimmers and a sprayground with a tipping bucket. For older kids, there's a wave pool, water basketball court, water slides, and a lazy river.
Grand Bear Resort is a great choice for anyone looking for an indoor water park near Chicago. The resort is located in Utica, IL, which is about 30 minutes from downtown Chicago and has plenty of other things to do nearby if you want to make a weekend out of it. If you don't wish to stay overnight, this is one of the few resorts that offer day passes for the water park without requiring a hotel stay.
The water park at Grand Bear Resort features heated pools as well as a wave pool and lazy river. There are also two additional outdoor pools that are open seasonally (May through September). If you're traveling with kids who aren't quite ready for the big slides yet, there are smaller slides designed specifically for them.
Best Indoor Water Parks in Wisconsin

Photo courtesy of the Timber Ridge Water Park in Wisconsin.
Located in Lake Geneva, Wisconsin, the Timber Ridge Resort and Water Park is a part of the Grand Geneva resort property. The water park features a lazy river, a padded play area for toddlers, a water basketball court, water slides, and a mushroom fountain. This water park is great for younger children as it is never deeper than 4 feet in any spot. The water slides still provide enough thrills for tweens and teens though.
Timber Ridge Water Park does require a hotel stay most of the year, but if the capacity is low or it's an off-season time (non-ski season or spring break), they do sell day passes and day suites to use for eating, changing, and napping little ones. Call ahead to see if day passes are available without a hotel reservation. Lake Geneva is a great town to make a weekend out of and the Grand Geneva has plenty of events and restaurants to keep you busy when taking a break from the water park. There's an arcade, golf in the warmer months, fire pits with s'mores, bedtime stories in the lobby, a full-service spa, ice skating, skiing, sledding, and more.
The Wilderness Resort Water Park is located in Wisconsin Dells. While this is a drive of about 3-hours from Chicago, it's well worth the trip for adventure seekers. The Wilderness Resort is one of the largest water parks in the Midwest.
With four separate water parks in one, there is something for everyone in the family. You'll find water slides, shallow toddler play areas, a lazy river, and more. The resort itself is also a ton of fun with arcades, golfing in warmer months, restaurants, and a spa for the adults.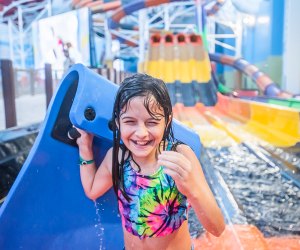 Photo courtesy of the Kalahari Resort in Wisconsin.
The Kalahari Resort is like the Disneyland of Wisconsin Dells. There are some great slides for those who love drops, twists, and turns. These epic slides will have big kids, tweens, and teens, going again and again. There's also a great padded baby play area, an open swimming pool, and plenty of interactive spray features.
Not only does this resort feature a massive water park but there's also a bowling alley, climbing wall, and 10,000 square-foot indoor theme park. This is a great place for a short getaway within a 3-hour drive from Chicago.