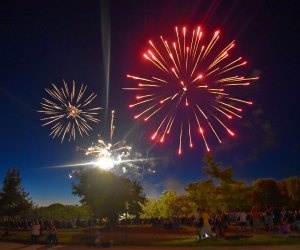 Where to See Fourth of July Fireworks Near Chicago in 2020
While Chicagoans will miss the sight and sound of fireworks exploding over Lake Michigan in 2020, many suburbs have made plans to continue their annual Fourth of July Fireworks shows. Families who can make their way to the western or southwestern suburbs can find places to watch from large fields or even parked cars, drive-in style. Many of these suburbs are launching fireworks to greater heights, hoping more residents enjoy the show from home, which may be a better option with little ones, anyway.
If you plan to venture out, each locality asks guests to follow social distancing guidelines, including staying six feet apart and wearing masks whenever possible. Some fireworks displays are limiting audiences to residents to avoid large crowds of out-of-town guests, while others have moved shows to spaces that allow guests to sit farther part. Two suburbs, Burr Ridge and Oak Brook Terrace, have postponed their fireworks shows until late summer or early fall, depending on conditions from COVID-19 at that time.
If the view of these sparklers eludes you, consider celebrating the holiday with one of these Fourth of July activities that aren't fireworks.