Exploring the Sloomoo Institute in Chicago: What to Expect at a Slime Museum
12/12/22
- By
Lauren LaRoche
If you have any little slime lovers in your family, the newly opened Sloomoo Institute in Chicago is a must. This hands-on space lets you touch, smell, feel, and explore slime textures, colors, and scents unlike any other. Sure, you can always make slime at home, but Sloomoo takes that experience and makes it much, much bigger, plus keeps the slime inside their space and off the walls of your kitchen.
The Sloomoo Institute Chicago is located at 820 N. Orleans and offers timed admission tickets to ensure every group has an enjoyable sensory experience. And if you're looking for a museum with a little less mess, check out our Museum Guide.
The Sloomoo Institute Experience
Right when you enter Sloomoo, you're greeted with a handful of gooey slime. Each guest is invited to add their slime onto the wall to signify everyone that has come to visit the Sloomoo Institute. Once you've left your mark on the wall, you enter an open space filled with different slime textures, colors, and scents. Guests are encouraged to get their hands into each one to see the different types of slime and what happens when you stretch them, make bubbles, and pull them apart in your hands.


Next up, there are a few different spaces to interact with slime. Sloomoo is partnered with Kinetic Sand to make a sensory lovers' paradise filled with sand and slime to experiment with. There's also a virtual reality screen and dance room where you become a slime character. As you move, the slime moves on the screen, making a great space to get your wiggles out.
Once you enter Sloomoo Lake, you'll need to take your shoes off and roll up your pants. In this area, kids are invited to walk, jump, and wade through lakes of slime and squishy animals. There's even an obstacle course for a full sensory experience.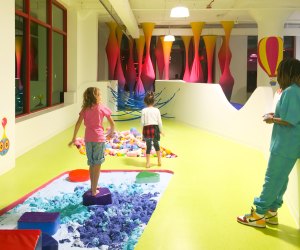 The Extras
With the purchase of the enhanced admission, any brave members of your party can get slimed with buckets. A Sloomoo expert will help cover your head and clothing to make sure you stay dry and clean. From there, a bucket of slime pours down, old-school Nickelodeon-style.

Anyone not participating is able to buy a general admission ticket. There is a viewing area to take in all the action at Sloomoo Falls. Rinsing stations and towels are also provided and there are storage cubbies to place your belongings while you're in Sloomoo Falls.
Creating Your Own Slime
Once you're all cleaned up, it's time to enter one of the most magical spaces at Sloomoo Institute Chicago. The slime bar lets you create your very own slime to take home. A container of slime is included in every ticket so each adult can make one too. At the slime bar, guests are able to choose from a huge selection of slime textures.

Sloomoo experts are available to help answer any questions about the different types of slimes and which is better suited for different ages. The Cloud slime, for example, is great for little ones as it is less sticky than other slimes. Once you've chosen your texture, you'll be given a container with a lid to start adding your mix-ins.


Guests are able to smell a wall of scents ranging from fruit to flowers and food. After you've added your scents, you can choose a color to make your slime truly unique. There are tables provided to roll up your sleeves and start mixing your color and scent together. Once your slime is fully mixed you can head to the mix-in station where you can choose from a ton of adorable charms and mix-ins to add to your creation.

As you head out, there is a small gift shop to purchase souvenirs, slime kits, gifts, and more. There is no additional charge to bring home the slime you've created.
What to Know Before You Go
The Sloomoo Institute is located at 820 N. Orleans Street. The Sloomoo Institute is accessible and there is plenty of space for little ones in strollers. Wear pants and shirts that are easy to roll up.

Tickets are for a timed entry period and you'll want to plan for 60-90 minutes to walk through the entire space. General admission tickets are $39 each and include a custom 8-ounce slime to take home. The enhanced admission ticket includes all of this in addition to getting slimed at Sloomoo Falls.

Purchase tickets online at sloomooinstitute.com. You'll choose the date and time when you purchase. In addition to daily entry, there are also museum gift cards available. These make great gifts that allow guests to choose their own date and time. Birthday parties, summer camps, and private event rentals are all coming soon so stay tuned for more.


Places featured in this article:
Click Here to Sign Up!
i