Top PBS Kids Shows That Never Get Old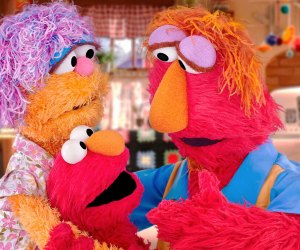 4/8/21
- By
Marisa Iallonardo
Let's be honest: Parents are not the only ones who have been watching more TV during the past year. (Hello, Bridgerton binge!) And while we may have come to terms with switching on a screen to occupy kids when we have to take a work call (*raises hand*), we still want to make sure our toddlers, preschoolers, and kids in early elementary school are getting a mix of entertaining and educational content—a sweet spot PBS Kids has always done super well.
PBS Kids has made a lot of shows, and while they're all great, it can be hard to know where to start! We've rounded up our all-time favorite PBS Kids shows—from forever favorites like Sesame Street to newcomers like Molly of Denali—for you to turn to the next time the kids (or you) are begging for a TV break.
The grande dame of educational kids' programming, there's a reason Sesame Street has been on the air for over 50 years. These days, you'll still find lots of the same endearing characters (like Elmo and Cookie Monster) that we grew up with, alongside more inclusive newcomers, like Julia, who has autism. Plus, the focus on learning letters and numbers as well as values like kindness and friendship is as present and powerful as ever.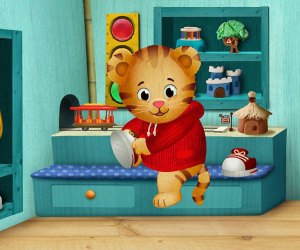 Daniel Tiger's Neighborhood features Daniel Tiger from Mister Rogers' Neighborhood.
Here's proof that the learning techniques in this new take on Mister Rogers' Neighborhood work: When my 3-year-old gets upset, I can often hear her repeat a chorus Daniel—the show's main character—learns when he gets angry. "When you feel so mad, that you want to roar, take a deep breath, and count to four." (She also sings it whenever anyone else in the house gets upset, too, which is a pretty helpful reminder for all involved, I must admit.) Also great? The show deals with lots of other toddler-friendly topics, like welcoming home a new sibling.
This is another longtime favorite in our house—my son even had a Wild Kratts 5th birthday party—and for good reason. The Kratt Brothers, Chris and Martin, seamlessly blend real-life action with animation and introduce kids to nature and animals. Ideal for late preschool and early elementary schoolers (the network says ages 6-8 ), I swear my son can now rattle off animal facts with the best zoologists.
What's better than hanging out with your friends all day? If your friends all have superpowers, you go to a school for superheroes, and you get to have lots of save-the-day type adventures. Another science-focused show, this one will have particular appeal (no surprise here) for superhero fans.

Molly of Denali is a newer PBS Kids show that is truly excellent.
A newer addition to the PBS Kids' lineup—it debuted in 2019—the show features the adventures of Molly, who lives in Alaska. It includes the use of all sorts of digital and analog "informational texts" like vlogs, maps, and charts. And that's key: "A foundational aspect of literacy education, informational texts are designed to convey information, and include written words, images, and oral language," according to the show's website. There's also a pretty cool Molly of Denali podcast.
Another childhood throwback that's fun to share with your own kids, the show follows the familiar adventures of Curious George and the Man with the Yellow Hat, with a focus on the importance of learning and curiosity. Plus, kids will love reading the books after watching the show, and nothing is more rewarding than teaching kids the joys of reading.
With a toddler named Eleanor at home, it's understandable that my family has a soft spot for this STEM-focused preschool show. Not only is Elinor smart, but she has the admirable qualities of curiosity and commitment. The description of the show sums it up best: "In each episode, Elinor models the foundational practices of science inquiry and engineering design, including her amazing powers of observation and willingness to ask questions and investigate." What a great role model!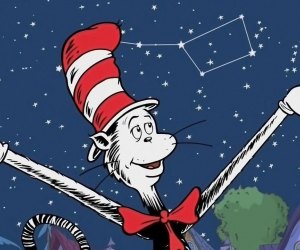 Kids of all ages can agree to watch The Cat in the Hat Knows a Lot About That.
The work of Dr. Seuss continues to mesmerize kids—and this is one of the shows that I know both my 6- and 3-year-old can agree to watch together. The animation feels warmly familiar to those of us who grew up in the 80s and 90s, and the mix of music and science-based learning is spot-on.
Take kids' love of reading and stories up a notch with this show, which pairs fairy tale protagonists—like Little Red Riding Hood—with in-book adventures. "The adventure begins as the Super Readers find out how famous fictional characters handled similar situations (Why is the big bad wolf so big and bad?). They talk to fictional characters from the story, play reading games and activities to overcome obstacles, search for Super Letters, and practice such key skills as letter identification, word decoding, spelling, vocabulary, and comprehension," the show's creators explain.
Images courtesy of PBS